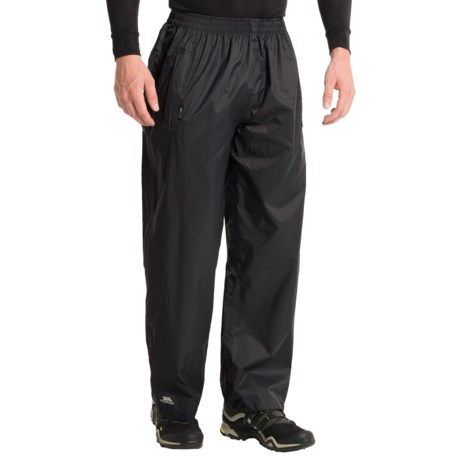 Fantastic packable pants at an unbeatable price!
Reviewed by Scott2373 from New York on Wednesday, November 27, 2013
I sometimes have to go out into the elements at a moments notice for sustained periods of time, at work, with the ability to access my pockets, so these fit my needs perfectly. They stay in my backpack permanently. The day after I got them, there were sustained winds of around 25-30 mph with gusts around 50 and a light rain with temps in the 30's, then duty called, so I threw them on over my pants. I knew I was going to be outside for about an hour so I figured this would be a good test. I never felt the wind at all and if it weren't for my goggles being wet, I never would have know it was raining! After an hour, I was still dry and warm albeit a little moist from sweat. Although they say breathable, being 5,000D Nylon they tend not to breathe quite as well as I'd like, but I knew this going in, so I can't complain about it. If you want wind and waterPROOF (not "resistant"), you have to give up a little breathability, and I'm quite happy with them. My only real issue is the snaps on the ankles fasten VERY tightly. This poses a problem when it comes to unfastening them. I actually felt as though I was going to rip the pants, I had to pull on them so hard. I got them unsnapped by grasping the fabric around the snap and pulling the two halves of the snaps directly away from each other as opposed to at an angle. The flanges on the snaps seem to be very sharp and it seemed they would act as a blade and cut the fabric over time. Overall, they did their job, and for the price I paid (about $8 after coupon) I can't complain at all. I don't foresee any damage happening to them due to the infrequent use they'll be seeing, but at this price, I should have bought several just in case. I would highly recommend these!
Similar items and more information in the following areas: