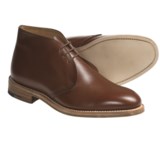 Closeouts. Almost two centuries of shoemaking result in boots like Tricker's William chukka boots -- the quality is immediately apparent in the smooth leather upper, and continues with quality, finely honed construction methods.
Average Rating based on
10
reviews
4.700000
0
5
Verified Buyer

Reviewed by Tim the Hiker from Texas on Sunday, August 17, 2014

The overall quality of the shoe is high, where the leather is soft and fits like a glove after wearing a few times. Perfect for wearing casually with jeans or business casual with khaki chinos. I normally wear a 10, but the 9 1/2 fits well.

Reviewed by Rodger from Denver on Friday, February 28, 2014

In college I worked for a master cobbler, this Italian guy knew 100% hand making shoes, so I know good shoes. These are obviously a quality shoe but I can nit pick their flaws. The footbed is not corked nor cushioned and the welt thread is frayed here and there. Overall the craftsmanship is good and the leather is top quality. These are great shoes but in my opinion the Dundee chukkas from Allen Edmond are far superior but never on sale or are available at the discount STP has.

Reviewed by Wolverine boots from Bay area ca on Monday, January 6, 2014

i was looking for an every day unique looking chukka boot and found Trickers. Although expensive, buy during a sale and wear proudly for decades. sizes feel true to descriptions - in fact I also bought their Derby Boot which are a great compliment

Reviewed by [...] John from Colorado on Sunday, January 5, 2014

I never understood how someone would pay $700 for a pair of shoes, but decided to try these at STPs greatly discounted price. They were still expensive, but no more than a new pair of Allen Edmonds. Now that I have seen and worn the shoes, I understand. I even went back and bought a second pair in a different color before they sold out. The materials and construction are beautiful and they fit like a glove. I am a 9.5E in AE shoes and the Trickers 9 fits perfectly. These shoes are very simple, almost plain in design, but it is the quality that makes them stand out. The leather is beautiful. These are my new favorite with jeans or khakis.

Reviewed by Faramir_pa from Pennsylvania on Tuesday, November 12, 2013

I have worn my Tricker's Chukka Boots for two days now, so I now feel somewhat qualified to write a review. When you first open the rather substantial box you are greeted with two dark blue soft fabric bags decorated with Tricker's logo in gold. These are intended for receiving the boots when they are not on your feet or in your luggage. A second or two after your eyes see the boot storage bags, your nose is enveloped in the the most beautiful leather fragrance that you will ever enjoy. It is the aroma that the designer of English Leather men's cologne years ago tried to capture, but never did. So moving deeper into the box I find the source of the magnificent aroma.

Tricker's Chukka Boots lie in the bottom of the box with the boot's sole edges of all leather contrasting nicely with the smooth supple leather of the uppers. They just exude quality. Every surface, inside and out, is meticulously constructed of the finest leather I have ever seen. Further, the workmanship is old school to the max. It really is a shame to wear them since they are a prime example of the cobbler's art.

So how do they fit and feel? The initial slight stiffness of the first wearing evaporates after 30 minutes or so. The leather of the interior is extraordinarily smooth. I wear 10.5 in US sizing for "regular" shoes and an 11 for trail runners. The UK sizing of 10 was perfect for me. There is ample room, but nothing but the promise of the most comfortable "dress" shoes I think I will ever have. These things just feel luxurious on your feet.

I have never spent this much on shoes (except for mountaineering boots which are purpose built). My STP discount offer made it far more manageable than the retail of near $700. Consider buying these boots as a treat to yourself. Remember they are not throwaways like most shoes and boots these days. The type of construction used allows you to reheel or resole these, so they have a long life if you take care of them.

By the way, I have NEVER written a review of any footwear before. :)

Reviewed by Joseph from Pennsylvania on Wednesday, October 23, 2013

I was hesitant to spend this much for a pair of boots, but I was persuade by the reviews others had provided. I was not disappointed. The boots look, feel, and smell great (leather). Thanks to the recommendations of buyers concerning Tricker's boots sizing I ordered a 9.5. I normally wear a 10 or 10.5, but the Tricker's 9.5 fit perfectly. The boots are very well made and look enough different from most of the boots you find in stores that this seems like a good investment to me.

Reviewed by MIdas from NYC on Sunday, May 12, 2013

I have pretty decent shoes for the most part. Ferragamo, AE, Cole Haan bench-made line, etc.

None of them, and I can't stress this enough, come CLOSE to the quality of these shoes. At least every other time I wear them, I am asked by someone what kind of boots they are/where I got them/ etc. These shoes will likely last longer than I do. They are that good. Why save $100 in the near term when the shoes won't look as good, wear as well or give you the number of wears that these will.

Shoes matter gents. And these shoes are worth the money.

Reviewed by N W from Connecticut on Friday, May 10, 2013

These are the most expensive shoes I've ever bought, but they're very nice and I have no regrets. They're very attractive and comfortable right out of the box. The British sizing on these felt like it was maybe 3/4 smaller than the American; I ordered a size down and it was a little snug, but the leather is pliable enough that it's not bothersome. If you fill out your typical size, you may want to consider going only a half size down. I just wish I'd also bought that other pair of Trickers I was eying before they sold out of my size.

Verified Buyer

Reviewed by Traveler from The Airport on Tuesday, February 12, 2013

Tricker's may be the best of the old English brands and difficult to find outside the UK. Their calfskins are supple and luminous, and the beechnut is one of the most beautiful. A rich medium brown with an auburn undertone. The Williams is built on a different last than Tricker's standard boots--more tapered, more elegant but still true to its roots as a go-anywhere shoe for a country gentleman.

Verified Buyer

Reviewed by Mike from NC on Saturday, January 12, 2013

This is a great looking boot that dresses up well.