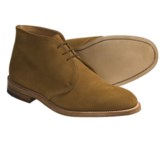 Closeouts. Almost two centuries of shoemaking result in boots like Tricker's William chukka boots -- the quality is immediately apparent in the handsome suede upper, and continues with quality, finely honed construction methods.
Average Rating based on
9
reviews
4.777777
0
5
Reviewed by Chris from Bethesda maryland on Friday, January 8, 2016

Unsurprisingly these Trickers are made of gorgeous suede, well stitched and soled, and look good.

Verified Buyer

Reviewed by Jim from NC on Monday, December 28, 2015

Tricker shoes are amazing. Worth every penny!!

Verified Buyer

Reviewed by Olswalker from NC on Wednesday, December 23, 2015

Almost hate to wear them, they're so pretty. Wish I could get some in smooth leather too.

Reviewed by Itellyouwhat from The Great Southwest on Tuesday, December 22, 2015

I ordered a pair of these six months ago and they were clearly too big despite the warmer weather. Thought I'd give it one more shot after STP reduced its own price by half, and this time the same size fits almost perfectly in the winter chill. I'm way too finicky for this to have been mere self-deception. So what gives?

Well, having ordered two pairs at the super discounted price, I noticed that one pair's soles were nearly twice as thick as the other's, and uses a thicker welt. Hence it's no great stretch to imagine there might be similar variations in fit, even in the same nominal size. I'm thinking maybe Tricker's has quality control issues. Five stars nonetheless, as these pairs do fit me. Only be forewarned, other pairs may be constructed differently.

Reviewed by N W from Connecticut on Friday, March 28, 2014

These are some beautiful chukkas. I've been wearing the leather William chukkas in beechnut for about a year and absolutely love them, so I though I'd give these a chance in the tan suede. Wow! I'd never really been into suede shoes before, but these about took my breath away as soon as I opened the box. They seem every bit as high quality as the leather version, and seem sized about the same--I went down a full size and, while a bit snug for the first few wears, they softened up and are starting to have an amazing fit.

Reviewed by amok from DC on Wednesday, January 22, 2014

What can I say? For the price these can be had here, it's a great buy. The construction is impeccable, and they look great. I normally wear 9-10D in chukkas and UK size 9 fits very well (wouldn't size down on these).

Reviewed by hddvt from Vermont on Monday, December 9, 2013

Excellent construction and materials. Similar to Alden shoes. I'm a solid 12 D shoe size. I got both 11 and 11.5. The 11.5 is a good fit.

Reviewed by Dave from Nashville, TN on Friday, February 22, 2013

First of all, I wear various styles (dress, casual, chukka and work boots) of Alden and Allen Edmonds and appreciate the concept of buying higher-end footwear. Aldens are my favorite.

So, I was excited to try this style of Trickers chukka. The unique UK-sizing meant I bought 3 pairs before deciding on the one that fit me the best. Thanks for allowing returns STP.

Sizing sidenote: I usually wear a US10 or US10.5 and prefer a slightly looser-than snug-fit. Trickers UK10 were far too large for me, UK9 was slightly snug but could have worked. I kept the UK9.5.

So what are my thoughts on this chukka? The boots fit, but they are NOT comfortable (for me)...at all. I am unsure if it is the last they use or something else. I have tried lacing them looser and tighter. I have tried different thickness of socks. I have worn them allot and a little. I have owned and given them a chance for 2-3 months now. The color is sharp and craftsmanship is nice enough. They fit. Comfortable (for me)? Not so much.

Worth sidenoting too is that I have purchased slightly looser and snugger shoes in the past, I have been known to forgo perfect fit for a good markdown deal now-and-then. My feet are not picky. This is the first pair of boots/shoes that have not worn-in comfortable after a bit of time. This is especially disappointing because these fit properly and cost over 300 clams.

That is why I took the time to write this review. That, plus there are no other reviews available for this boot yet. Now there is a review; my job here is done.

Verified Buyer

Reviewed by The Observer from Canada on Thursday, February 21, 2013

These pair nicely with denim and dark casual trousers.
My third pair of STP Tricker's and for these I kept to the half size difference rather than the full size recommended.