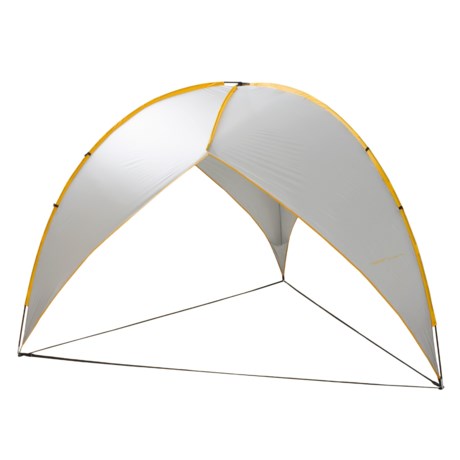 Bought from here over 3 years ago. Troublesome & still hard to set up. But gripper work gloves made all the difference.
Reviewed by Lost in Pine Cone Country USA from Extreme NW Montana on Sunday, January 24, 2016
This shelter was impossible to set up the first time we tried. SO bad we gave up after an hour of trying. That would include my 6 foot very capable husband. BUT after it sat in the closet for over 3 years I needed a quick shelter for a 6 person backpack tent when the first tent collapsed when the canopy collapsed. The backpack tent heated up in the day time and would not cool off so I thought of this and came home for it. Did help...not as much as I wished but did help. ONCE I GOT IT UP. The interesting thing is I didn't think I would. But threw in a pair of size small blue dipped in rubberized stuff work gloves you get cheap at most hardware stores and even though I'm 5'2" and in my 60's....I managed to succeed all by myself. With one little problem...afternoon winds come gusting up and took the giant kite right out of my hands and sent it through the pine trees...thank goodness the trees were there. And the wind was coming up off the river not down to it. I tackled it and brought it back safe and no tears or harm to it. BUT THE STAKES supplied were horrible. I had enough spare good stakes to manage this and double staked it and the tent in the pretty soft dirt which was part of the problem. We've learned a lot of tents even expensive ones come with terrible stakes. Anyay not surpising this is in the closeout section. I would have a hard time recommending this shelter. It's not that light weight but do able for car camping which is it's design purpose anyway. So many of the design flaws should have been improved by now. However now that I figured out how to get it together...I already intend to use it next year as a bike garage next to what ever tent I have. It was not wise to try to put it over the 8 foot picnic table made of metal mesh for fear it would snag or rip it to bits. And it might have. I do have to LOL...about the EASILY ERECTED and a breeze to carry? I guess it was a breeze that was carrying it through the trees too and if someone had been around to see me running after this giant kite they would have been ROFLOL too. One has to keep their sense of humor to camp outdoors with dignity intact..it can be a challenge some days. No problem with poles breaking or seams ripping or anything of the like so far. The winds would come up late afternoons for a few minutes to an hour similar to beach winds.
Most helpful positive reviews
Similar items and more information in the following areas: