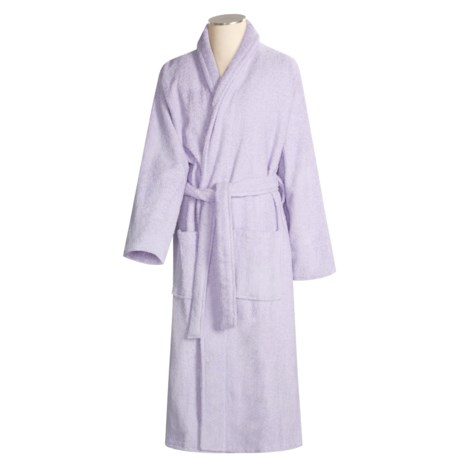 i think you would be ok with a M. The shoulders are fitted for women, so even if it is generous for a nice wrap, you shouldn't be swimming. They do offer easy returns...

i am also 5' 7" and have long arms. i ordered the "medium". i am glad that i got the medium because...after the washing and drying per directions on label, i found that it did shrink some...not much but glad that i got the medium. the sleeves do still fit and the length is still fine for me. i am so glad that i purchased this robe...i ordered the purple one and i am so happy for the color is so nice...makes me happy!~it is so very warm and comfortable. enjoy!

I would suggest you go with the small size robe, because I think the medium would be way too full for you. The arms on the medium are very long, so I suspect the small would have long enough arms for you. And the length is very generous.
I am 5' 4" tall. I have the medium size robe. The length of sleeve is below my hands, so I rolled up the cuffs and I like it that way. The length goes down to my ankles which is fine. It is extremely full around me, but I love having so much room. I wrap it around me to dry off after bating and then change into my nightgown.

Hi Francie, to be sure go with medium for long sleeve. 5.7.. the length should be ok, i'm 5.4.. with XL and right on my feet ;) perfect this is what i wanted


I am 5' 5 3/4" and depending on the brand, am a size 6 or 8/S or M, sometimes L because of my bust. I've been told I have long limbs and I know I have a short torso :o) LOL The robe does wrap around me quite far and the sleeves come down to the beginning of my fingers. A small probably would have fit me, too, but I am enjoying the extra coziness.

The sleeves are plenty long enough and these robes are cut large. I suggest starting with a small. Its easy to return it and order a new one. If you do it right away with a phone call they will mail you your new one right away and give you 10 days to drop off the first one with no charge. !!!! When you first wash it be sure and clean the lint filter half way thru [in the dryer] it sheds a bit just during the first time. This robe is the nicest warmest best made robe, you will love it. I got the purple and its gorgeous, then I bought the turquoise for someone, lovely, and another purple for someone else. they are both really thrilled with them. !! Try the flannel pajamas, they are really well made too, KayAnna brand. They run true to size but do shrink a bit. Beautifully made. They have 3/4 sleeves that are longer than usual which I prefer so I don't get stuff on them when washing my face etc


By the wan don't forget you can order both sizes and send one back.

I went with the large for my girlfriend and it is the perfect size. She is about 5'10" , skinny, with long arms. She wanted it to be long and the sleeves work well but she occasionally rolls them up to stay out of the way. I would guess that Medium is what you want.

I am 5'4" with an average build. I have a size small and it fits a bit loosely,ie it touches the ground and I have to roll the cuffs back on the sleeves. I would thing a small would be okay for you though it may not quite reach the ground on length. Over all this is an awesome robe!

My daughter is 5'5, 120 lbs with long arms and she likes things fairly loose. The robe fits her just like the picture, not tight, shows a bit of curve, not swimming in it. The robe is very thick, like a heavy duty towel. If by "very skinny" you mean less than 110 lbs, then I highly suggest a small otherwise, the wrap will go past your armpits and be too big. You will get the length either way as it is fairly long. Not sure about the sleeves.

I am your height and I am comfortable in size M. However, I like my clothes loose. I wear a size 8 in most clothes but generally buy sweaters and coats L.
I guess it depends on what you are most comfortable with. This garment is sized so generously, I would imagine that a size S would still be long enough.
Good luck with your purchase.

Francie, I am 5"4" average size. I first ordered the med. & when I received it the robe when on was hitting the floor. The arms were not that bad as I always turn them up. I returned for a small. The length on that one was about 6-8" from the floor. I think it depends on how long you like the robe. The med. was big on me. I hope this helps you. My opinion would be small. Hope this helps.

I bought a small for my daughter, who is a very slender 5'6" and was very happy with the fit. She's not here, so I tried it on to answer your question. I am 5'5", 140, with long arms and broad shoulders. I find the sleeve length of the small fairly generous: they measure 27.5 in from the collar. The length on me is low/calf high ankle, so that should be adequate.

My guess is that you will be happy with the small--there's a chance the sleeves will be high on your wrists, but in other ways you should be satisified. And the overall quality is fabulous!

I would suggest the medium.

Go with the small. The sleeves have a large cuff (5") that doesn't need to be rolled all the way up to look good. I am 5' 6" and have long arms and the small fits me fine. I'm not skinny just average; I wouldn't want a robe that was any larger.

I love mine! I am 5'4" tall and medium muscular build-150lbs. I purchased a medium and the sleeves are plenty long(I roll them up a bit anyway) and the robe goes to my ankles. It wraps around me quite a bit overlapping at least 10-12 inches (my waist measures 31") so I guess I would say it is roomy but I like that. Hope that helps you decide.

I'm 5'4" and wear a size 6. The medium comes about 3" above my ankle and the sleeves hit the knuckles of my hands. The sleeves of the robe are approx 20" long. The fit is pretty large on me. I could have worn a small. It's a robe and I didn't want the hassle of returning it so I just deal with it. Hope that helps!