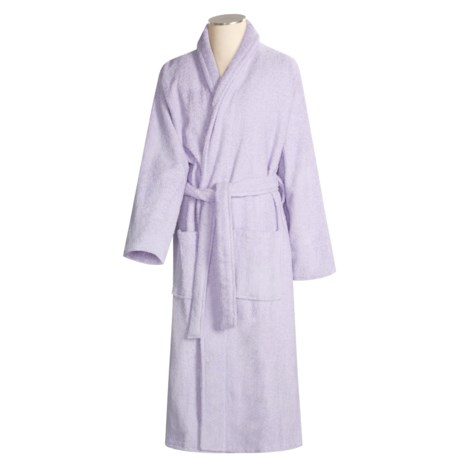 YOU May want to go with a medium. The SMALL reaches the ground when I (5'2") wear it. And my 6 ft husband was comfortable in the medium that I first ordered, and returned...


I don't think the robe runs very large. I'm the same height and wear a 16 pant and XL top and I purchased an XL robe. It is plenty big a comfy. You could try the L.

I'm 5'9' and a size 8 and bought a medium. It fits me in the shoulders and is a bit big elsewhere. But I like a robe to fit that way. Right below the pockets, it's 58" from one side to the next.

I am 5'4" and wear size 10/12. I bought the large and love that wraps totally around me. It is ankle length on me.

I'd probably go with a large, my wife got a large and she's a 12, but very tall. She actually likes the extra room because she can put it over clothes on extra cold mornings. Hope this helped!

I'm 5'7" and usually wear size 8-10. The medium I ordered is roomy but not overly so. I'd go with a large if I were you.

Medium. I was up to a size 16 a few years ago and my small was tight.

I'm not sure. I'm 5'5" and wear a 12 (or 10). I'm still swimming a bit in the medium. But it's really cozy. And the red is beautiful.

I would go with the Large--should fit fine.

I'm thinking large. I ordered a medium and usually wear either a 12 or small 14. Nice thing, I'm 5'4" and it nearly comes down to my feet, which I like.

I normally wear size 10/12 or medium so I ordered a medium and MAYBE could have ordered a small but I like it a bit big so it overlaps quite a bit in the front and is to my ankles in length but I am only 5'4". I do think you would need to order a large and expect the fit to be a little less loose.

I think I would go large. I'm a 14, 5'6" and the M was just right for me. After a few washes I'd say I'm at the outer limits (girth) of a M.

I am 5 feet and 7 inches and weigh about 160. Bought the medium and it fits fine. It is roomy and very comfortable. I brought the purple one! Love the color and it washes up great!

I would recommend the Large for a size 16. The Medium seemed to be a good fit, for ankle length, sleeves were a bit long, and the front pockets seemed to over-lap when wrapped around waist, for a 5'5" size 12 woman. So, the Large may be the right sizing for you at a size 16.

I am short and wear an 8 or 10. I should have bought the small. the medium will fit you nicely in length. maybe a size 16 would be o.k. with the large. a size 12 or 14 would be fine for the medium..but I am not sure about size 16. you may be safest with the large since it is cotton and could shrink a little.

I think you will be happy with a medium. I am a size 12, and the small fits me.