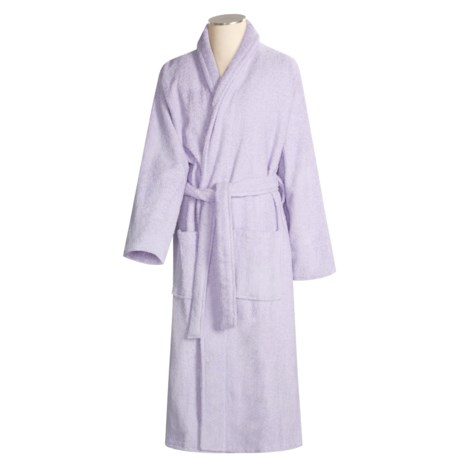 I think medium would fit. I ordered small & weigh 140, it is roomy enough but needed to be shortened because I am 5'2".

Do not order the large! I am 180, 5' 5" and the Large is waaaay too big, and loooong, for me. I suggest the Med. or maybe even the Small.

I'm about the same size and got a large. Wraps around so nicely that the wrap will touch your opposite hip. No knee-breeze...it is warm!

Sorry for the late response - these run pretty large. A L in this robe looks to me more like 14-16 size BUT with a caveat that if you like roomier (hotel-style fit) and don't forget that these do shed quite a bit on first wash. I think a M is plenty big for someone at your size and with your petite height you will be tripping over this robe unless you wash and dry it to shrink up a bit.

Yes this is a very roomy robe. I am your same weight but a few inches taller and ordered the large. A medium may fit best for you.