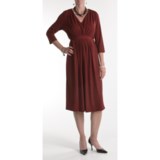 Overstock fabric. A sunburst of pleats radiates outward from the solid-banded, self-tie waist of Two Star Dog's Nikki dress, styled of rich, wine-colored Travel Knit fabric with a modest V-neck.
Average Rating based on
18
reviews
4.222222
0
5
Reviewed by Melissa from Texas on Thursday, April 11, 2013

The only thing I didn't like about this dress is it didn't make me look like Sandra Bullock. jk

Reviewed by Barb from Colorado on Sunday, March 31, 2013

I had carefully reviewed other reviews and wondered about this.. Love it.. I travel to the Mid east and often need dresses that cover elbows and knees- perfect for this and also a weekend in Paris

Reviewed by Penelope from Maryland on Tuesday, March 19, 2013

Very nice dress for travel, doesn't take up much space and is light weightwise. Excellent price! Prefer fairly modest clothing for foreign travel, after watching some travel shows with American women flaunting everything. In Latin America, women are not allowed in churches in shorts, for example. It's one thing to let your boobies hang out at the beach, but another to show it all in foreign public places in conservative societies. In the US anything goes, but not in foreign countries, in my opinion. This dress is perfect for wearing anywhere, either for casual wear or for dressy situations. Sierra Trading Post is the BEST. Sorry I rarely review my purchases...

Reviewed by Gioella from Detroit Metro area, Michigan on Tuesday, March 12, 2013

I'm 5'8", 145 pounds and a young 55. This is a great dress for the following reasons: 1) it is knee length as shown in the pic, 2) If you have larger hips and a bit of a tummy, this dress is so forgiving in the way that it is cut without looking like you are wearing a bag, 3) the self waist tie is long enough to wrap around the back and again in the front if you want to tie it in the front. 4) very comfortable smooth, fabric which is great for traveling and will be easy to wash!

Reviewed by Anonymous from St. Louis on Tuesday, March 12, 2013

I like the fit, the quality, and the way it looks. I just wish it was navy, not black.

Reviewed by Laneybeachgirl from Big Canoe on Monday, March 11, 2013

I'm 57 and this dress made me feel like an old lady. Don't know why everyone else loved it, but mine went back.

Verified Buyer

Reviewed by Trudee from Northern KY on Wednesday, February 27, 2013

Cute dress, but front hem is longer than back. Pleated in front drapes nice, but this dress really remind of a maternity dress. Thinking of shortening and wearing as tunic. Price too good to return.

Verified Buyer

Reviewed by Sierra Super Fa from Missouri on Tuesday, February 26, 2013

This is a lovely dress - just not for my body. I'm 5'4" and apple shaped. Knowing this brand often runs larger, I got the size large for my size 16 body. As far as the fit, it fit generously - the XL would have been far too big. It was much longer than I like, making it look a bit dowdy; and because of my thicker mid section, it just made it look almost like a maternity dress. I loved the fabric

Reviewed by On a budget from NY on Sunday, February 24, 2013

I wasn't shopping for a dress b/c dresses rarely flatter me, and I'd pretty much given up on them. But I liked the navy color and the modest v neck on this dress so I decided to take a chance on it. The XL actually flattered my plus size(18)figure. I put a navy cardigan over it and felt confident going out. Thanks STP for great bargains and outstanding customer service.

Verified Buyer

Reviewed by California Native from Saint Paul, MN on Saturday, February 23, 2013

I just hope it gets warm enough and dry enough around here for me to wear this some time soon. It reminds me of the Diane von Furstenburg knits of the 1970s and 1980s - goes anywhere, doesn't wrinkle, dresses up or down, makes me look thinner than I am.

However, please note that it is *not* a "rich, wine-colored Travel Knit fabric". The one I purchased is a bright red print on white background. As I recall, it also came in black on white.