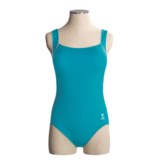 Overstock fabric. This TYR Aquatic square neck swimsuit creates a flattering silhouette with its cut and control where it is most beneficial.
Average Rating based on
150
reviews
4.126666
0
5
Verified Buyer

Reviewed by STP fan from Seattle on Saturday, April 11, 2015

I haven't worn it in the pool yet, but I think it's going to meet my needs fine. I'm 5'9", about 175, and wear 14 to 16 in clothing. I often wear a 16 Long in swimsuits (that's when I can find them in longs or talls - usually from Lands' End), or a 14 Long when I'm just a bit lighter than my present weight. I ordered this in an 18, as that's all there was, and I think it will be fine for me, lengthwise and otherwise.

Verified Buyer

Reviewed by Jane from Colorado on Monday, February 16, 2015

It fits quire nicely, it Is not low in the front and covers your rear. it is very comfy for water aerobics,and best of all does't loose color when you wear it in the pool.

Verified Buyer

Reviewed by PaddiD from Oregon on Monday, October 13, 2014

This suit fits great. Often times suits are a little short for me, but this one fits great in the length and the booty. Nicely made.

Verified Buyer

Reviewed by Jules from NY on Thursday, September 4, 2014

The suit fits great. It also washes well in the wash machine. This is the third TYR square neck I have purchased. The other two have held up over a year and worked great for water aerobics.

Verified Buyer

Reviewed by witchcadet from Minnesota on Monday, August 4, 2014

This suit is "ok". The material and make seem good. I returned because I did not like that it pulled in an ackward place on my shoulders. However, I would have kept it otherwise.

Verified Buyer

Reviewed by Aqua Momma from California on Sunday, August 3, 2014

I love the square neckline and the positioning of the straps. Great cut, very comfortable and non binding. Great for a water aerobics workout.

Verified Buyer

Reviewed by Mary Vann from Massachusetts on Friday, August 1, 2014

This is the third time I've bought this suit. It fits well, looks good and lasts. I swim in a public pool three times a week and it can be rough on suits. I have had this suit in a navy blue, cranberry and a brighter blue. All look good.

Verified Buyer

Reviewed by Trish from Texas on Thursday, July 3, 2014

beautiful fit, True to size, nice placement of straps- feminine look

Verified Buyer

Reviewed by Nebraska Knitter from Lincoln, NE on Monday, June 30, 2014

It's a beautiful suit - I loved the style and the colors. BUT, even though the girls were well supported, I felt like they were somewhere down around my belly button. Since there's no strap adjustment like I've had on other TYR old lady suits, I sent it back.

Verified Buyer

Reviewed by Gracie from Canton,Ohio on Saturday, June 28, 2014

I bought this suit in the blue a couple of years ago, and loved it. I decided to try the St. Lucia (flower print) this time; and boy, was that a mistake. There are 2 holes, one on each side, in the bra lining. Apparently, this was used to insert the 'padded' part of the cup, which is not attached in any way, so that whenever the suit moves, the padding part moves too, or folds over, or otherwise creates a weird lump. If I had realized this sooner, I would have sent it back, or exchanged it for another blue one, but I needed it for a waterpark outing, and didn't have a choice but to go ahead and wear it. Somehow, there is some bagginess at the bottom, which is also kind of strange, considering I should have filled out the bottom of that suit with no problem. I guess I'm going to have to figure out how to tack those cups in place, or this thing is going in the trash!