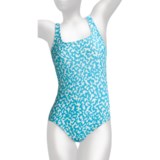 Closeouts. From TYR's ControlFit collection, the Bright Idea swimsuit is a supportive, conservative essential you'll love to add to your pool-side wardrobe; its high neck and back lend coverage, and its built-in bra and power mesh lining provide a sleek silhouette.
Average Rating based on
11
reviews
4.090909
0
5
Reviewed by SwimGems from Thailand on Wednesday, November 20, 2013

I bought this for my daughter, who swims competitively. Fits true to size; she's 5'6" and wears an 8; sz 8 fits perfectly and looks stunning.

However, she expected that a TYR suit would work for competitive swimming, but the foam cups bounced around too much. If she doesn't sew them to the lining, this suit will be for pool parties and casual swims.

Reviewed by Jamaican from Vermont on Sunday, November 3, 2013

I like swimsuits that are very basic - and this attractively fits the bill. The color/design looks good on pale, northern skin. Coverage is good and very comfortable. Others warned about being very tight and I over-reacted by ordering two sizes larger than I generally wear. This was a mistake. Returned for a Size 12 that fit my size 10 body easily and comfortably. I think I could actually have gone down to my regular size without a problem. I have a slightly long torso but did not encounter any problem with length.

Reviewed by Db in NC from Raleigh NC on Friday, November 1, 2013

I love TYR suits for my daily water aerobics classes. I have several swim suits but am not pleased with the fit of this one suit. I usually wear a size 10 [which equates to a 14 or 16 in TYR sizing] and am 5'8, 160lbs, bra 38D + slightly short torso and wide shoulders.

Once wet, the suit literally flops open once I'm moving about in the water; as if the fabric loosens up once wet. I've never experienced this with any other suit. That poor lifeguard was flashed the 1st time I wore this suit, as I didn't anticipate the fit changing so drastically. I bought a Champion brand sports bra to wear underneath it for modesty in lieu of throwing the suit away for future classes.

The best way I can describe the problem is this: It's like an old, over stretched bathing suit [only in the bust.] Mind you, this change in the fit only occurs once you're in the water [when you can't do anything about it!]

I never thought I would live to see the day when an article of clothing was too wide for my shoulders, but alas, this suit has made that day arrive. Needless to say, the fit is off. Way off. The hips are proportionate, FYI.

Reviewed by vg from Vermont on Tuesday, October 8, 2013

I ordered this suit mostly for lap swimming and it appears to be well made and should last long. It fits just right though I am not tall. There is good coverage at leg openings and it looks fine. Great price for name brand swimmers suit.

Reviewed by lvmaryvis from Las Vegas on Sunday, September 29, 2013

I ordered this suit along with the square neck suit also. This one runs a little short and I ordered both in a 12. Although I like both suits because of the soft cups, the fact that they are removable is a minus. The insert cups float around, bunch up when you are rinsing the suit out, shift to the point that you have to rearrange them often and it is rather tricky to do so. Why would you order a suit with soft cups if you wanted to remove them? Built in from now on only.

Reviewed by Hiking Penguin from Colorado on Thursday, September 26, 2013

Sick of all the black and dark brown bathing suits, but not enough daring to wear bright red or pink? This is a great suit for that in between. I am very fair skinned, so this suit the ghostly look that comes with wearing a black bathing suit. It fits very well and still gives a great definition of curve despite the light color. It's a keeper!

Reviewed by Desert Dweller from Phoenix, AZ on Tuesday, August 20, 2013

I'm hoping this suit holds up against chlorine like the Ocean suits that I've purchased from STP. I am in the pool 5 days a week and need long lasting chlorine resistant swim suits. The fit and style are great.

Reviewed by Nell from Arizona on Sunday, July 28, 2013

I agree that this suit is a bit short. It is a beautiful color and has plenty of room without being baggy, but the built in bra doesn't pull up high enough. It is about a half inch too low. I will keep the suit and use it, just hope it is not uncomfortable to swim in. I am 5'7" and don't typically wear a long suit.

Reviewed by Joyfulonetoo from Virginia on Monday, July 22, 2013

I have purchased several TYR suits in the past, and each one had held up for several years. I hope this one will do as well. I found the fit to be a little larger than I expected, but it isn't necessary that it fit too tightly.

Reviewed by Judi from Ohio on Sunday, May 26, 2013

It fit well, hope it holds it's color.