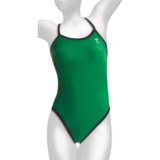 Closeouts. The diamondback design of this reversible swimsuit by TYR is engineered to make your performance sparkle, thanks to its movement-friendly, drag-reducing design.
Average Rating based on
63
reviews
4.301587
0
5
Verified Buyer

Reviewed by Shuba G from Boston, MA on Monday, December 8, 2014

I had a TYR suit I loved for many years, and when it died, I wanted very much just to replace it. This suit, which is the closest model now available, has some of the features I loved most in my old suit. The reversible feature is handy - two suits in one! - and also reduces wear and tear and color fade since you can go with either side. My reason for giving it 4 stars though is that the sizing seems to be out of sync. I'm 5'2, 114 lbs and usually the size 34 fits with room to spare. Given the other reviews about sizing being on the small side, I got the 36. It fits but it's very, very snug. I hope it's going to stretch a bit, since it's fabric and not wetsuit type material, but it's not as comfortable as I would like. So, just a warning to folks out there - this suit doesn't seem to fit the way the size chart would predict it should!

Verified Buyer

Reviewed by running mama from Indiana on Thursday, September 18, 2014

I can't attest to the comfort in the water. I bought this suit on a good deal to use when others start rotting to much to be saved. I went with a size 34, but probably should have gone with a 32 as it will loosen in the water. The fit is good enough for my purposes. I am 5'9 1/2" 130-132lbs, bust 34-35 AA.

Verified Buyer

Reviewed by always cold from New York, NY on Thursday, August 21, 2014

This is a high quality swimsuit; nice fabric and a really good cut. It is reversible (2 layers of fabric) and so a little bit heavy and slow to dry. A word about fit...I am 5' 5", 120 lbs, 34A, and short-waisted. I got this suit first in size 36 because I really wanted the deep blue one, and they were sold out of the 38. It is slightly short on me but fine in the width. I kept it because I love the color, and in the water it is fine; I swam 2500 meters without any chafing or marks on my shoulders. But once I knew what a good quality suit it was, I ordered another one in the very electric pink, and this one I got in the 38, which feels better. So I think that for someone with my general dimensions, the 38 is preferable.

Verified Buyer

Reviewed by meghan from chicago on Tuesday, August 12, 2014

I read so many reviews on suits that I thought since I finally decided on this one, I should chime in about it. Its been a great suit! I'm 5'8" and 145lbs. I ordered the 38 and its the perfect fit. Definitely tight, but not uncomfortable. The suit stays put while doing laps. I wore it with bike shorts for a triathlon and it was great for the swim, bike, and run. No problems at all! I also wanted to note that it is super thick heavy material for a swimsuit, which I like. It feels like it will last a long time. The blue color is much more vibrant than the picture.

Verified Buyer

Reviewed by Buttercup AT from Missouri, USA on Saturday, August 9, 2014

I don't like the tight wetsuit fit style. I have a wetsuit and they are supposed to be tight, but swimsuits should be more flexible. I also looked at what other reviewers said and ordered one size up from the size chart. I'm 5"5" 135 lbs, 62.5" torso, very athletic. The crotch area still feels pretty tight on size 38. I ordered another name brand that people say runs small and their 38 is a very nice fit.

Verified Buyer

Reviewed by ski girl from Massachusetts on Wednesday, July 30, 2014

I ordered this swimsuit to replace one that I purchased about a year ago from STP. The reversible style makes the suit super durable and long lasting. I wore the last suit 2x a week for lap swimming. However, something about TYR's sizing has changed. The suit seemed very short and fit me in every way other than the length. The last suit I bought was exactly the same style and also a size 38 (I'm 5'6", 125, athletic build, 36B bra size). Sadly, I had to return the suit and order another in a size 40 (again from STP) - which I hope fits as I love the suit.

Verified Buyer

Reviewed by Linda from NorCal on Monday, July 28, 2014

I've worn TYR suits for years & ordered my usual size, but this style was uncomfortably small. Both short (even though I'm very short waisted) and tight. Not wearable; had to return it.

Verified Buyer

Reviewed by KM from North Carolina on Thursday, July 3, 2014

As other reviewers have noted, this suit runs a little small, especially around the leg holes, and a little short. Not too bad, but I'm 5'9" and the 36 is a little bit on the short side. Fortunately, once you're in the pool, it relaxes a little bit and it didn't bother me, but I might have gone up one more size if I had it to do over again.

Verified Buyer

Reviewed by regular shopper from DC on Tuesday, June 10, 2014

Good fit and practical design for the purpose; sound value. Would have liked the material to have a little more stretch to it, the legs in particular are a bit tight for me (though I do have bigger than usual thighs).

Verified Buyer

Reviewed by Cat from East Tennessee on Monday, May 26, 2014

Excellent quality for the price. I am 5'9, 155 pounds. I bought a 36 and it was racing style snug, but will definitely stretch with time.