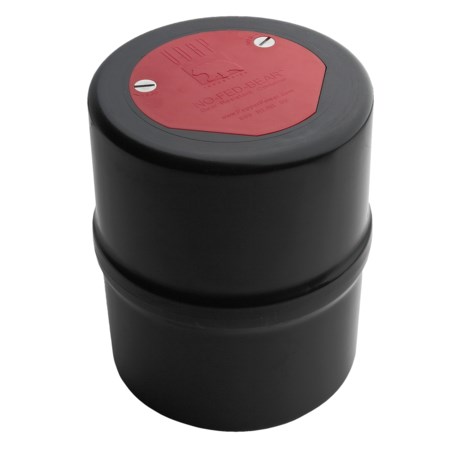 The actual volume of this canister is about 545 cu in.

The actual volume of this canister is 248 fluid ounces to the brim as I measured it. It was just one cup shy of holding two gallons. That is 447ci, which is about the same displacement of an early 70's model Chrysler or Pontiac V8 engine.

By the way, the specs on the weight and size are slightly incorrect too. It's actually 2.4 lbs, which is 2 lbs, 6 1/2 ozs. And the width is really 8 1/2 to 3/4 inches because of the lip in the middle, but it is 8 inches at the top and bottom and ten inches tall.

One last thing, in case you're still wondering how big it really is and need a visual. Well, I was able to stuff six High Mountain Jerky three person serving dehydrated pouches in, six Libby's cooked ground beef ( 6oz not-dehydrated) pouches, six packets of oatmeal, and finally six protein bars totally crammed full with just about enough room left over to squeeze in few salt and pepper packets. So that was everything left in it's original packaging, just packed in very tightly. I suppose I could squeeze one or two more pouches in there if I were to repackage and vacuum seal them all, but so far I have not needed to. Or you could always just get a bigger canister too for longer trips, but I prefer the smaller ones myself. So I guess that pretty much sums it up.