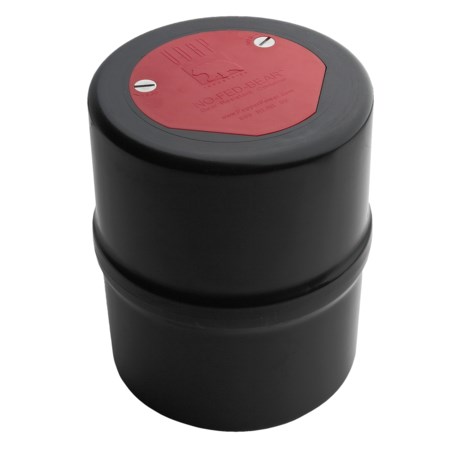 Easy to open and close. Appears to be perfect (not a second quality or factory reject).
Reviewed by Anonymous from San Francisco CA on Tuesday, July 15, 2014
I had none of the issues mentioned by some other reviewers. No problem opening it the first time without any instructions or how-to hints from users on this website or others. With the canister sitting on the ground and holding it steady with one hand, the fasteners are easy to turn but not loosey-goosey. No need to grasp it in a "headlock" as someone else did. Lid lifts off. I did it several times. I notice that if needed, there's a very small gap around the lid, just big enough for a human fingernail or a thin tool. I can imagine that over time the lid lip might gunk up and need to be cleaned so it doesn't stick. And that the mechanism under the fasteners might need a little lubrication. I also have no problem with the fit and finish which on the item I received seem first quality, and not a "second" or factory reject. I do wish the opening were larger, but because I can see it in the image I wasn't surprised. For only 8 ounces more than the much more expensive same size metal canister from another manufacturer, I'm happy with this one. As for the strap sack, I wouldn't put a canister on the periphery of my pack. I always put it near the center of the mass for good weight transfer to the hips. Another warning about the strap sack-- bears will use it to carry your canister much farther away than they'll carry a plain canister. Me, I'll use the sack for something else.
Most helpful negative reviews
Similar items and more information in the following areas: