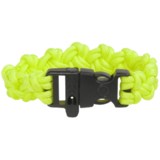 Closeouts. With seven feet of durable, heavy-duty cord and a loud, built-in emergency whistle, Ultimate Survival Technologies' Para 550 paracord bracelet ensures you're prepared for he worst.
Average Rating based on
7
reviews
4.142857
0
5
Reviewed by Spinewrencher from Vancouveer on Thursday, August 1, 2013

I had a pretty scary experience in the wilds of BC where I was unexpectedly unprepared. This is a great item that I hope never comes in handy but it might save a life one day and it's comfortable and inexpensive. Great little product.

Reviewed by STP Buyer from Upstate, NY on Thursday, April 25, 2013

Great color options. This "seemed" like it would be a great product that all could use, but it is not. The main reason that I have fault with this bracelet, is the main reason I purchase this particular survival bracelet, the whistle. Unfortunately, out of the four bracelets I had purchased for my family, only one whistle somewhat worked. I do not fault Sierra Trading Post for this, because at the price I purchased them for, even as just a survival bracelet, they are a great deal. Luckily, STP just posted a whistle on their "NEW" list that we will buy.

Reviewed by Ed from Broadview Heights on Monday, April 22, 2013

Definitely take a look at the length, I bought these for my kids and 8¾" is big but that was my fault for not looking close enough at the specs. The whistle isn't easy to use but if you blow hard enough it's definitely loud enough for emergency purposes.

Reviewed by Emily89 from Denver, CO on Sunday, April 21, 2013

Good product. Wish they had optional sizes because my wrists are pretty small, so it is a little big...but otherwise good!

Reviewed by Tash from South Lake Tahoe on Wednesday, April 10, 2013

Hope I never actually need to use this but its nice to know its there.

Reviewed by Andy from Minnesota on Wednesday, April 3, 2013

Havent used it in the fild yet. But should be very usefull in a pinch.


Reviewed by Avid STPer from Alaska on Tuesday, March 26, 2013

But the whistle doesn't blow very loud. Atleast not on the one I got. I haven't had to undo the cord, hopefully I wont need to. I just hope it works better than my whistle. As for looks, I get them all the time. The lime green is an eye catcher and convo starter. If you are wondering if you should buy it, just buy it. They're almost giving these away and it could, hopefully you wont need it, but it could save your life.