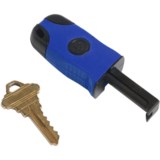 Closeouts. A must-have tool for every outdoor adventurer, Ultimate Survival Technologies' Sparkie fire starter offers one-handed operation and can start a fire in virtually any weather conditions.
Average Rating based on
17
reviews
3.764705
0
5
Verified Buyer

Reviewed by Too much sun from Wyoming Mountains on Wednesday, September 10, 2014

This niffy looking little gadget didn't work. No spark in several attempts with multiple releases each time.

Verified Buyer

Reviewed by Ta Tonka from Ozark Mountains on Monday, August 11, 2014

If you can't light a fire with this "Then stay out of the woods". This is a good device due to the fact that it can be used with only one hand. Try that with most of the others. It pulls a lot of magnesium with each stroke and the sparks are hot and long lasting which makes it nice if the wind is blowing. I've tried several other flints and this one far surpasses the others in intensity and practicability including the 2 piece one with the fancy orange grips.

Verified Buyer

Reviewed by Mike from Iowa on Monday, July 28, 2014

I spent 30 minutes trying to light shredded birch bark with this lighter. I couldn't get it to work. I got sparks, but the bark wouldn't light. My thumbs got very sore. This would not be my first choice. I am still looking for something better.

Verified Buyer

Reviewed by Poppy from Alaska on Thursday, July 3, 2014

These are a must have. Very reliable, small, can get wet. One of the 3 sources of fire I always have on me.

Verified Buyer

Reviewed by OldTreePlanter from Maine on Tuesday, June 3, 2014

There are those times when everything is wet and the lighter won't light, this will still work, simple, handy, threw it in the pack, it's there if I need it.
Played with it a little, easy to use and powerful spark action.

Reviewed by Georgiawoodswalker from georgia on Friday, May 30, 2014

These were on sale so I thought I would give them a try for bugout bags/car use. Good concept, poor execution. These are heavier, more complicated and much more difficult to us than the standard Swedish "light my fire" rod and steel. These are more difficult to get a big and consistent spark shower with yet appear much more fragile. I think it would be much more difficult to use these to light fine tender with also because the violent pushing motion needed to spark. Pass on this and get the "light my fire" and some magnesium bars or wet fire chemical tender.

Verified Buyer

Reviewed by MEDIC3284 from FLORIDA on Monday, May 26, 2014

After you scratch off the coating this product really shoots some sparks with little effort.

Verified Buyer

Reviewed by warmwater diver from Pasadena on Thursday, May 15, 2014

Maybe it is just dumb old me.

Verified Buyer

Reviewed by no nickname from midwest on Friday, May 9, 2014

works great

Verified Buyer

Reviewed by Docsarvis from Chicago on Wednesday, May 7, 2014

I haven't field tested this yet but it is definitely easy to use. Just press down firmly as directed and you have plenty of spark. Compact and light too.