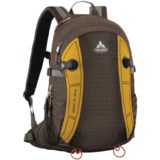 Closeouts. Vaude's Wizard Air backpack features plentiful storage and equipment attachment options as well as an innovative FLEX suspension system that allows you to create the perfect fit, making this a great backpack for various outdoor ventures.
Average Rating based on
18
reviews
4.444444
0
5
Verified Buyer

Reviewed by PA Ram from Pennsylvania on Friday, January 16, 2015

Just the right size for dayhikes or long days at a place like Disney. Seems to have all the bells and whistles - compression straps, adjustments that you would expect in a larger backpackers backpack. Also seems the correct size to squeeze through as a personal item on airlines - may have to squish it a bit to fit the sizing bin but the internal frame has some flex to it and is not rigid.

Verified Buyer

Reviewed by tdechill from Kingston, NY on Thursday, November 6, 2014

I owned the 1st version of the Wizard Air 24+4 and loved it! It had an external frame and the flex suspension system was easy to adjust and really kept your back dry. It's only weak point was the zipper on the small pocket: very delicate. Now, the new version has some improvements, but also some weaknesses. The zippers are now more heavy duty, but they removed the rain flaps over them. There are more compartments, which is nice, but the smaller main compartment is hard to access. But the main complaint I have about the new version is the new suspension system. The frame is now internal and the adjusters just don't tension the mesh back as tight. Also, the adjusters themselves don't lock very well. Lastly, there were always two pole holders on the 1st version which is logical. the new version has only one pole holder. (Unless, of course, you buy the color "marine", then there are two. Hmmm). Still my favorite daypack though. No matter how heavy you load it up, you don't feel the weight on your back.

Verified Buyer

Reviewed by City Biking Girl from Brooklyn on Monday, July 28, 2014

New York City bike commuting is a sweaty endeavor. The suspension system built in to this pack keeps me from getting a giant sweat spot on the back of my shirt. (I don't do panniers because I don't want the extra weight on my cycle and like the added protection of a backpack should I fly off the bike and fall!) It's got plenty of room for work and gym supplies and decent organizer pockets. The built-in rain protector is great for flash summer downpours. The only slight drawback on the pack is that the topmost pocket is a bit tough to use because the suspension system squeezes it a bit and the waist belt pocket is too small to be of much use.

Verified Buyer

Reviewed by culprit from Brooklyn, NY on Thursday, July 24, 2014

I bought a few daypacks to try & compare, but this is not the one I kept. Too big & bulky for me, and the pack itself added too much weight.

Verified Buyer

Reviewed by Bob from Jax,Fl on Saturday, June 14, 2014

Product appears to be well made. Can't wait to try it out

Reviewed by decrepit hiker from Hartford on Sunday, March 23, 2014

I really wanted Vaude's larger 30+4, but couldn't resist Sierra's pricing on the 24+4 and have no major complaints. The handle on top definitely isn't intended for carrying the loaded pack, only for hanging the empty pack, and I wish Vaude had spent the extra pfennigs to make it stouter - those handles come in handy when riding transit. It can be hard to know when a company is trying to cut ounces instead of just trying to cut costs, but that's the only feature of this pack that strikes me as being motivated by cheapness. The pack hasn't been seriously tested yet - I've only carried books, laptop, lunch, water, etc to work or around town. Additionally, there's always been a coat between me and the mesh, so I don't know how beneficial the improved cooling will be once coats are shed and summer arrives. However, I've had close to 10 lbs in it for up to 3 miles and it's very comfortable, much more so than my previous "straight" daypacks. I'm learning how to organize what I'm carrying in the curvy space within the pack and, while it's more of a puzzle to pack (and especially unpack) than my previous daypacks, the improved comfort is worth it. I've been able to keep the extension zipped up, for the most part, reserving the +4 for anything extra picked up along the way. I look forward to getting out on the trail, once he mud subsides, and it looks like the pack will take up minimal space stashed in or on my big pack when we travel and want a daypack for days spent in a city.

Reviewed by chaichai from Fayetteville on Sunday, December 29, 2013

My daughter needed a new pack for grad school, and I wanted to find one that would also be good for day hikes. She loved this as soon as it was out of the box on Christmas morning. Once away from prying eyes around the Christmas tree, her boyfriend gave it a rigorous examination, just knowing it wouldn't be up to his standards. Guess what? He has to admit it's perfect. AND the blue color is gorgeous :)

Reviewed by SRA from Breckenridge, CO on Monday, September 23, 2013

Rain flap, multiple pocket configurations, and compression straps to reduce pack size make this a versatile day pack. My wife uses this pack; the larger Vaude 30-4 allows me to carry the communal gear along with individual day needs.

Reviewed by Milando from Utah on Thursday, September 5, 2013

Wanted to love this little liebchen but it loads awkwardly. The main compartment follows the curve of the frame so you can't really stuff it easily. The ride is not uncomfortable, but not fantastic. It feels a little minimalist with the padding on shoulder and waist belts. The frame does keep plenty of air moving between your back and the pack which is one of the main reasons I selected the design. It does have just the right amount of pockets for day hiking. The kicker is: After 3 light hikes and one medium (7 mile 3000' vert), the stitiching on the waisbelt is coming loose and it probably won't make it more than a few more miles. Was not even close to overloaded. Going to have to have it fixed.

Reviewed by dotsnail from New York on Wednesday, August 21, 2013

I bought this day pack to replace a Deuter day pack that had lasted about 20 years. The Vaude Wizard is much less expensive, equally well made, and has some modern design features that I missed on the old one: the rain cover that is easy to pull out, better zippers, and more inside pockets.

There is such a huge difference between the typical warehouse backpack that's good for school or very short walks and the Vaude Wizard. This pack makes it easy to get things in and out, even in bad weather or on steep slopes. The many different adjustments (worth reading the tags!) make it possible to set it up that it is comfortable all day long even in difficult terrain.

In short, a very well made product with lots of clever design touches that you won't find elsewhere at a very reasonable price, and likely to last a long time.