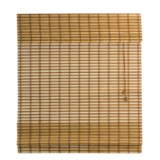 Closeouts. Two-tone bamboo comes together to make Versailles Roman shades, a striking alternative to Venetian blinds. Easy Lift metal headrail minimizes wear and tear on cords to make them last longer.
Pull cords feature wooden pulls and cord cleat for safety
Instructions and mounting hardware included
Easily trimmed to fit with a fine tooth saw
Dimensions (WxL): 24x48"
Material: Bamboo
Care: Dust or vacuum clean
Made in China.
Average Rating based on
15
reviews
4.200000
0
5
Verified Buyer

Reviewed by Sis from southern IN on Wednesday, April 11, 2012

These blinds are exactly what I had been looking for for my porch/dining room/kitchen. We enclosed our front porch using 11 windows to keep it looking like a porch but able to use it year round. When I could find these blinds they were very expensive and had to be special ordered. I got what I wanted for a fraction of the price. Great price and product!

Best Uses: Privacy
Describe Yourself: Budget Shopper
Pros: Attractive Design, Beautiful Material, Blocks Out Light, Easy To Hang, Great Color, Quality Construction

Verified Buyer

Reviewed by skippy from NV on Monday, October 3, 2011

I shortened it by 9 inches to make an exact fit for my window. The result is beautiful.

Best Uses: Living Room
Describe Yourself: Budget Shopper
Pros: Attractive Design, Easy To Hang, Great Color, Quality Construction

Reviewed by plainandfancy from Brownsville, PA on Thursday, April 21, 2011

While the blinds were very attractive, they were nearly impossible to hang--my husband had to modify the hardware because the valance is in the way. As a result the bamboo all cracked around the screws under the valance, and I am afraid at some point they well fall apart because of this. I would say save your money unless the company modifies the hardware.

Cons: Difficult To Hang
Describe Yourself: Budget Shopper
Pros: Attractive Design, Blocks Out Light

Verified Buyer

Reviewed by J Fitz from Pocatello, Idaho on Wednesday, March 23, 2011

I was pleasantly surprised by the quality and attactiveness of the shades. Neither the photo in the catalog, nor the one online did justice to the product.

The shades hung in less than 15 minutes. I would recommend for those hanging the shades that they tweak the clasp on the mounting bracket up a bit before trying to close it. Otherwise the clasp sticks against the shades. The clasp, following installation, can then be pushed down to rest flush against the shade.

Best Uses: Privacy
Describe Yourself: Budget Shopper
Pros: Attractive Design, Beautiful Material, Easy To Hang, Great Color

Verified Buyer

Reviewed by Mar from Denver, CO on Wednesday, November 10, 2010

I got two of the 24 inch wide in fruitwood for some exterior door windows, nice color, but it was frustrating to hang them as the wood slats get in the way.I finally got them up and love the look!

Best Uses: Privacy
Cons: Difficult To Hang
Describe Yourself: Budget Shopper
Pros: Attractive Design, Beautiful Material, Blocks Out Light, Great Color

Verified Buyer

Reviewed by Rusty EH from Colts Neck, NJ on Wednesday, October 13, 2010

An amazing price for a fine quality product. My wife is using it in her office, and they blinds are attractive and useful.

Best Uses: Bedroom, Living Room
Describe Yourself: Budget Shopper
Pros: Attractive Design, Beautiful Material, Easy To Hang, Great Color, Quality Construction

Verified Buyer

Reviewed by PBarnabyG from Newton, MA on Monday, October 11, 2010

Shades were inexpensive and look great and fit great. After looking a shades in stores that were very expensive, thrilled to find these.

Best Uses: Living Room, Privacy
Cons: Too Transparent
Describe Yourself: Midrange Shopper
Pros: Attractive Design, Great Color

Verified Buyer

Reviewed by "On the River in Bandera" from Bandera, Texas on Thursday, September 30, 2010

The shades were an especially good price because we were able to take advantage of the Deal Flyer on line. There are a couple of negatives;
Do not offer as much privacy as we counted on
difficult to hang &
Pulling shades up and down is not very smooth.
They are attractive and do the job in terms of bargain window coverings.
"On the river in Bandera"

Best Uses: Bedroom, Game Room, Interior porch
Cons: Difficult To Hang, Too Transparent
Describe Yourself: Midrange Shopper
Pros: Attractive Design, Great Color

Verified Buyer

Reviewed by Dragonfly from Grand Rapids, MI on Monday, September 13, 2010

High Quality Blind - very easy to install and remove for cleaning if necessary. Blocks sunlight - excellant for privacy - looks great too. High end look at a budget price.

Best Uses: Bedroom, Living Room, Privacy, Sliding Glass Doors
Describe Yourself: Budget Shopper
Pros: Attractive Design, Beautiful Material, Blocks Out Light, Easy To Hang, Great Color, Quality Construction

Verified Buyer

Reviewed by out in the country from North Dakota on Sunday, July 11, 2010

I was very happy to find the exact size I needed to hang in the windows of my porch. Easy to hang, good quality, couldn't be happier.

Best Uses: My porch
Describe Yourself: Midrange Shopper
Pros: Attractive Design, Beautiful Material, Blocks Out Light, Easy To Hang, Great Color, I was very impressed, Quality Construction