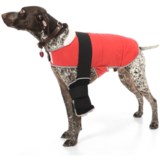 Closeouts. Get thermal therapy to your large dog with Warm Whiskers' reversible therapy jacket. Includes cold gel pack for post-op recovery and swelling reduction, and buckwheat-filled heat pack for sore joints and muscles.
Average Rating based on
12
reviews
4.000000
0
5
Reviewed by Jim from NH on Friday, March 28, 2014

I've not had a reason to put this on my dog, yet. I'll admit it looks quite complicated taking it out of the package. I rated this 3 stars simply as a way to get this posted and viewed three as neutral.

Reviewed by Rangerdoodles from Minnesota on Friday, March 21, 2014

We are very pleased with the Jacket. Our nine year old poodle fit right in. He's getting stiff and sore, now with age, after being out with the other dogs we own.

Reviewed by Great Northwest from Shelton Wa. on Wednesday, December 25, 2013

Returning for refund. The price was right but would not work for our needs.

Reviewed by As info from CA on Saturday, October 5, 2013

This is quality made and has velcro all around so you can configure it many ways. Will come in handy for the old boy, or the next young maniac.

Reviewed by Johnny the Hiker2 from New Mexico on Tuesday, September 10, 2013

I have a large dog we adopted from a resue. He is terrified of thunder and I had read about Thunder Shirts and felt this might be an altnative with additional options for injury therapy. I treid for fit n a 73 pound Airedale upon receipt, and it fit was good. I could adjust fit using the velcro strap on the front and one across the belly. We have only had one major thunderstorm and he started his whine, running thru the house, and random barking. I put the jacket on the dog (without threaphy pads) and my dog was much more calm immediately and soon laid down and slept through the sorm with the jacet on. I would give it five stars but I haven't really used the hot and cold packs that come with it for therapy.

Reviewed by Alexandra from London, Ontario, Canada on Sunday, July 7, 2013

Warm jacket that can be used to apply heat/cold. Well made.

Reviewed by Knoah from OH on Friday, April 26, 2013

We have on occasion needed to use a heat pack on a dog's limb and they are not always content to 'stay put.' This, we hope will provide the answer. We haven't had to use it yet, but when I showed it to my vet she bought one too and was surprised at the low price

Verified Buyer

Reviewed by JMK from Virginia on Wednesday, February 20, 2013

This is a fun purchase especially for more than one dog houses. The other get very excited and want to see - it also makes the dog feel "hugged" - good fun

Verified Buyer

Reviewed by Linda from NY on Saturday, February 9, 2013

Received the coat in record time! Good service. Coat fits wonderfully and is easy to put on and take off my large breed dog. It is versatile and will get a lot of use. The heat pack is useless however. It came all dried up and dusty. Made a complete mess of the entire coat! I was able to vacuum it off, but it is not useable. If you touch it dust just falls out of it. Conatacted customer service and was told I would get a replacement, but have not received it yet.

Verified Buyer

Reviewed by North Florida Girl from North Florida on Saturday, February 9, 2013

My do that needs it like cold weather, so I did not know if he'd wear this, but when I heated the buckwheat pack and put it on him, he seemd to relish the comfort.