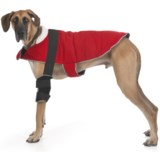 Closeouts. Treat arthritis, joint or muscular pain, tendonitis and more with Warm Whiskers' pet therapy jacket, which includes both a cold pack and heat pack to provide pup-friendly relief.
Average Rating based on
9
reviews
3.000000
0
5
Verified Buyer

Reviewed by cc from Chicago on Friday, January 2, 2015

This should be great for a therapy jacket. I had hoped that it could be used for an outside coat. It is thik enough but the quality of the construction would not sustain prolonged use. I bought at super discounted price, really covers just the ice packs, so it was still worth it. Jacket is really for an XL dog. I have 85 pound doberman, jacket hangs,off her tail. I have a problem getting her jacket due to 36" chest, and she has much room in this, yet it is adjustable enough to fit her snug

Reviewed by dawg from CA on Tuesday, December 2, 2014

The most annoying thing: when you first open the package, you see brown powder get spilled all around the jacket. When you undo a velcro strap, a plume of brown powder fills the air.

And yes, the cold pack is quite tiny

Verified Buyer

Reviewed by Louie from Houlton, Maine on Sunday, May 11, 2014

The sizing was perfect, the color and fabric are great, the cold pack is good, but the hot packs are terrible. We ordered two of these coats, the hot packs with fine fill both leaked all over the jackets. The seams at the corners had to be sewn, still leaks some but are usable. Would have given five stars had it not been for this..

Reviewed by Hill Country Shopper from Houston on Friday, December 20, 2013

My dog has had double knee surgery and this works out well for her. Very happy.

Reviewed by 2ThundersEcho from Elk, WA on Wednesday, December 18, 2013

Great bargain. Hit the single digits here last week, tried these out on on a mastiff and pyr. Although advertised as just therapeutical, the jacket part appeared to work pretty well. Not a heavy coat, but enough protection that the dogs stayed out all night in the loafing shed (w/the herd) without showing any negative reactions to the cold. Put the Microwaved heating pads in my pockets and stuck them under their jackets when I did chores. Dealt two pair, waggin tails and warm pockets. Just coincidedentally my next order had 4 more in it,

Reviewed by Suzee from South Dakota on Wednesday, September 25, 2013

Although the jacket and heat/cold pack will work, the large original cold pack had exploded and both the heat and cold were covered with a powdery substance and I believe they were aware of the problem because a much smaller cold pack had been added to the package. There was no mention of this when I ordered it or when I received it. I ordered an extra large because I have an extra large senior dog. The smaller cold pack was not quite half the size of the original cold pack that was useless. I'm usually very impressed with Sierra Trading, but this time not as much.

Reviewed by esbliss from tennessee on Tuesday, April 16, 2013

This is a pretty good idea for treating with either cold or warm.

Verified Buyer

Reviewed by Runner from Shelton, CT on Friday, January 4, 2013

An effective solution for the application of hot and cold therapy for athletic or aging dogs.

Verified Buyer

Reviewed by Oso Mom from NW Pa on Thursday, January 3, 2013

I received this and removed from package to find a dirt pile of sediment on the garment - I guess the buckwheat/lavendar content in the therapy packs has leaked.... i do not smell lavendar any longer so I am thinking this is old stock leftover. Probably would still preform - I am just not interested in a dirty sooty mess... returning product.