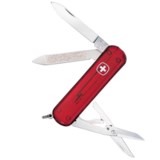 Closeouts. Never be left in the dark again thanks to the illumination of the built-in flashlight contained in Wenger Genuine Swiss Army's Esquire Microlight pocket knife.
Average Rating based on
14
reviews
4.571428
0
5
Verified Buyer

Reviewed by redeyehawk from New Hampshire on Friday, January 23, 2015

Hard to believe all the stuff packed in this little knife...and everything works...scissors with a honken spring, tweezers, file, blade, and micro light. These were a real hit with the three nurses I gave them to at Christmas.. heck, they can practically perform surgery.

Reviewed by Londo Mollari from Centauri Prime on Wednesday, November 19, 2014

Wenger left the pocket knife business in January 2013. Some of Wenger's Swiss Army knives were re-branded and kept in production by Victorinox, but not the Microlight Esquire.

The Esquire was Wenger's equivalent of Victorinox's Classic, tiny keychain knives with a knife blade, nail file, scissors, tweezers and toothpick. Wenger's Microlight Esquire and Victorinox's SwissLite replaced the toothpick with an LED pen light. The Microlight Esquire has a 3.5 MM white LED powered by two 3V lithium button batteries (CR 1220). The batteries are mounted in a sliding tray and easy to replace.

STP is selling the Wenger and Victorinox knives for similar prices. Since you're reading this, you are probably trying to decide which one to buy. The differences in size and tools are insignificant, but Wenger has a brighter LED.

Victorinox originally used a 2 MM red LED powered by a 3V lithium button battery (CR 1025). It is useful as a keyhole finder, and the red LED can be used without waking a sleeper. In 2008, Victorinox upgraded the SwissLite with a 3.5 MM white LED powered by a 1.55V silver oxide button battery (389E). It is more than twice as bright as the red LED, but it is not bright enough to reliably show your footing over broken ground.

When powered by two 3V batteries, the 3.5 MM white LED is 50% brighter and an adequate substitute for a AAA LED flashlight. Victorinox puts a two battery LED module in some of its 91 MM pocket knives. For two batteries in a keychain knife, your choice is Wenger's Microlight Esquire and Microlight Pocket Tool Chest. Too bad they are out of production.

Verified Buyer

Reviewed by Comet trails from Washington on Tuesday, August 26, 2014

This knife is the perfect size and weight for a keychain, and the red color makes my keychain more visible. It has the basic tools - tiny blade, small scissors, knife file, screwdriver, tweezers and the unique built in flashlight which comes in handy getting into car or house in the dark. The flashlight button has to be held in for the light to shine - there is no fixed switch. The batteries are easily replaceable. Folks wanting a true knife blade will want a different swiiss army knife, however, since the blade is so small. But this one works just great as an inconspicuous keychain toolkit that eliminates the need for a separate microlight.

Verified Buyer

Reviewed by Pig slayer from Louisiana on Monday, July 21, 2014

This is a perfect knife to keep on hand for executives. It is small enough to not be a burden in pockets yet versatile enough to get the job done.

Reviewed by Dave from Virginia on Monday, June 3, 2013

I've carried a Victorinox Swiss Army knife for years -- thought I would try this Wenger with the built in flashlight. Construction and blade quality are disappointing. It appears cheap and of marginal quality.

Reviewed by Airport Losses from Arizona on Thursday, May 30, 2013

I've lost three Swiss Army Knives at airport security! I really miss them so I decided to buy this as a replacement. It is an upgrade because it has an led light built in. It includes a tiny tweezer which is easy to miss if you are not looking. The body is red plastic and it is a little bulkier than my previous knives. All the tools are good. The scissor is sturdy but the blades are thicker and slightly serrated. It is fine for things like cutting string or paper but fine work is not possible like my old knife. Overall i am very satisfied with this product but I wich I could find a knife that has a metal body like the first one I bought years ago.

Reviewed by Mrsleepy from asheville, nc on Friday, March 1, 2013

This is a nice knife, the scissors are better quality then the victorinox too

Verified Buyer

Reviewed by spiveyhowitzer from Flagstaff, az on Friday, January 18, 2013

none

Verified Buyer

Reviewed by Dave from St. Louis, MO on Thursday, June 28, 2012

I had been fighting the weak little return spring on my scissors and the store in Branson that sells this kind of knife didn't have any springs. This knife has a sturdy return spring so the scissors reopens between each cut.

Best Uses: Knife AND light
Cons: none
Pros: No weak scissors spring, Replaces pocket flashligh, Replaces pocket knife

Verified Buyer

Reviewed by Poufoulet from San Diego, CA on Tuesday, June 26, 2012

Great tool! I purchased one for hubby and four more as gifts (one for me). Had the occasion to use it to unwrap a pallet at a lumberyard/home center over the weekend when the "customer service" personnel were not to be found. The light is a great bonus, too. The fact that it is Swiss made (instead of the typical garbage from China) makes it a really great value.