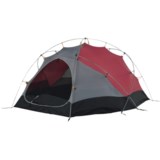 Closeouts. Wenger's Rothorn 3 tent provides four-season, expedition-quality protection from serious snowstorms and heavy rains, with a pole design that creates extra space without adding weight and bulk. The included footprint can be used as a ground cloth.
Average Rating based on
12
reviews
4.166666
0
5
Reviewed by Frederick outdoor man from New England on Saturday, December 28, 2013

Very will built tent and room in it for small tent. No mesh in ceiling is great. I do not see need for it in small tents. The 2 doors have full open mesh door that can be opened from top down so good ventilation if needed. The no mesh in ceiling makes it so you do not have to put fly on unless heavy rain or cold out. 4 alum pole with fast spin clips makes this a great tents and is water proof with nylon floor and walls makes this a strong tent. Very easy to set up.

Reviewed by WA Kayaker & Hiker from WA on Thursday, October 17, 2013

The tent is defective and is not a Wenger tent. Apparently this batch of tents was made with defective waterproofing on the fly. We took the tent out for a week-long camping trip, and by the end of the week, all of the waterproofing began to peel off the underside of the fly. I suppose a person could buy a bunch of cans of waterproofing spray and try to waterproof the tent's roof, but why go through all that trouble and still have a leaky roof. So unless you want to sleep in a swimming pool every time it rains ... Buy a different brand of tent - this one is defective.
Also- We found out Wenger did not make this tent, nor is it Swiss. It is made in Vietnam on the same low-quality production line that makes Walmart tents. I found this out when I called Wenger about the tent's warranty on the defective roof. Wenger said its not their tent , and they don't honor the warranty ... they just sold their Wenger name to this company that makes these cheap tents. So ... I called this other company, and the company denies it ever made the tent, end of story. So ... be warned - these tents have a defective Roof and no warranty, and are NOT made by Wenger!.

Reviewed by Trail Runner from Bountiful, Utah on Friday, October 11, 2013

We've have a beloved North Face tent that's been heavily used for 19 years and it's time to find a reasonable substitute, knowing it won't likely last another 19 years. After looking for several months, this Wenger is the closest thing out there and with a couple of improvements, including the ability to have full-enclosure when enduring windstorms in the desert and a bomb-proof rainfly. Set-up is a snap and very intuitive - all tent poles are the same length and there's one fly pole of a different length. The tent itself is free-standing but the fly requires staking out the vestibules. There's plenty of room to store small items along the wall pockets and in the loft areas. The footprint is substantial - not just a paper-thin piece of nylon. Although not as tall as our trusty old North Face, this tent is definitely going to feel very familiar and comfortable. This is a great tent at a great price.

Reviewed by jbfishski from Denver area on Monday, October 7, 2013

I bought the 3-person model without the footprint this summer (figured I could find one, but haven't yet). Shortly after it arrived, I set it up in the living room - highly recommend! The poles are not labeled and there is one designated for the back. One section of it has a small curve that I didn't notice when I first pitched it. I found the special one and marked it with a small duct tape note for faster, brainless assembly at camp. The rest of it went together with no problems. I LOVE that it does not have "tunnels" of fabric to push the poles through (there is a small one for the vestibule pole, but it is short. And with the smooth-jointed aluminum poles, they slide right through). Simply put a pole end into a grommet, follow the seam to the opposite grommet and put the other end in and go to the second pole. Start clipping the tent to the poles. Add the other two poles and do all the clips. Once it is all snapped and clipped together, it is incredibly solid! Add the rainfly and clip it on. There are a lot of clips, but they make the tent sturdy and everything is TIGHT. There were no flapping noises even with enough wind to completely blow away someone else's (empty) tent. We only staked down the corners and the vestibule so it would keep its shape, Even with the wind, it was so solid and snug that we didn't add the tie-outs for the sides.
I don't see any way for this tent to comfortably sleep 3. It is great for two people with enough room to change and not hit the walls. Everything is on the smaller size. At 6', I had to duck under the vestibule opening. I've had larger vestibules, but you can fit a couple of smaller bags and your shoes in this one.
I left the front and rear doors unzipped a couple of inches for ventilation and we had zero condensation during a 25-degree night.
I have not had it out in rain and haven't tested the water-proofing so I probably shouldn't give it 5-stars. But I was so happy with the way it worked in cold weather that I think it should be ok even with rain. I guess the reason I'll give it 5 is that even without the extra tie-outs, the poles and all the clips keep the fly from touching the sides of the tent. That has always been the problem with other tents. It really looks like it will work great in rain and I look forward to using it in the Alaskan bush.
Speaking of side tie-outs, there were not enough stakes for them after we got the tent anchored. we had extras just in case, but didn't need them.
There is tons of storage with gear nets almost all around. Other than the low-opening vestibule, I have no complaints about this tent. We will use it to sleep up to two people quite comfortably.

Reviewed by Tony from N..AZ on Wednesday, August 28, 2013

Great quality tent. I had ordered the 2 person tent which is incorrectly listed as 90 inches long but is only 80 inches long. Same situation with the replacement 3 person tent which the specs describe as 90 inches but is 84 inches long and is 48 inches tall not 51 inches as described on this site.. Will keep this one since i usually solo in the snow and can sleep on a diagonal.

Reviewed by Zimberto from Seattle on Friday, August 16, 2013

Well designed tent but the waterproofing on the rainfly stitching flaked off after only the 2nd use. I emailed Wenger USA but never received a reply. My $40 Colman Hooligan tent lasted longer than this one.

Reviewed by nbr1elktalker from Montana on Wednesday, June 26, 2013

I did have an opportunity use this tent in almost monsoon like conditions.Not that I clam to of ever been in a monsoon. but I have seen them om discovery channel. And for Montana is was a lot of rain in a relatively short period of time. Not a leak to be found. Takes a little longer to set up then what I'm use to. but the second time will be much faster, I'm sure. I would say maybe thirty minutes, your first time through. so if your anything like me. set the tent up before it gets dark. I always grab my fly rod and hit the stream till I can't see my fly on the water. then set camp up. it also takes a little longer to break down. all that will work it's self out as I get use to it. so I am very happy with this product. Highly recommend, you can't beet it for the price.

Reviewed by Stacy from Washington on Monday, June 24, 2013

This tent successfully performed during the ultimate test: One night at Anvil Rock & Two nights at Ingraham Flat on Rainier. It held like a champ in 40 mph winds and snow. Easy set up after a dry run at home. Plenty of head room. Spacious. It's a winner.

Reviewed by ipartner48 from Calgary, Alberta on Monday, June 24, 2013

Yes, it's heavy but that's what you get for one serious 4 season tent. The pole structure is engineered well - easy setup and excellent placement. Tons of connection/buckle points between the tent body and fly. I expect you could be in the worst of storms ever and this tent will provide 'safe harbour' . Highly recommended!

Reviewed by Car Camping Dad from PNW on Thursday, April 18, 2013

I bought this tent to use along the Wa. state coast in April. We had wind gusts up to 30 mph and 6"+ of rain in a few hours. The Rothom 3 held up very well. No leaks or bent polls. I really like the gear pockets along the inside walls. The reflective guy-out loops were useful as well. We used all of them. The only downfalls to an otherwise excellent tent system is the lack of detailed instructions (I'm a tent newbie) and good quality stakes. You will need to practice setting up this tent to get the rainfly on straight, connecting all the clips. The tent is designed with very tight tolerances. It is a 2-person tent with room for gear. Plenty of room for your boots to stay dry under the vestibule. No condensation issues, even with 3 people in the tent. Overall, a good buy.