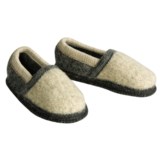 Closeouts. Wesenjak of Austria's boiled wool moc slippers make tots' tootsies toasty, with lightly padded soles and colorful accent trim.
Average Rating based on
295
reviews
4.494915
0
5
Reviewed by NIkki from Connecticut on Monday, May 4, 2015

I had a hard time find a replacement for my daughter's wool slippers. She had a pair by Kamik, but they no longer make them. There seems to be no US company interested in making these lovely type of slippers! I really did not want to pay international shipping so I was so happy when I found these. However, I totally agree with the other reviews about the color- the royal blue is definetly more of a purplish blue and the seam around the slipper is yellow/orange. It worked out great for me as I really didn't care for the royal blue for my daughter. If you are buying these for a boy just be aware that they are more purple than blue. Also, my daughter takes a 6/7 in crocs, I ordered 24 and she has room to grow. Great slipper at a great price!! I might even consider buying a few more in larger sizes so I don't run into the endless hours of searching for these again.

Verified Buyer

Reviewed by Tahoe-livin from Tahoe city, California on Thursday, February 26, 2015

My now 2 year old has been wearing these slippers since she was one. She loves them! She started in a size 20 at about 14 months. They are comfortable, stay on her feet & she can take them off/on if she wants. We ordered the next few sizes up so she'll have a pair for the next year.

Verified Buyer

Reviewed by LonnieMoo from San Francisco on Saturday, February 7, 2015

This are great warm house slippers for cold wood floors.

Verified Buyer

Reviewed by LonnieMoo from San Francisco on Saturday, January 17, 2015

This is our second pair for my daughter..they are a little slippery on wood floors until munchkin figured out how to walk/better with them.

Reviewed by lapedestrienne from nevada on Monday, January 5, 2015

I've had a set of adult Wesenjak mocs for many years and like them a lot. I was looking for some cozy boiled wool slippers for my 10-month-old, who is just starting to walk. Thought these would be perfect but the fit is off. Extremely difficult to put on chubby baby feet; once on, the top elastic leaves deep red marks on his feet. Length and width are fine, but that top elastic band is too tight and has very little give. May work great in bigger kids' sizes, not so much in the infant-toddler sizes.

Verified Buyer

Reviewed by runleonarun from Oregon on Sunday, January 4, 2015

My daughter likes these slippers. They keep her feet toasty.

Verified Buyer

Reviewed by ohreneeg by from tn on Tuesday, December 16, 2014

Bought a 21 for my 2-yr old's size 5-6 foot and it was way too small. Exchanged for a sz 23 which is a little roomy but great with socks. They dont feel itchy. Bottoms are wool but feel grippy and dont seem to slip on laminate. Overall super cool slipper, be aware that you may not get exact color pictured.

Reviewed by Wonder Woman from NY on Wednesday, December 3, 2014

This is the second slippers that I ordered. This time for my 2 yr old son. The actual color was light purple/lilac while online it is as described, light blue/navy. The customer service representative I spoke to was much more agreeable to waiving the shipping return fee and I appreciate that!

Reviewed by Wonder Woman from NY on Wednesday, December 3, 2014

I ordered the Royal colored slippers for my 5 yr old son. I didn't even take it out of the pkg because the actual color was purple compared to the blue online. The customer service representative I spoke to was not very enthused with my call and insisted that I still have to pay for return shipping. I had to ask to speak to a manager. After a few minutes on hold she came back on the other end and waived the shipping fee after supposedly speaking to a manager.

Reviewed by Mother of 3 from Mid-Mo on Sunday, October 19, 2014

i ordered the apricot in a 20 and while they are beautiful i think they run a half size small or so. too bad! i will keep them though at this price and give them to a friend.

also, as noted, trim color may vary. our apricot pair had all over magenta-blue trim that was just lovely but probably pretty girly to most people. it seemed to make the orangy-apricot look more like rosy-peach. i am not opposed to my boy wearing feminine colors, after all, i ordered the apricot for him. i figured with the pale blue trim they were still somewhat gender neutral. but with the magenta trim, i am not sure my husband would have been too keen on him wearing them out of the house, haha.

i just wanted people to know that if they care very much about that or if it is a gift for someone else who might care. but like i said, the combination was actually very beautiful (the inner liner was also a similar color and it was very pretty). also the sizing seemed a little small- which may work better for some people. probably works perfectly for an average sized 12-15 month old.

Verified Buyer

Reviewed by Marliah from Maine on Saturday, September 27, 2014

We bought these for our 2 year old and they are the best children slippers I have seen, thick and warm, durable soles fit comfortably (she has chubby feet) and so cute too. I wouldn't mind some in my own size :) we are very pleased with these, can't beat the price either!

Verified Buyer

Reviewed by babz from NM from New Mexico on Tuesday, August 19, 2014

My little girl will love these and use them all fall and winter.

Verified Buyer

Reviewed by Happy Jack from Michigan on Tuesday, April 8, 2014

Everyone in the family have them. Michigan floors are cold in winter, especially the last one. Always on everyones Christmas List. We all love them.

Reviewed by Bunchberry from Washington on Sunday, February 23, 2014

Bought these for my 2 year old grandaughter. She would like to put them on by herself but they are a bit too difficult for her to do that. On the other hand, they do stay on well and appear to be warm & sturdy. She can be fussy but she likes these.

Reviewed by Phoebe N from Queens, New York on Tuesday, February 4, 2014

Ordered these wool slippers one size larger than their regular sizes for my 4 years old granddaughter and 2 years old grandson who go barefoot at home all day long in IN. My daughter-in-law said, "They've been wearing them since they got them from the box. The kids love them. They look good, fit well, warm and soft. Good quality. Not slippery on wooden floor. The just turned 2 years old can put them on and take them off by himself easily without any help. And the slippers stay on." Considering to order larger sizes for them for next year. My daughter-in-law recommended it.

Reviewed by jemgal from California on Wednesday, January 15, 2014

I ordered these slippers for my 9 yr. old son. Unfortunately, I ordered a size 'KIDS' and not a size 6 for my 9 yr old kid! This was a bit confusing. I'm obviously returning it. I wish these came in a larger size. Nice material and workmanship.

Reviewed by Momma of boys from Colorado on Tuesday, January 14, 2014

Got these for my son to wear at preschool so he would not have to wear his snow boots all day. He always wants to change into them as soon as he gets to school. They are cozy, warm and well-made. Perfect!

Reviewed by Sue from New York on Thursday, January 9, 2014

These are great cozy wool slippers! I ordered them for my 2 1/2 year old. The 7 1/2 size fit him perfectly with a little room to spare (he's about a size 7 going on 8). The elastic is nice and snug and keeps them on his feet well. The soles are thick and very sturdy. The colors vary, we chose the dark blue and they are great with anything he wears. Great all around house slippers for him. Highly recommend!

Reviewed by KC from Bosotn on Thursday, December 26, 2013

Soft and easy to put on. Followed other reviewers advice (I believe they said size up),, so had no problems with size.

Reviewed by Grandma from NY on Thursday, December 26, 2013

This slipper was called royal and looked like royal blue online. In reality it is royal as in purple the color that represents royalty! Will save it until the next granddaughter can wear them.

Reviewed by Karaganda from Brooklyn on Monday, December 23, 2013

It's the third pair we own. I love them because they warm,easy to put on and stay on no matter what activity my son is going through.

Reviewed by Sarah from Minnepolis on Thursday, June 27, 2013

Great for cold Minnesota winters-make nice gifts. They do run small. I always order a size or size and a half up for my kids.

Reviewed by Mom in Chicago from Chicago on Monday, March 4, 2013

My six year old son likes these slippers. They are super easy to put on, they stay on well and are warm. They are a little slippery on some floors, but he likes to slide around, so that works for him. I love the style!

Reviewed by Outdoorsy Type from California on Friday, March 1, 2013

Great quality Austrian slipper that my daughter loves. They stay on my toddler's feet and she actually prefers to wear these to bed instead of her moc-style slippers (she never wears those anymore). Incredible value!

Verified Buyer

Reviewed by T for 2 from Denver, CO on Monday, February 25, 2013

This was for my Grandson he really likes them!

Verified Buyer

Reviewed by Marti from Austin TX on Saturday, February 9, 2013

grandson gift, perfect

Verified Buyer

Reviewed by hello from seattle yo on Tuesday, January 1, 2013

my wife and i both have a pair of these and now i got a couple pairs for my daughter. they're pretty amazing. i'm glad they make these for little people too.

Verified Buyer

Reviewed by Karaboo from Los Angeles, CA on Monday, December 31, 2012

My son loves these slippers! I started ordering these slippers for the whole family a couple of years ago and we love them! I don't bother buying other slippers, they just don't hold up and are not as durable as these. I usually order each of us a new pair for Christmas, but last year they were still in such great shape that I was able to skip last years order! I also love the fact that these are such a great price for the value you get. I would and do recommend these to friends and I think you should order them too!

Verified Buyer

Reviewed by Anne from CT on Thursday, December 27, 2012

my little girl wears them proudly around the house.

Verified Buyer

Reviewed by cheaperbythedozen from WI on Thursday, December 27, 2012

we have several pairs of these but i needed a new size for my son. he has a wide, chubby foot and his regular shoe size is too narrow. i'm not sure if i order up a size if that will help fit his foot. he has no problem fitting into his older siblings slippers.