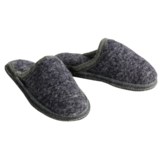 Average Rating based on
647
reviews
3.778979
0
5
Verified Buyer

Reviewed by LonnieMoo from San Francisco on Sunday, February 12, 2017

wish there were more available!!

Verified Buyer

Reviewed by SlipperQueen from East Coast on Monday, December 5, 2016

Initially I didn't think I was going to like these. They do not fit snug and do not offer any support. After wearing them a few days and having them sort of mode to my foot, I'm enjoying them. They keep your feet nice and warm without being heavy and tight. I would purchase again. I hope they hold up well. At the price, if they last a year or two I can't complain.

Verified Buyer

Reviewed by peninsula woman from Washington on Sunday, October 16, 2016

I had hoped that these boiled wool slides would be what I was looking for in a warm indoor slipper. Sadly, they were too wide, and slipped and slid off my feet. They might have worked had the material been thicker, but the thin wool just did not do the trick.

Verified Buyer

Reviewed by CR from Minnesota on Thursday, September 15, 2016

I love these slippers. Nice style and the blue is a nicer blue than pictured. Unfortunately, they are too small for me. I ordered a 38. I normally wear an 8. Should have ordered a 39. I'll give them away as it's not worth the money for postage to send them back.

Verified Buyer

Reviewed by Wray from New York on Saturday, September 10, 2016

My husband and I both like a light slipper. These Wesenjak's fit the bill to perfection! This is my husband's second pair as the first pair were successful. Even though I didn't need slippers now, I also purchased a pair to keep in reserve. At Sierra Trading Post prices how could one go wrong! Notation: These slippers run small. I would order two sizes up.

Reviewed by gram e from Montana on Friday, September 2, 2016

oh, so warm but unfortunately way too wide and impossible to keep on.

Verified Buyer

Reviewed by SashasMum from Southern California (OC) on Monday, August 29, 2016

Yum! These Austrian-made slip-ons are charming, warm, and comfortable. True to size. I have the green with periwinkle trim. Medium to wider widths will be happiest padding around in these slippers. I do not recommend wearing the slippers outside. The felt (wool) sole picks up animal fur or whatever is on the floor. I do not mind the bits that gather on the soles but someone else might.

Verified Buyer

Reviewed by Singer99 from Brooklyn, NY on Sunday, August 28, 2016

These slippers are true to size and stay on due to the slight elasticity of the binding at the top of the foot. There is some padding in the heel portion of the bottom which is comfortable, though not in the front of the sole portion. These are well worth the clearance price!

Verified Buyer

Reviewed by Bea from The Berkshires on Friday, August 26, 2016

These are my second pair. I've had the Wesenjak regular slippers, and wore them like slides. So these are an improvement. Very nice quality, too. Now if I can keep them away from the dogs....

Verified Buyer

Reviewed by AJ from Wisconsin on Saturday, August 20, 2016

Order a size bigger

Verified Buyer

Reviewed by 200 Mile Hiker from Washington on Wednesday, August 10, 2016

Comfy, warm and well made! flexible as a sock, but the thick wool soles are more substantial. they really feel good under my feet.
I ordered a 36. I normally wear size 6 to 6 1/2. They are just long enough. I might order the next size up, but these stay on my feet. I don't know if a larger size would.


Verified Buyer

Reviewed by Dr. C. from Northeast Ohio on Sunday, July 31, 2016

I bought a similar model recently, the version with support behind your ankle, and really like them. This pair of slipper-slides that I'm reviewing were at least a half inch too short and had to be returned. The sizing seems inconsistent and you certainly can't trust the conversion to US sizes.

Verified Buyer

Reviewed by Steve from Wisconsin on Sunday, June 26, 2016

I bought these slippers as a treat to myself and when they arrived they looked like a child's slipper. I called to try and return them but it would have ended up costing me more money to return them then I paid for the slippers themselves. You have to pay for shipping and some kind of restocking fee. I won't be shopping here anymore. Good deals only if you never need to exchange them.

Verified Buyer

Reviewed by CNN from WestCoast on Thursday, June 16, 2016

Glad STP carries this still - really like this 'Hausfinken'. - Also great to take along on trips. lightweight and yet sturdy. (and warm/comfy)

Verified Buyer

Reviewed by pinkribbonchef from Midland on Friday, June 3, 2016

I LOVE THIS PRODUCT SO MUCH, I ORDERED A SECOND PAIR!!!! I LOVE SIERRA TRADING POST. CUSTOMER SERVICE IS FIRST RATE, SHIPPING IS SWIFT AND RELIABLE.

Verified Buyer

Reviewed by Katarina from New york on Thursday, June 2, 2016

I love thee slippers. They are warm and they are cute.
I ordered size 91/2 which is my normal size. I think a 9 would have been better

Verified Buyer

Reviewed by pookie from North Carolina on Thursday, June 2, 2016

Have been buying these slippers for years for myself and my daughter. Love them.

Verified Buyer

Reviewed by Karen4 from New Hampshire on Monday, May 23, 2016

You can't beat these boiled wool slippers. They are soft and are great to pack for a trip as they don't take much room. Really for indoor use only, as the sole is wool coated with a rubbery agent to make it non-slippery. I wouldn't want to get them dirty outside--they can't be washed. Spot clean, yes, but you can't throw in the washer. This is my 4th pair over the years. I literally wear out these slippers! True to EU sizing. Size 8 is 39, and that is what I got. They fit perfectly.

Verified Buyer

Reviewed by Icy toes from Washington on Wednesday, May 11, 2016

I like the style of scuff! But the wool is bubbly in the upper and the edging is tighter, so just kinda weird. Fitting is true to size.

Verified Buyer

Reviewed by Josephine from FLORIDA on Wednesday, April 27, 2016

My narrow foot slides around in these. These are a scuff, with no sole at all. Color is so cute.

Verified Buyer

Reviewed by pinkribbonchef from Midland on Thursday, April 7, 2016

There is nothing quite like boiled wool slippers for warmth especially during the winter months which can last a long time in Michigan. These are quality slippers from Austria and I suspect will be as durable as others I have previously owned. I have hardwood floors in my home and it was important to me that my indoor slippers not have rubber soles which leave marks and imprints. I love these so much I am tempted to purchase another pair to have on hand in case STP stops carrying them in the future!

Verified Buyer

Reviewed by ViFr from Massachusetts on Monday, April 4, 2016

Warm, lightweight, comfortable. Easy to slip on and off. Won't scuff hardwood floors. Because of the soft fabric, they work well for wide feet.
The slippers wear out after a year or two, but I just come back and another pair.

Verified Buyer

Reviewed by Mountain Medic from Montana on Friday, January 22, 2016

I was worried these would be too short but are true to size. I love the quality and so warm for such a light weight slipper! Love them!

Verified Buyer

Reviewed by Alla from Pennsylvania on Tuesday, January 19, 2016

These slippers are amazing. It's very comfy, light and warm. I bought it for my husband and now thinking about buying it for myself.

Verified Buyer

Reviewed by wasailor from pnw on Tuesday, January 12, 2016

smaller sizes are true larger sizes run small.overall asolid 4 stars

Verified Buyer

Reviewed by Workplay from TX on Tuesday, January 5, 2016

Well made and soft. Run a little small to size.

Verified Buyer

Reviewed by Fuzzy from Indiana on Tuesday, December 22, 2015

Like the look of the slippers, but they slide off my feet while I walk.

Verified Buyer

Reviewed by Pat from New York on Sunday, December 13, 2015

I ordered these as a Christmas present for my wife who wears an 8. The slippers were about 3 sizes too small even though they had the right size printed on them. Looked rather flimsy too.



Verified Buyer

Reviewed by sarah from seattle on Friday, December 11, 2015

I have the shoe and boot styles in these slippers. I thought I would try the slip ons. They are way too wide for my feet (mine are thin feet top to bottom). Another reviewer started with socks to keep them on, and I suppose they will mold with my foot. Still may return them.

Verified Buyer

Reviewed by SLC from Salt Lake City on Wednesday, December 9, 2015

Super wide, and not enough cushion in the footbed for me. Tried two different sizes but ultimately it was the width issue that made me return these.