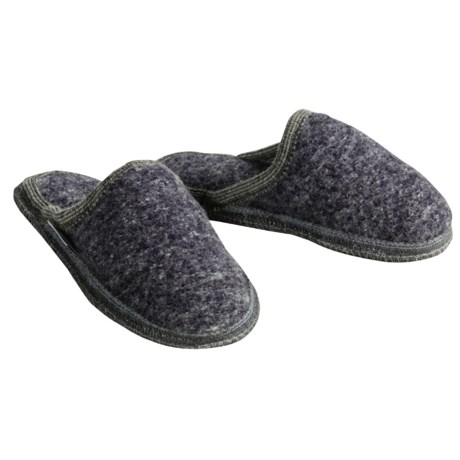 No padding at all. And I felt like they would slide out from under me. I would not recommend them. For my 88-year-old mother-in-law I have gotten Acorn slippers with velcro straps (good for swollen feet) and teva-like sandals for summer. They have a rubber sole, but she loves them.

These really are very comfortable and loose around the foot. very roomy and no constricting elastic. they are a very 'soft' slipper. true to how one imagines a slipper, not a lot of structure. the bottoms are the same boiled wool as the rest of the construction. they slide nicely, but at the same time don't feel un-secure on a wood floor. hope this helps. i am really happy with these slippers.

These are slides with no elastic, but they stretch well with wear; they seem to mold to the foot. Also, they definitely would help in the scooting capacity. The sole is about 5/8 inch, so it is padded without being bulky. I love mine so well that I ordered another pair.

The slipper bed is lightly cushioned (think four layers of a wool blanket, stacked). The slippers can be extremely slippery, depending on the flooring. They are fine on my commercial grade carpeting, but rather slippery on the laminate. I would not buy them for my 80-something-year-old grandmother because of the lack of cushioning, lack of arch support, and slipping hazard. The elastic is not constricting at all on my foot (not like the "ballet"-style slippers from I*toner).

They are nicely padded, and the elastic is not tight or restrictive.

The padding on the bottom of the slipper is adequate. Too much might make it (and her) wobbly. I did not find the elastic too tight at all barefooted or with medium heavy wool sox.