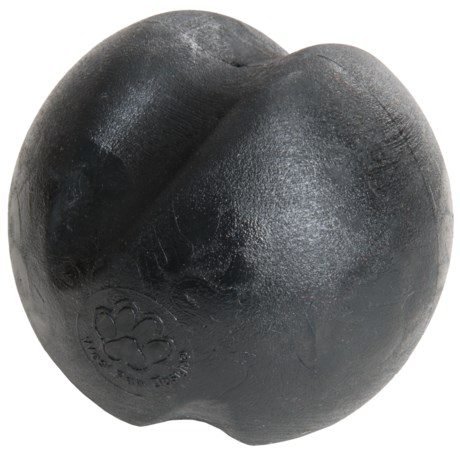 No, it's a very large ball. Way too big for my pitbulls to swallow. It does have a groove on each side or grip or whatever it's purpose is.

No, but it is very large. It is hard to imagine a dog choking on it.

Smaller than a pencil lead, there are two small holes. No way could a tongue get in.It is big and heavy and my destructo dog hasn't marred it.

The ball is solid without holes. My dogs love it and it holds up to rough use from big dogs.

Nope, no holes. I do recommend not letting your dog chew on this alone. It is soft and I am sure is fun to chomp on. An aggressively strong cheese will destroy it into little dangerous bits. It does have grooves for little mouths to grip, and bounces wonky. It floats and is 100% recyclable.
I recommend it as an interactive toy.