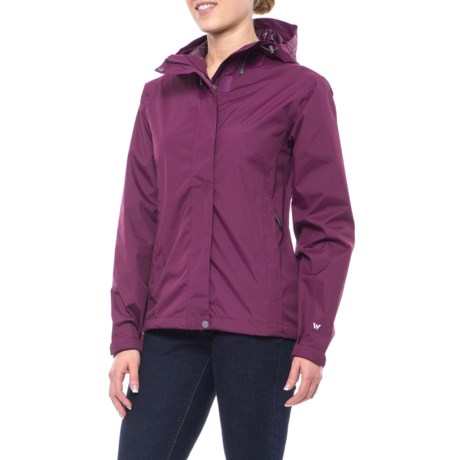 On a scale of 1-10, I would rate this a 10, because it's the lightest, most breathable, rainproof covering I have ever worn. It really does shed moisture, dirt and stains. Love it, and am wearing it almost daily as I am a farmer, and it has rained constantly for a month.

Very good 10+

I checked the tags that came with this and there is no rating. Here is what the tag says:

Fully taped seams - Thermal seam tape fully seals small holes created when sewing two pieces of fabric together

Waterproof/breathable - Fabric treated with waterproof coating. The fabric "breathes" by letting moisture vapor escape through outer layers while keeping out rain.

Built in vents - Strategically located vents allow airflow. Promotes cooling during active outdoor sports.

Self packable pocket - Jacket packs and stows into its own pocket. Great for travel and storage.

I haven't actually worn it in the rain yet. It is made from nylon that is treated with DuPont Teflon fabric protector. This tag says: Repels water and oil based spills. Saves time, dries quicker, saves energy.

This is a very nice, well-contructed jacket. I hope this helps you!