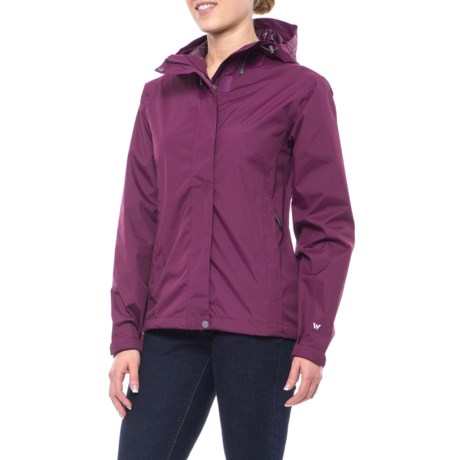 There is about a 1" hem with the drawstring

04/06/15
Hi there,
When I clicked on the image to see if my size was available it showed the exact jacket image that I received in my order. I was really happy with it in fact it had more things on it that I did not expect such as really deep pockets as well as nice deep inside pockets. The jacket looks awesome on me and I have received many compliments. It is so comfortable to use for layering with other garments and great for windy and rainy days. To me, the jacket looks on me exactly the way it looks on the model. Thank you. Hope this helps.
Sincerely,
A Satisfied Customer

Real jacket has a seam , enclosing a small drawstring. Lays flat below the waist. I have't worn mine yet but I like the looks and feel of the fabric.

The jacket design that you would be getting is the one that is on the model rather than the stand alone design. This is a very nice design and a wonderfully light and easy to pack rain jacket not to mention it's excellent rain protection. I would highly recommend this rain jacket.

It's smooth all the way down the front with a drawstring casement at the bottom. If you're looking at the catalog, the blue display is accurate, as is the red one on the model. I think the green jack must have a "wrinkle" that makes it look like a seam about 2 inches from the bottom of the jacket, which it does not have. Hope this is helpful! Ps. I love this jacket, but it doesn't 'breath' in the arm area. If you're cycling, you'll need to wear something that wicks underneath or you'll have very moist arms when you stop.

I have this jacket in blue, and there is no seam across the lower part, no drawstring either. The inside seams are all taped and it is waterproof, very light (packs in its own pocket), and vented. I really like it. Hope this helps.

My mistake! There is a drawstring in the very bottom hem around the hips! Sorry about that.

My jacket is straight all the way down with a drawstring at the very bottom. It does not have a seam for the drawstring about 2 inches before the bottom as this picture of the gray jacket shows.

The jacket that I purchased there is a draw sting on the bottom of it. I have not used it. This jacket is very thin and extremely waterproof. It has two inside pockets that are a good size and two hand pockets with zippers.