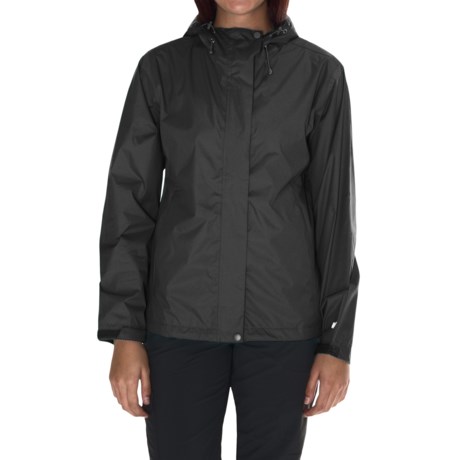 No, unfortunately it's not breathable. But at this price point, you can't expect more than rain and wind protection.

I am very comfortable in it. I have used to a s a jacket when I get cold in restaurants. It has a open panel in he back that allows air to flow through it. If you wore it in the rain when it was warm you probably would not sweat. It is not extremely breathable, but it does keep you dry and is very lightweight. If I wore it in full sun on a hot day I would sweat.

Hi, it's somewhat breathable, but I used it for warmth over layers so it's hard for me to remember. The fabric on the arm tore on something sharp in the woods, so I would say it's fairly breathable but not that durable in the woods. Overall not a bad jacket for the price I'd say: extremely light and roomy though the hood is a little short on top.

Sorry Peg, haven't worn it yet, and I have this same concern.

I have only used during the past colder months. It has mesh lining on the upper back and is vented. Even on warmer days I have not had an issue with Sweat.

I wore while hiking in Hawaii, it was humid and rainy, but I didn't feel like I was sweating inside the jacket.

This seems to have some breathability.

It's really muggy here, now and I've worn it a few times. I haven't had any trouble with sweating, but I'm not running, hiking or exerting much energy. It has a Teflon water repellent and back vents, so it may be just right for high energy rain activities.

Hi Peg. Sorry it has taken me so long to answer. The jacket is not perfectly breathable. It is coated on the inside. I don't sweat a lot, so it is perfect for me. I actually own 4 of them in different colors. My draw to this jacket was that it was packable. I ordered a size larger than I wear so I could put a lightweight fleece jacket underneath for cooler weather. This worked perfectly for me on Cadillac Mountain in Maine last fall.