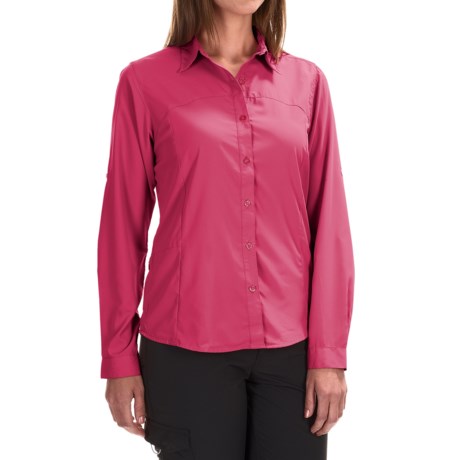 Long, perfect for travel. Buttons tend to fall off.
Verified Buyer
Reviewed by Darcy from Dallas on Tuesday, April 29, 2014
I wish this shirt came in black! I have it in almost all the colors. I've enjoyed wearing it for travel and home. It runs small (tight in the sleeves) like most shirts of this type. It's a good length, unlike many travel shirts. The sunscreen is an added bonus. I always get stopped by the airport security scanner when I wear it, perhaps because of the zip pocket? I've never used the pocket; I don't feel like it would be a comfortable place to carry anything, but maybe it will be useful someday in a pinch.

I'm not a hiker, but it is great for city travel. Easy to wash in hotel sink (dries quickly) for packing light and looks like a normal shirt. The sleeves roll up well, but I have cut the cuff off of a few to roll them up even higher in warmer weather. I have had to resew several buttons onto these shirts. There are two extras in the hem, and now I know why!