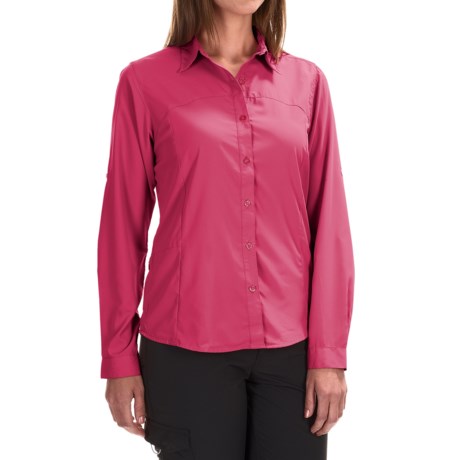 Perfect for hot, humid weather - thank heavens for 'PLUS' sizes!
Verified Buyer
Reviewed by AspenGal from Aspen, CO on Sunday, February 15, 2015
Many 'outdoor' clothing companies seem to think women larger than size 14 never spend time out-of-doors hiking, camping, skiing, traveling...thank heavens White Sierra doesn't have that mind-set, and offers clothing for us larger gals!

I now own 2 of these shirts, plus 2 more of the short-sleeve version - purchased them for the UPF30 sunscreen aspect, the ability to roll up the sleeves, as well as the wicking fabric. I wore them in Sri Lanka and southern India for a month and they were perfect. The fabric drapes nicely while wearing, not clingy, so always looked good, esp. when worn with a nice necklace or scarf. Shirts do not wrinkle much - if there were some creases when I pulled them out of the space-saver bag, they were gone by morning if hung on a hanger overnight. They were easy to handwash in a sink and were dry within 2 hours (even in the high humidity in India). At least one of these shirts and one of the short-sleeve version will be coming with me to Vietnam this fall, and Java/Bali next fall.

NOTE: I find the White Sierra brand of clothing runs a size 'smaller' than some other brands, in both shirts and pants. Once I figured out my size, though, I've had no issues with 'inconsistent' sizing when purchasing additional items. I also own 2 pairs of 'convertible' pants (legs zip off to become long shorts) and a pair of capris.

Kudos to Sierra Trading Post for offering this brand in the PLUS sizes at great prices.