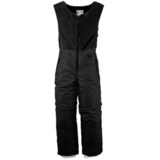 Closeouts. Ideal for wintertime fun, White Sierra's insulated bib overalls fit comfortably under your child's jacket to protect against cold, wet weather. A cozy fleece top connected to water-resistant bottoms creates a durable one-piece that will keep little bodies warm and dry no matter how rambunctious they get.
Average Rating based on
98
reviews
4.591836
0
5
Verified Buyer

Reviewed by temina from wisconsin on Thursday, October 19, 2017

The fit is great for my 7 year old daughter and amazing quality for the price i paid

Verified Buyer

Reviewed by Iryna from Kiev, Ukraine on Thursday, February 9, 2017

?????? 6? - ?????????? ??????? 140 ????????. ?? ??????? 7 ??? ??????, ???? ????????????? ???????? ?? ?????? ? ?? ???????? ??? ?????????? ????? ???????????????. ?????? YKK. ??? ??? ????????????. ????????? ????. ??????? ????? ?????.

Verified Buyer

Reviewed by lostdreams from nj on Saturday, December 31, 2016

These pants are great. They are warm and comfortable. Not very bulky; easy to move in even for a two year old. The most wonderful thing: they last a long time. We've been using the same two pairs for our daughters for the past 3 years. We bought 3T and 6T 3 years ago, and they still fit on our now almost 5 and a tall 7 year olds. They are getting to be a little tight but still more comfortable than anything else, and they still fit over two base layers. We use them for cross country skiing; the girls forget they have them on. I bought a 5T for my younger one, but they are too big for her. I wish they'd make them for big kids as well.

Verified Buyer

Reviewed by AJ from Maine on Friday, December 30, 2016

Just got them and seem like good quality. Appear slightly on the larger size and have extra room to grow them out. Will certainly get a couple seasons out of them.

Verified Buyer

Reviewed by ADKKate from Adirondack Mountains, NY on Friday, December 30, 2016

Bought this for our grandchild when I saw it on such a great sale. It is going to be packed away for another year at least. Did check it over carefully when it arrived. The top will not only provide an extra layer of warmth, but also isn't like the straps that fall off when kids get moving around. The bottom half appears to be constructed of quality materials and well insulated. The inner cuffs will prevent snow from getting up into the legs. Overall, very pleased with what I see. Will try to remember to come back and update the review when it goes into actual use.


Reviewed by WaGal from Washington State on Saturday, December 17, 2016

Fits well for my 4 year old, and works well in the snow!

Verified Buyer

Reviewed by Kimster from Idaho on Tuesday, December 6, 2016

I have ordered 2 pairs of these. The first pair, size 3, my son wore for 3 years (reason 1, he grows slow. Reason 2, they have the grow with me so I was able to adjust them for when he got taller). On yr 3 they finally wore a hole in the knee. So I ordered a 6x thinking they would fit great because he is in a 5-6 now. I was way wrong. The 6x fit my son who is a size 8/10. The sizing is a bit off so we will just save them for next year and hope they fit.

Verified Buyer

Reviewed by Deb from Wisconsin on Monday, December 5, 2016

Amazing to find an affordable snowpant that competes with the top brands! These are warm and stay dry. They have grow with you seams, so you can get an extra season out of them too! This is the second pair for my daughter as she finally outgrew the first. They run pretty true to size; if anything they are a little big/roomy.

Reviewed by Rick from Vermont on Tuesday, November 29, 2016

I have multiple pairs of these for my son (5) and daughter (7). They love the fit and warmth. We have dedicated pairs that they wore for skiing (in VT) and they lasted the whole season. The pairs they wore to school or at home were great when there was plenty of snow on the ground. In early and late winter (or mid-winter thaw), they still wore the bibs for warmth, but the knees ripped pretty easily on stones, sticks, etc. In contrast, the snow bibs from LL Bean held up just fine to the rougher environment. Of course those cost three times as much as the White Sierra bibs, so these are still a good value, imho.

Reviewed by Lolo the Black Cat from Missoula, Montana on Wednesday, November 23, 2016

These run long in sizing - my daughter is super tall for her age but still wears the size for her age through the next year, which is not the case with any of her other clothes. We are buying our third pair of these - the 2T lasted until age 3, and the 4T until almost her 5th birthday.