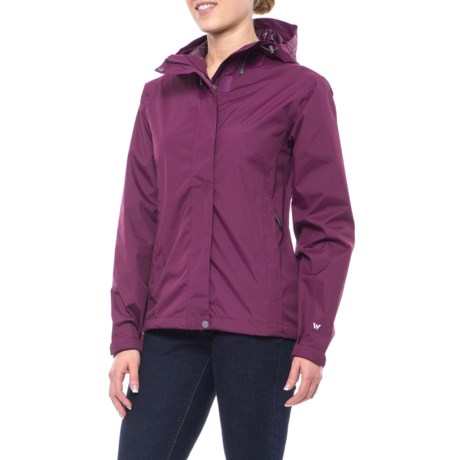 This jacket does not have a mesh liner and it doesn't feel rubbery. I used it in Jackson Hole this summer while bike riding. I did not get hot but the weather wasn't hot. It was warm/cool. I also did not get hot wearing it while bike riding in the rain. It is a great travel rain jacket. It is light-weight & a good rain jacket.

No, it doesn't feel rubbery, and it's only one layer, not mesh lined. Great lightweight jacket, fine by itself or over a sweatshirt. I wore it kayaking over the summer and was fine.

No mesh liner. It does feel rubbery, I guess, as you describe. I wear it for walking my dogs in the rain.
Definitely waterproof. I guess you get warm in it, as it isn't gortex, breathable.
But for the price, it is an awesome little jacket. I have more high end gear, for sure, but I do like this to throw on to walk my dogs when it is not too cold outside. I have two - one green and one turquoise. I even bought my daughter one in the royal blue. She likes the jacket, as well.
Fit is true to size. I am 5'5" tall, 129 lbs., and wear the medium. I have long arms and the sleeves are good. My daughter is 5'1" tall, 118 lbs., and she likes the small.

Cathie is not gore tex so you do get warm. It does not feel rubbery. I wore it hiking once and it was not the best raincoat as it does not have under arm zips but it packs beautiful and does the job. I have it with me on a trip right now.

There's no mesh lining except in the back where the vent is. I use this jacket for cycling in the Northwest where there's a lot of rain and wind. I've been wearing it on rides in temperatures anywhere between 32F to 40 F. It's only hot when I stop. Like I said in my review, if you don't wear something longsleeved under it while cycling to wick moisture away, your arms will be drenched with sweat when you stop. I don't notice the moisture while riding, which is nice. I really like it otherwise. I don't notice that it feels rubbery on the inside at all. Hope this response helps! :)

The pockets are mesh lined. There is also some mesh around the neck area. My step daughter took it to camp and wore it in the rain. She didn't complain of getting hot. It's fairly thin .

It has a partial mesh liner on the back, where it is vented, and there are mesh inner pockets. It doesn't feel rubbery at all, and I wear mine all the time. It can be a bit warm on rainy days in the summer, but is still a great rain jacket.

There is only a bit of a mesh liner on the back as there is a flap that comes down and have vent holes. My daughter never complained of any rubbery/clamy feeling while wearing it during out backpacking trips this summer. I do not care if you buy a cheap rain coat or a multi-hundered dollar rain coat they never breath as well as fleeces or soft shells so yes, you work up a bit of a sweat in heavy activity. But that's why it is vented. In the couple rain showers she actually had to use it it worked flawlessly. It's a good buy. It tucks into it's own stuff pocket. Make me feel dumb for buying a 130$ rain jacket. If you use it for outdoor activities like backpacking (that's why we bought it) buy a sixe larger so you can layer with mid-layers, but if it's just for everyday are buy your size. It's worth it.

There is a small part of the inside that has a mesh liner--around the top of the back. Also, there are two, large inner pockets that are mesh. Other than those places, there is no mesh lining, so it does feel a little rubbery I guess, but it is so thin that it definitely isn't a heavy rubbery feeling. I have only worn it in the cool weather over a long sleeve, so I didn't get hot in it. I guess to be 100% water proof, it has to be the kind of material that keeps out both water and air. There is a vent in the back, though, so some air will get to your body.

there are 2 different White Sierra Trabagon rain jackets . I ordered #3097, it says ""waterproof/ breatheable " under its description. I plan on bringing it to Asia so I hope it IS breathable ! It IS very waterproof, and the days I've worn it so far, while not hot out, I was really exerting myself physically and did not notice any heat being kept in the jacket. It is not rubbery on the inside and does not have a mesh liner. However, it does have mesh on the top 1/3 , in the inside, on the back. It is thin and lightweight, and so far I am very happy with it as it appears that as far as not getting hot, this (while being waterproof) is about as it good as I can hope for. (One other reviewer said she wore it to Asia and she was happy with it !)

Hello - this jacket has a partial mesh liner. It is on part of the back, and on the pockets. Where it doesn't have a mesh liner, I don't think it feels overly rubbery. The fabric is lightweight and flexible. The day I wore this jacket in the rain, it was about 35-40 degrees, so in that instance I did not get too hot! It did, however, keep me extremely dry and I was very impressed. I wonder if it would be too hot in the summer, but in that case, perhaps a different jacket would be more appropriate. For the price and the fit, I was willing to take a try on this jacket and I am happy with it. In fact, I purchased another one for another family member!

The inside top portion of the jacket where the label is located has a mesh liner which creates a vented area across the back.This is to allow the garment to breathe, and the vent is sewn down in 2 small places. This is a nice feature of the jacket. In addition, there are 2 fairly large inside mesh pockets that are separate from the zippered outside slant pockets. No, it doesn't feel "rubbery" on the inside, but there is a bit of a "swishing" noise when putting this jacket on (think shower curtain). I like this jacket because it has an adjustable velcro tab on the sleeves and I just discovered another velco tab on the hood which is great to adjust the size of the hood if you really wanted to use it.

I have worn it once and did not get hot at all, but it wasn't exactly a hot day either. We'll see how it performs in the summer in Europe.

It does not get to hot it is not a rubbery feeling. It is very light and yes it is very water proof

No mesh liner. Only wore it once before the colder weather. Didn't feel hot or rubbery. Love the idea of rolling it up and putting in my travel bag. I got the blue which is a great color.

The upper back has mesh(lie a yolk) and the inner pockets are made of mesh, located at the lower front. It doesn't feel rubbery,it slides on and off easily. It isn't like a cloth, so it does make a russelling noise but it isn't stiff. I haven't gotten warm in it but didn't use it when it was hot. I like it,it is definitely water proof and has a nice hood, it does keep you dry. And for the price I think it does a good job.

This jacket does not have a mesh liner, but it has two good-sized mesh pockets on the inside. I have worn it in a variety of weather conditions, and I have always felt comfortable in it. When I I use it in rainy weather for long (fast) walks, I'll get sweaty only because of the workout., not the fabric. It is waterproof and attractive, and I am very happy with it.


The jacket has huge, deep mesh pockets that zip at sides outside jacket (mesh inside). There is mesh from inside collar to middle of back which spans entire upper back. It is super lightweight, fits loosely just right. It is not hot to wear, very comfortable.