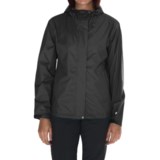 Closeouts. White Sierra's Cloudburst Trabagon rain jacket offers heavyweight waterproof protection in a featherweight package you can tuck into your pack and hardly know it's there.
Average Rating based on
921
reviews
4.328990
0
5
Reviewed by Amy from Springfield on Sunday, September 17, 2017

I was a little bit wary to order this jacket, because my primary need was to stay dry....and only read a couple of dryness posts on the reviews....but had looked around at other name brand "waterproof" jackets and knew which features were needed to actually keep you dry. I also needed something lightweight (check), vented (check), and stylish (check). After using it for an hour in pouring rain, the dry feature definitely gets five stars! It was about 75 degrees out, and I was walking a brisk pace. I didn't get wet underneath the jacket and didn't get that suffocated sweat from plastic. The vented area kept me cool....and the hood was the perfect design for rain....it didn't drip water off the front, onto your face. There is a velcro feature on the back of the hood for different lengths of fit. Letting it all the way loose allows the hood to come over your face for heavy rain. Pulling the slack is for light rain yet still keeping your face dry.
The velcro around the wrists, taped seams throughout the jacket interior, velcro + zipper front, drawstring hoodie, and zipper pockets were all equally helpful and allowed me to stay perfectly dry for four miles of rain.

Reviewed by AKFletch from Lower Kenai on Wednesday, September 13, 2017

Old fashioned sticky slimy feel to the inside of the fabric. Also pretty tight for size. Would have sent it back if I lived in the 48.

Verified Buyer

Reviewed by The Bean from South Carolina on Monday, August 28, 2017

Love this jacket. It's constructed from light weight, yet durable material. It stows well in a back pack or a medium sized purse. It's cut well for the body with attention to detail: draw string at bottom to keep wind and rain out, and at cuffs with adjustable velcro. Zipper and snaps give you a choice in closures. Not water proof, but water resistant, good for short walks in the rain, but not for several hours of hiking in a deluge. Great Price. The best part is that I love the color, Blue Radiance.

Verified Buyer

Reviewed by World Traveler from Deep South on Sunday, August 6, 2017

Yes, it's very light to pack away. Haven't tried it in a heavy rain yet, so don't know how waterproof it is.

Reviewed by Lamby Lamb from California on Wednesday, August 2, 2017

The bright turquoise color is the the only reason why I kept this jacket, but it is NOT waterproof in the least - especially after fifteen minutes of wear in the rain. The first time I ever wore this jacket out, I was hiking in the rain for 3 hours in Hong Kong. It was great for the first 15 minutes and photographs beautifully against the lush green jungles of Hong Kong, but after continued wear, I was soaked to the bone before we were even halfway through our hike! I was more drenched than I've ever been in my life and I was shivering with cold. I've worn this jacket many more times after that hike in the hopes that the next time I wore it out it would perform like a rain jacket should, but each time, I ALWAYS got soaked. I studied other people's rain jackets on a recent trip to Alaska and watched how water would bead and roll off effortlessly off their jackets. This jacket SOAKS WATER IN. You can tell it does because the fabric actually changes from a vibrant turqouise to a bolder shade of cyan. Extremely disappointed that this "waterproof rain jacket" if not waterproof in the rain at all.

Verified Buyer

Reviewed by Wilsby from Minneapolis on Thursday, May 18, 2017

When a snap broke on the jacket, customer service provided a partial refund since the color/size combo was no longer available.

That's why I'll continue to shop Sierra Trading Post!

Verified Buyer

Reviewed by Diane, aka the Explorer from Hilo, Hawaii on Wednesday, May 3, 2017

I recently moved to the Island of Hawaii. Unfortunately, when the movers came, they packed my two rain jackets before I could grab them for my suitcase. They'll be in storage for 6 months before arriving.

I asked a colleague here where I could buy a raincoat. She said she didn't know; no one wears one here because it's warm rain and usually doesn't last for very long. That's not true on the Hilo side of the island, where the rainfall is around 130-160" a year. After two straight days of rain (albeit warm rain), I decide that I needed a rain jacket. Since I have the two high-end jackets in temporary storage, I didn't want to spend a lot of money.

I narrowed my choice to two rain jackets and settled on this one after reading all of the reviews on both. This jacket meets my needs for the following reasons:
1. It's very lightweight, so I can throw it into my backpack or purse without adding weight or bulk.

2. The seams are tight. It keeps the rain out. Also I used it to protect my car seat when I had to leave the public swimming pool in my wet bathing suit because I had forgotten my change of clothes.

3. It's in the high 70s/low 80s here, but the jacket is still comfortable. I haven't worn it to hike yet; just around town running errands.

4. The low price represents a good value.

5. The zippers work smoothly without snagging.

6. Velcro bands at the wrists allow for adjustment.

7. The good cinches up tightly, perfect to keep my hair dry when it's raining and windy.

8. It's attractive. I bought the Blie Radiance (an aquamarine) in Medium. I'm 5'5" and weigh 135. It fits perfectly (with a little wiggle room) over blouses and T-shirts. It would probably fit well over a light sweater as well. I opened the package at the UPS Store where we get our mail. All 3 of the women who worked there loved the color.

What would I change if I designed the coat?
1. It's packable inside one of the pockets. However, that pocket is mesh and I worry that the mesh might snag on something in my purse and tear. So I keep it in a plastic bag in my purse (for those surprise rain showers). I would make the pocket solid on the inside.


Verified Buyer

Reviewed by Jan from Alabama on Sunday, April 9, 2017

I love this rain jacket! It is lightweight but still deflects the rain and wind well. JB

Verified Buyer

Reviewed by Dad in the woods from Arcata, Ca on Monday, March 13, 2017

Bought this for my wife. When she tried it on for the first time a button on the lower part broke off without even wearing! Sent back.

Verified Buyer

Reviewed by Beth from Florida on Wednesday, March 8, 2017

Great jacket and great price! I ordered this and it arrived within a week. The quality is nicer than I expected for the price. I'm taking a hiking trip and the jacket folds up into it's own pocket to stash in my backpack.I tested the "waterproof" quality and it is truly waterproof. It has a teflon surface and water beads on the surface and rolls right off. The jacket itself has a fold over for the zipper and adjustments (velcro, drawstrings) so sleeves, hood, jacket bottom, can be sealed up. Its really lightweight and breathes. I didn't feel like i was in a plastic bag when I had it on. Really happy with this jacket!