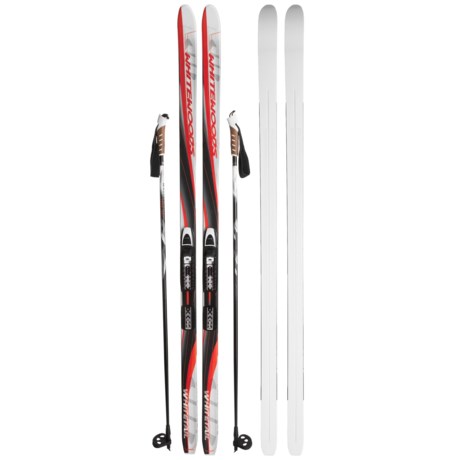 Nice bindings, good skis, pole snapped in two on the second time out!.
Reviewed by peteshndl from Pacific Northwest on Monday, January 13, 2014
I wish there was a way to review the bindings, skis and poles separately, as I would have given them different ratings. I have been using different cross country skiing poles for forty years. This is the first time I have ever had a pair just snap in two without having first been badly bent, straightened and reused for a while. My second time out with them I fell, got up on one knee, was holding a pole vertically to support myself on as I got up, only to find that it snapped in two. The pole looks like it is made out of plastic. Really thin plastic. All my previous poles have been bamboo or aluminum. Now I know why they do not make most cross country poles out of plastic. I am not asking for a replacement pole because I will never use them again. I had noticed a pronounced quivering in the body of the pole the first time out but did not think much of it. You would not want to be a long way out and depending on these poles to help you get back.

I would give the skis four stars. The "kicker" texture on the bottom is not the usual "fish-scales" and I was concerned about that at first. The first time out I went up a minimally snow covered access road that included a lot of uphill and crusty snow. Although there was some slipping backwards, even fish-scales will do that on icy snow. I would still rather have the fish-scales for a kicker but this alternative kicker does work. The skis handled quite well on the downward leg of that trip. I did a lot of step turns, snowplow turns and stem cristy's in less then optimal conditions.

The bindings are great. I have been using the same pair of Rottfella manual NNN BC bindings for seven years or so. Now I am sold on these Rottfella Automatic bindings. They are really easy to put on and stayed on just find.

Another reviewer noted that the recommended boots that pop up on the bottom of the webpage included some incorrect recommendations. The wrong boots are still showing up. You can only use NNN BC boots with these bindings.
Most helpful positive reviews
Similar items and more information in the following areas: