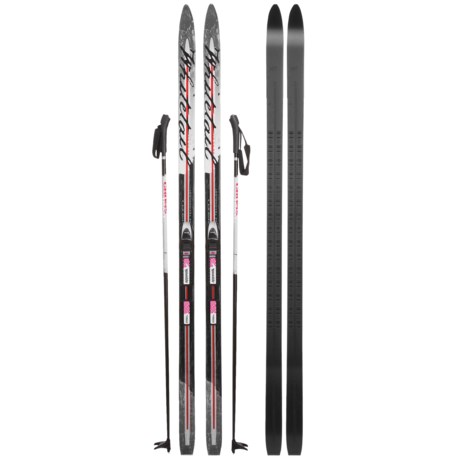 you pay for what you get
Reviewed by Andrew from Boise,Idaho on Monday, February 3, 2014
These are a pretty decent set of cross country skis. They are not full metal edges. Only partial metal edges. They are a pretty good set of skis for groomed nordic trails. The partial metal edges and slightly wider bases make going down hill much easier. The no wax climbing portion of the skis underfoot is not done as well as some other brands such as atomic or rossignol. The climbing portion consists of ground out grooves into the base of the ski instead of the usual "fish scale" pattern you usually see on most skis. This may only be a disadvantage to some skiers. I didn't notice any difference in the ski's climbing ability on a fairly steep ( groomed) trail. They are wide enough to give you a little more stability yet narrow enough to still ski within the tracks. I have skied on these a few times now on some groomed trails here in the Idaho mountains. The trail I use them on climbs about 500 feet in about 2 miles. I pull my 2 year old son along behind me in a chariot ski trailer. The partial metal edges are a must for me coming back down hill. I am able to snow plow and control my speed even with the extra weight behind me with these skis. For what I have used them for they work pretty well.

The rossignal bc 65 has specs that are pretty comparable to this ski. Without actually trying the rossignol bc 65 i would say the rossignol is likely a little better. Full metal edges with a better base, but you will also likley spend at least $100 more for skis/bindings. I would have to say overall that I am fairly happy with this set of whitewoods skis, but also glad I only paid $175 for them. Much more than this and I would have rather spent just a little more and purchased a pair of rossignol bc 65 (or 70s) or even a pair of madshus glittertind's.

In my opinion these whitewoods skis are pretty good for people who are looking to ski groomed nordic trails and just want a ski that will give them a little better control especially for the down hill portions over a more traditional edgeless skinny nordic ski. I would not call these "backcountry skis," although they may work okay on a few short jaunts through woods. But face it, if you are really serious about climbing through untrailed snow and hitting some virgin glades then you are going to have a full on Tele setup. The rottefella bindings are great, easy to step into and get out of. The bindings alone are worth about $80 to $90. Don't be confused by the boots recommbended by Sierra, you MUST buy NNN BC boots.
I am 5'9 and 150 lb and purchased the 180's; the poles that came with these skis are just about the perfect size, they fit right under my armpit. Overall a pretty good ski for the money. I would make sure that you also at least get them an additional 20 to 30% off, otherwise you might be better off spending just a little bit more to get a little higher quality of ski.
Most helpful positive reviews
Similar items and more information in the following areas: