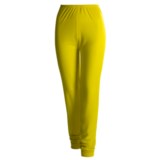 2nds, barely perceptible blemishes. Wickers long underwear bottoms are made of Comfortrel® polyester, which pulls moisture away from your skin (wicks) and spreads it out on the surface for quick drying. Lightweight bottoms are ideal for stop-and-go activities in mild conditions or highly aerobic activities in colder conditions.You can pay up to three times our prices and not notice an improved performance.
Average Rating based on
250
reviews
3.268000
0
5
Verified Buyer

Reviewed by Hiker from Coventry, RI on Monday, February 23, 2015

These fit very weirdly. They are long in the leg and torso. So if you just wear them without fitting pants on, they tend to slip down in the crotch area. Love the color and a great price. They work fine under jeans.

Verified Buyer

Reviewed by Mamajay from Ri on Thursday, February 12, 2015

Over waist fit. A little thin I thought but good coverage and comfort under snowboard pants, needed something comfy and just an extra layer for thighs got it.

Reviewed by REF from Decatur on Saturday, December 20, 2014

Ordered M too small in length. Will keep for a friend.

Verified Buyer

Reviewed by Lefty's Gramma from New York on Saturday, December 6, 2014

Got this for my granddaughter for skiing, but it is so big (size small) that I gave it to one of her larger friends.

Verified Buyer

Reviewed by The Saint from Montana on Thursday, November 13, 2014

I don't know if I got a misfit, but mine were way too long. Returned.

Verified Buyer

Reviewed by Laeken Runner from Lenoir, NC on Wednesday, October 29, 2014

I use these for P.J.'s and love the soft warm feel. Ordered a couple of pair for the winter

Verified Buyer

Reviewed by anne from colorado on Monday, October 20, 2014

great deal

Reviewed by WinterWonderland from Canada on Sunday, February 2, 2014

Bought two pairs of LU by Wickers - lightweight and mid-weight. The lightweight ones fit weird and the material is cheap. Don't expect they will last much longer than a season.

Reviewed by SI12920 from Albuquerque, NM on Friday, November 29, 2013

The material is good, but the fit is strange as mentioned by other reviewers. But for the price, I kept it.

Reviewed by Iva from Taos, NM on Monday, July 15, 2013

They sit very high on the waist and they are sized wrong. I wear size 4-6 pants so I bought the medium (thanks, Sierra, for explainig sizes on the chart, otherwise I would order size small, which I wear). still, they are too long yet way too tight, especially over calves in my case.But I worked on stretching them and it helped.
On the positive side - I like the material very much! and the fact that they sit very high does actually good - no rolled up top clothes while sleeping.
The positives overweigh and I ordered another pair.

Reviewed by Julie from Washington State on Friday, March 22, 2013

Size medium is very long, not only in the legs but also from the crotch to the waist. I am 5'6", and the waist sits just under my bra. In addition the waist is small and not stretchy, My BMI is 21, and normally a medium tends to be a little large. These will be returned.

Reviewed by AvidOutdoors from NE OH on Saturday, March 9, 2013

Great price on these poly bottoms. They sit very high on the waist but are comfy and warm

Reviewed by K from Maine on Saturday, March 9, 2013

The quality seems great, as always with Wickers, but they are sized wrong. I typically wear size 4 or 6 pants, so I'm pretty small, but I bought the mediums and they're too long yet way too tight. The medium seems sized for a woman who is tall (5'8"?) and skinny (size 0 or 2). I'd return them but they were really cheap so it's not worth the return shipping.

Reviewed by Gramma Annie from Oregon on Thursday, February 28, 2013

I love most of the Wickers products I own, definitely my assortment of shirts. They are a great deal for the price. I have previously purchased two other sets of the long underwear bottoms, size Medium. I wear them under jeans and sometimes under long skirts, and they keep me warm in cool situations. My first pair, olive green, fits well. I ordered a light blue in the same style. The legs, especially the knees, on that pair are very tight for me, but I still use them.

Recently I ordered the bright green in this item (it's a nice color!). I could barely get my feet into them, but I managed They are longer and much tighter in the legs. I won't be able to use them. I got such a good deal that it's not worth it to return them.

I'll give them to a friend who has small feet, very slender legs and is tall. If you fit that description, these may work for you. But unfortunately, I am disappointed. Ordering online without trying on involves a bit of risk, so I thought I was safe ordering another pair in the same size. I wish the sizes could be consistent. If you can get Wickers that fit, I think they are hard to beat for price and comfort. I wear the tops frequently, and I still recommend Wickers to friends.

Verified Buyer

Reviewed by Mountain Maiden from Salt Lake City, on Monday, February 25, 2013

I have found Wickers sizing to be inconsisent. A similar item I ordered was too big so I ordered these a size down, and they are way too small. Also did not care much for the fabric, it does have much give and therefore not very comfortable. The price was great but overall I was not satisfied with this purchase.

Verified Buyer

Reviewed by Tamar_mt from Boston on Wednesday, February 20, 2013

I wear a 6 or 8 in pants. I ordered a medium and I couldn't even get them on. They would be fine if they fit, but I think I'd need an XXL!

Verified Buyer

Reviewed by Daisies16 from Reno, NV on Tuesday, February 5, 2013

These are cut really strangely, the waist is way too high, and the elastic is tight but the fabric just below it is baggy. They fit me otherwise besides the length, so I'm not sure why they are so long. I returned them for another brand that I am much happier with.

Verified Buyer

Reviewed by Rocky mountain climber from CO on Tuesday, February 5, 2013

Sent it back. Threads unraveling.

Verified Buyer

Reviewed by bren from upstate ny on Thursday, January 31, 2013

great for staying warm

Verified Buyer

Reviewed by NCMtn Girl from Asheville, NC on Saturday, January 26, 2013

Very warm to be so thin. Runs long in leg and torso but no one can see them, so what? Runs tight on the ankles - mine are pretty small. Very well made will order more. Helps keep thermostat down in house...

Verified Buyer

Reviewed by Jenn from Front Range, CO on Thursday, January 10, 2013

Such an odd shape. The legs and waist are fine, but the rise is peculiarly tall. I did find the overall sizing to be reasonably true other than that. But for the price and purpose, I'm keeping them; base layer isn't about fashion and the extra space in the top isn't going to bother me.

Reviewed by fireball from johnson city,tn on Tuesday, January 8, 2013

I was tickled with the price not so tickled with the quality. After about 10 wearings, the crotch seam has busted. Now,I have to say I backpack.. these things were worn and put to the test. I think for lighter use they would be just fine. i think I'll just sew the seam up and keep wearing them until they fall apart.

Verified Buyer

Reviewed by Ann G. from North Smithfield, R.I. on Monday, January 7, 2013

Nice underwear. I use them as pajamas.

Verified Buyer

Reviewed by pawsunique from marietta, georgia on Friday, January 4, 2013

a little tight in the waist

Verified Buyer

Reviewed by chicago from chicago on Thursday, December 27, 2012

sending it back

Verified Buyer

Reviewed by Mackie from Kingston NH on Monday, December 17, 2012

I wear long underwear any time the temp goes below 60!

Verified Buyer

Reviewed by happycat42 from Georgia on Sunday, December 16, 2012

I should have listened more to other comments, but I was swayed by price and made in USA. I ordered the xlg for comfort and ease around the hips. I have some of the large, and find the hip fit too snug for ease of wear. I'm 5'3", and when I hold these up in front of me, with the ankle cuffs at my ankle, the crotch hits my navel and the waistline hits my shoulders. I didn't try them on, but in holding them against my body I didn't feel that the hip fit would be all that much better than the large. I am not obese. So, unless you are really tall and relatively slim, these probably wouldn't fit you.

Verified Buyer

Reviewed by Okra Jean from Pensacola, FL on Wednesday, December 12, 2012

I'm a very small-boned person. I had trouble pulling the ankle band over my foot-- was afraid I was going to tear them! Once I managed to get them over my foot and ankles, I couldn't pull them up past my thighs. I ordered a size medium. I believe this size would fit a 6' 5" person who weighs about 100 lbs.

Verified Buyer

Reviewed by munky from grand rapids, MI on Thursday, December 6, 2012

Fits great under sweat pants or jeans. Very comfortable, should be great for snowshoeing and shoveling the driveway.

Verified Buyer

Reviewed by Trail Runner from Bountiful, Utah on Monday, November 26, 2012

I have the heavier weight Wickers and really like them. I thought the light-weight would be nice for day-to-day use now winter has arrived. I generally wear a medium size but this medium was at least two sizes too small. The expedition-weight Wickers I have are the extra large size and are the right fit for me. I'd recommend the same with the light-weight Wickers.