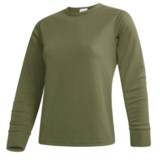 2nds. Wickers' midweight long underwear top is made of Comfortrel® polyester, which pulls moisture away from your skin (wicks) and spreads it out on the surface for quick drying. Midweight top is ideal for stop-and-go activities in moderate to extreme cold or stationary activities in moderately cold temps.
Average Rating based on
314
reviews
3.964968
0
5
Verified Buyer

Reviewed by 14erAnn from Colorado on Wednesday, December 31, 2014

I've been looking for this Wickers and it came in bright red, my favorite color! What a deal. They last forever and are perfect for many activities and layering!

Verified Buyer

Reviewed by ScuttledCuttle from TN on Saturday, December 20, 2014

I like this top well enough and plan on keeping it, but I'm going to have to do some alterations. Mostly to the neck, as it feels like it's strangling me it's so snug. I do really like the teal color and the material, at least.

Verified Buyer

Reviewed by NM Tennis from New Mexico on Saturday, December 20, 2014

I really enjoy wearing this long underwear at work during the winter months. My first few hours of work are like hiking up a mountain at a fast pace while perspiring. Then I move around as if I were walking on a level path at a moderate pace and the wicking material is amazingly comfortable, keeps me warm, and I never get chilled. I would highly recommend this product.

Verified Buyer

Reviewed by STPshopper from Northern California on Wednesday, December 17, 2014

Fits true to size. Slight color bleeding in the first wash. Despite a little irritating on bare skin, I'm keeping it to wear over another base layer.

Verified Buyer

Reviewed by STP Fan from Philadelphia on Friday, December 12, 2014

did not like...returned

Verified Buyer

Reviewed by beach doggies from massachusetts on Tuesday, November 25, 2014

didn't like this at all and will be sending it back. after i washed and dried it, it was too small. i didn't expect it to shrink so much. fabric feels cheap and i would not call this mid weight. it is super light and doesn't seem like it would be warm at all.

Verified Buyer

Reviewed by walkie talkie from colorado on Saturday, November 22, 2014

sleeves are too short; material more lightweight than "mid weight"
i would return it if returning was easier

Verified Buyer

Reviewed by MKR from world on Wednesday, November 5, 2014

I didn't like the look of this top on me, or the color (though I normally love turquoise and blue colors). The fabric didn't feel good on, and neither did the texture or fit (even though I liked the gold turtleneck made by the same company). It's the only item in my entire order that I would like to return... though the shipping cost to return it would cost me more than the cost of buying it, since I would have to pay more than $12 for return postage. I'm considering wearing it for "rough" around the house or as an inside, covered up layer, for camping. I wouldn't buy this again, and have no desire to keep it or wear it. Sub-standard quality and too high a cost for returning it.

Verified Buyer

Reviewed by Fashion conscious from Eastern Oregon on Friday, October 17, 2014

I kept this shirt as it was long but not impossible for a 5'3 tall woman. It was a little irritating to my neck skin as it has 2 seams that are at the neckline and they rub. But I need some warm tops and hope that the chafing will reside with washing. Nice soft fabric. Good quality. Great price.

Verified Buyer

Reviewed by RlcinNorCal from Northern California on Friday, October 17, 2014

I have not yet worn this top skiing so I do not know how it performs. But, it is a nicer color than in the picture and coordinates really well with the "Oceana" color choice from Columbia. The fabric feels kind of weird like a microfiber cloth. And it seems to run very large. I have a big chest and broad back (44DD) and usually fear that an XL will be too small, but this fit my bust/chest and was roomy in upper arms, shoulders, etc.