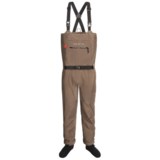 Closeouts. William Joseph's WST waders employ Wader Safety Technology, a feature that uses a CO2 cartridge to inflate a removable bladder and keep you afloat in the event of troubled waters.
Average Rating based on
28
reviews
3.750000
0
5
Verified Buyer

Reviewed by Skibum5950 from Salt Lake City on Wednesday, October 18, 2017

If I could give a zero I would these waders leaked from multiple places the first time I wore them. My feet were wet the entire weekend. Good thing I bought them from Sierra I got a refund and new pair of a different brand.

Verified Buyer

Reviewed by Bryan from California on Wednesday, October 11, 2017

Used in cold water temps and also hiked a few miles. Better than neoprene and built very good

Reviewed by tkrueger from Oregon on Friday, October 6, 2017

I received the William Joseph waders yesterday. I took them to my favorite lake today. They immediately leaked at the seams on the crotch and the inner thigh. I am normally exceptionally satisfied with my Sierra Traders purchases, so this is an exception. A question to the William Joseph Company: how can a pair of waders that retail for $300 not be tested for leaks before they leave the factory? Judging from some of the other recent reviews, this is not an isolated occurrence. Obviously, I will return them tomorrow.

Reviewed by Rob from Virginia on Thursday, October 5, 2017

Bought these for a two week trip to Idaho. Still On the trip as of this writing and these waders leak badly at this point. Seam tape is delaminating in a number of places and I have already had to use Aquaseal on the seams in the crotch area because of this. Doesn't really matter as they leak generally through the material. Spent about 1.5 hours wading the Teton river today and had a couple/few cups of water in the waders with me by the end.

Verified Buyer

Reviewed by joshnyc from New York on Thursday, October 5, 2017

excellent quality, seems durable, and no leaks, very nice price, well worth it, no hesitation in recommending them

Reviewed by Steamboat from Colorado on Thursday, September 14, 2017

I'm 5'-9 / 135# / size 8.5 foot and the Medium is too tight at the waist and chest(especially if I were to leave the PFD in).
Crotch to arm pits too long, crotch to boot a little short.

Quality and materials seems good, cant say more without trying them in the field.

I'm going to try the Large but the boot size will be too big

Verified Buyer

Reviewed by Western Water Trout Hunter from Northern California on Wednesday, September 6, 2017

I have been fly fishing for over 40 years and have worn entry to mid level price range breathable waders. I solely fish Western US waters where freestone streams/rivers run fast. Fortunately I have not taken an unscheduled "swim" to date. Always have my wader belt cinched tight while fording the fast waters with my trusty wading staff. I stumbled on these WJ WST's while wading thru the online STP catalogue. Being a "techie" guy, I checked online reviews and videos. My conclusion is they arrived a few days later on my doorstep. Size large fit my 5'9" 175lb frame/32" inseam with medium chest measure just about right.
They are built near fishing guide quality tough. I expect many good and safer feeling years throwing line wading with the WST system. I will be using these Fall/Winter/Spring as I feel they may get a bit hot fishing the lower Madison River in Montana during the Summer months. Very pleased with the high quality and the amazing STP discounted Price! Thanks STP for keeping me on the river and not breaking the bank!

Reviewed by Devski from Oregon on Friday, August 4, 2017

I am 170 lbs, 5'10", a 31" inseam, and have size 10.5 feet.

These just fit. I am still mobile but I doubt I will use them in the winter since there isn't much room to add thermal layers. Also, these come all the way up to my armpits.

I can at least add a fleece top but I took out the flotation device to feel comfy.

I'm sure they will perform well. they will just be my fair-weather waders.


Reviewed by Matt from Idaho on Wednesday, March 4, 2015

I tried these on in the store today. They are fantastic quality and this is a great buy! However the the 2XL was way to big for me.

I am 6'3" and 280#. I take a xxl in almost everything. However I was swimming in these waders. They are for someone WAY BIGGER than I am. They were too long for me and there was too much girth.

At my size that's not something I say very often. But these are for a BIG boy.

If these will fit you buy them! They are a fantastic wader.

Verified Buyer

Reviewed by Ringo934 from Utah on Monday, March 2, 2015

Willy J make the best equipment money can buy. They are a local Utah company and with the great discounts from this site, I was able to buy top of the line waders without breaking the bank.