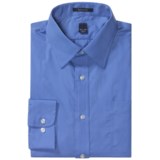 2nds. Made for a retailer you shop and trust, this wrinkle-free broadcloth shirt is priced right -- a crisp blend of cotton and polyester that moves straight from the dryer to your closet, ready to wear.
Average Rating based on
67
reviews
4.522388
0
5
Reviewed by Keith from Hawaii on Monday, October 7, 2013

Shirt looks good and true to size, did not like the fact that it does not come with collar inserts. The price was remarkable.

Reviewed by Joe from Fort Worth, TX on Sunday, October 6, 2013

Nice shirt, nice color, washes well and doesn't need ironing.

Reviewed by Bruce I. from California on Friday, September 27, 2013

The retailer is *very* familiar. I was a little surprised at how stiff the fabric was, after taking it out of the bag. Lot of polyester in the shirt - perhaps not a good shirt for hot weather. The French Blue color could have been a little darker. Seems perfectly fine for casual / business casual wear. I liked that it comes in a decent variety of sizes, and the price just can't be beat.

Reviewed by BretM from Kansas on Wednesday, September 25, 2013

I really like this shirt. Price was right, wrinkle resistant, fits well. Would highly recommend.

Reviewed by Anonymous from WY on Saturday, September 21, 2013

I gave two as gifts to my male friends, they seemed to like, lets see after the washing.....polished look to the fabric

Reviewed by Steve In Boston from Boston, MA on Friday, September 20, 2013

I really wasn't expecting much when I ordered these shirts, but they've wowed me. The listing says they are 2nds, but I couldn't find a sign of any flaws. There were no pulls, odd stitches, hanging threads of any kind. I bought two of these at size 15 with 33 sleeves. The fit is fine and exactly what I expected it to be. I put it through a warm water wash and tumble dry and it was nearly ready to wear. Not totally wrinkle free after the wash and dry - could use a bit of ironing at least the first time out, but then it did arrive to me wrapped up and bagged. The fabric has a very nice sheen to it. It's quite comfortable and has a more expensive look than what the price would suggest. If more colors were available, especially at around five bucks a pop like this, I wouldn't hesitate to order more in multiple colors right now.

Reviewed by NorCal Hiker from No California on Friday, September 20, 2013

Wow, surprised at quality in this price range. Great deal!

Reviewed by Customer X from Texas on Wednesday, September 18, 2013

I bought this shirt, actually two of them, because of the price. (I'm losing weight and didn't want to invest in clothes that won't fit a few months from now.) But it turned out to be a really good shirt, well tailored and very accurate for size. Comfortable and anything else you could want.

Reviewed by Ely gal from Ely, MN on Tuesday, September 17, 2013

Really nice shirt for the money Fit was good. and fabric is nice.

Reviewed by Julierooski from Ohio on Tuesday, September 17, 2013

My husband hasn't worn it yet, but seems like nice material and price was great.