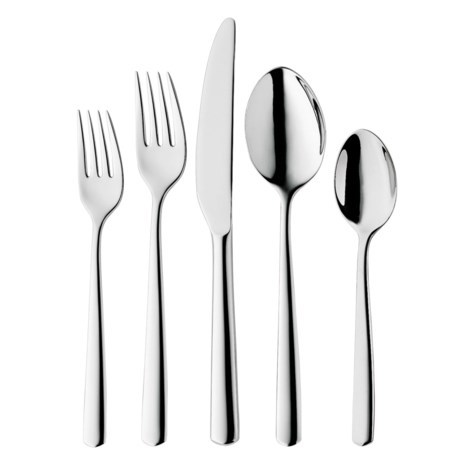 yes it is in all original condition.wrapped from factory.i am more than pleased with this set.this is one of the best things i have bought on Sierra.judy

My recollection is that the pieces came in an unmarked cardboard carton with each type in an individual plastic bag. If the carton had a brand mark on it I don't remember. It seemed pretty generic.
Willa

I returned my two sets, as I found the simple and elegant design finger printed with ever touch on the smooth, shiny surfaces. However, as I recall, these came in very flimsy paper rectangles with each piece wrapped in plastic to prevent scratching with a rubber band around the group. There is most certainly not a "box" of any sort accompanying them. However, I have noticed that other reviews have mentioned some sets came with "China" stamped on the back, and some with "Vietnam." So, perhaps I got the sets that were cheaper made. I would have had to purchase a wooden box, if I had wanted any such item. However, mine were going into dining room drawers with dividers, so the box would have been superfluous.

Flatware is each bagged in plastic, and bundled and put in a cardboard box (20 piece). I'm not sure what an original WMF box is, but, if it's more than simply a heavy weight cardboard box full of flatware, what I got ain't it.