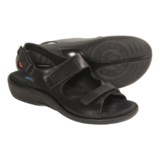 Closeouts. Just because you want walking-shoe comfort doesn't mean you have to cover up summer-ready feet! Wolky's Rodentia leather sandals give you all the support, bounce back and fit you'd find in a pair of sneakers -- with chic style and adjustable straps to boot!
Leather upper and lining
Touch-fasten heel, toe and instep straps
Memory foam leather-covered insole
Polyurethane outsole
By Wolky of Holland
Medium width
Made in Mexico.
Average Rating based on
47
reviews
4.148936
0
5
Verified Buyer

Reviewed by TM's mom from Tucson, AZ on Wednesday, September 7, 2011

I have a bad ankle so I look for support and comfort first. This shoe has it.

Best Uses: Barbecues, Everyday, Travel, Walking
Describe Yourself: Casual
Sizing: Feels true to size
Width: Feels true to width

Verified Buyer

Reviewed by New Yorker from Virginia on Tuesday, July 12, 2011

Beautifully made and very compfortable shoes !

Best Uses: Barbecues, Beach, Everyday, Outdoors, Travel, Walking
Describe Yourself: Stylish
Pros: Breathable, Comfortable, Cute, Durable
Sizing: Feels true to size
Width: Feels true to width

Verified Buyer

Reviewed by shoe luver from madison wi on Sunday, June 19, 2011

I took a walk about 45 minutes in them.
I didn't want to go further because I was afraid that I might blister on the top of my foot near my big toe. I wanted white shoes and they will be okay for going to dinner or occasions where there isn't much walking required. I hope they loosen up a bit on the lining as I use them. I loved the padding underfoot and they may feel better for walking with nylon knee highs.

Best Uses: Going Out
Cons: Chafes, Needs Break-in
Describe Yourself: Casual
Pros: Breathable, Cute, Durable, Stylish
Sizing: Feels true to size
Width: Feels true to width

Verified Buyer

Reviewed by yoshi from tx on Thursday, June 2, 2011

good

Best Uses: Everyday
Cons: Too Stiff
Describe Yourself: Casual
Pros: Breathable
Sizing: Feels true to size
Width: Feels true to width

Verified Buyer

Reviewed by social director from Alexandria, VA on Thursday, May 26, 2011

[...] pricing good

Best Uses: Everyday
Cons: Chafes, Too Stiff, Uncomfortable
Describe Yourself: Loves shoes, Problem feet, Want style and comfort
Pros: A sturdy walking sanda l, Good support
Sizing: Feels true to size
Width: Feels true to width

Verified Buyer

Reviewed by Babs from Fayetteville, NC on Sunday, May 15, 2011

Comfortable to walk in. Cute sandal. Easy to adjust.

Best Uses: Barbecues, Everyday, Going Out, Travel, Walking
Cons: Needs Break-in
Describe Yourself: 50s, Casual, Conservative
Pros: Breathable, Comfortable, Cute, Stylish
Sizing: Feels true to size
Width: Feels true to width

Verified Buyer

Reviewed by Casual Comfort from Durango, CO on Monday, May 2, 2011

Very happy with comfort, style, and color. Leather a bit stiff over big toe and got blister first time worn.

Best Uses: Barbecues, Beach, Everyday, Going Out, Travel, Walking
Cons: Get half size larger, Needs Break-in
Describe Yourself: Casual, Conservative, Stylish, Trendy
Pros: Breathable, Comfortable, Durable, Perfect color, Stylish
Sizing: Feels true to size
Width: Feels true to width

Verified Buyer

Reviewed by Ghislaine from Oro Valley,AZ on Sunday, May 1, 2011

Very comfy sandals.They are not very stylish but are perfect for everyday use.The three Velcro straps are great help to fine tune the fit.

Best Uses: Everyday
Describe Yourself: Conservative
Pros: Breathable, Comfortable, Durable
Sizing: Feels true to size
Width: Feels true to width

Verified Buyer

Reviewed by Walking Fool from Mountain Center, CA on Friday, April 29, 2011

The size is REALLY inaccurate--I normally take a 38 euro, this 39 fits perfectly. That said, the sandals are beautiful; I'm happy to have them.

Best Uses: Barbecues, Everyday, Travel
Describe Yourself: Alternative, Casual, Stylish
Pros: Comfortable, Cute, Durable
Sizing: Feels full size too small
Width: Feels true to width

Verified Buyer

Reviewed by Grandma Linda from Waukesha, WI on Thursday, April 28, 2011

I needed to replace my sandals and was very happy to find them at a reduced cost.

Best Uses: Barbecues, Everyday, Going Out, Travel
Describe Yourself: Casual
Pros: Comfortable, Durable, Stylish
Sizing: Feels true to size
Width: Feels true to width

Verified Buyer

Reviewed by Bunion Lady from Prescott,AZ on Tuesday, April 12, 2011

I've been looking for a nice looking stable walking shoe that I can use with my little orthotic. It seems to work with this sandal. There is enough room for my bunions and I can adjust the heel strap for my narrow heels. I haven't had a chance to really wear them yet but have high hopes that they will fill the bill!

Best Uses: Barbecues, Everyday, Travel, Walking
Describe Yourself: Casual, Conservative
Pros: Comfortable, Durable, Stylish
Sizing: Feels true to size
Width: Feels true to width

Verified Buyer

Reviewed by Woofie from Oregon on Monday, April 11, 2011

These sandals felt tight at first. I have another similar pair that I wore last year and the removable foot beds are broken in to fit my feet. I took the foot beds out of the new sandals and put my 'broken in' foot beds into the new sandals and they were great! This told me that they didn't need to be sent back, but just broken in.

Best Uses: Everyday, Travel, Walking
Cons: Needs Break-in, Takes time to break in
Describe Yourself: Casual, Conservative, Getting old
Pros: Cute, Durable, good looking sandal, Stylish
Sizing: Feels true to size
Width: Feels too narrow

Reviewed by Loop from Honolulu,HI on Friday, April 8, 2011

As other reviewers have stated Wolky sandals are not sized the same from one style to another. The front strap is too tight and shows the velcro closure unless I went up a whole size. [...]

Cons: Catalog bought shoes, Uncomfortable
Describe Yourself: Stylish
Sizing: Feels full size too small
Width: Feels too narrow

Verified Buyer

Reviewed by Red from Sacramento,CA on Friday, April 8, 2011

I took a risk in ordering these sandals,size 37 (6 1/2 medium) as I wear size 7 1/2 narrow or slim. I was pleasantly surprised to find that the Velcro fasteners allowed the sandals to be longer as well as narrower and fit well, and be extremely comfortable. I plan to take them to europe this summer.

Best Uses: Barbecues, Beach, Everyday, Travel, Walking
Cons: Too Wide
Describe Yourself: Casual, Conservative, Stylish
Pros: Breathable, Comfortable, Durable, Stylish
Sizing: Feels true to size
Width: Feels too wide

Verified Buyer

Reviewed by Paula from Santa Fe, NM on Friday, April 1, 2011

I've owned numerous pairs of Wolky sandals, so I expected these to be comfortable and well-made. They are. I haven't worn them a lot yet (the weather hasn't been suitable), but so far I'm pleased. The color is a darker navy blue than I expected (almost indigo), but that's fine with me.

Best Uses: Everyday, Travel, Walking
Cons: Looks clunky
Describe Yourself: Casual
Pros: Comfortable, Durable
Sizing: Feels true to size
Width: Feels true to width

Verified Buyer

Reviewed by Picky about shoes from Florida on Wednesday, March 16, 2011

Beautifully designed and made of top quality leather and workmanship, but the edges of the straps chafed. I didn't take a chance on their finally being comfortable, so I regretfully returned them

Best Uses: Barbecues, Everyday, Travel, Walking
Cons: Chafes, Too Stiff, Uncomfortable
Describe Yourself: Casual, Conservative
Pros: Breathable, Durable, Stylish, Top Quality
Sizing: Feels true to size
Width: Feels true to width

Reviewed by Wolky Woman from Texas on Sunday, March 13, 2011

Before Christmas last year I seriously sprained my right ankle and have been using some type of support ever since. I've been wearing ugly, oversized athletic shoes with an "Aircast" for support. I wanted a comfortable sandal waiting for me when my ankle healed. I have not been able to walk without a limp, but when I put these sandals on without an ace bandage or any support, I was able to walk normally. My husband was amazed when I showed him how I could walk without a limp. I have not worn the sandals much and have continued to use my old shoes with support. I have worn the sandals to town once with an ace bandage and they are very comfortable. The velcro straps adjust to the extra bulk of the ace bandage and I'm able to look a "little more dressy". I really like and appreciate them.

Best Uses: Walking
Describe Yourself: Casual, Conservative
Pros: Breathable, Comfortable, Durable
Sizing: Feels true to size
Width: Feels true to width

Verified Buyer

Reviewed by Forever Mom from SoCal on Friday, March 4, 2011

These sandals look great. However, the leather is stiff and will need some break in time before wearing all day. They have several adjustment points, all velcro, and it will take a while to find the correct fit with these. These shoes are well made and durable. Once broken in, they should be super.

Best Uses: Everyday, Walking
Cons: Needs Break-in, Too Stiff
Describe Yourself: Casual
Pros: Cute, Durable, Stylish
Sizing: Feels true to size
Width: Feels too narrow

Verified Buyer

Reviewed by Nananan from Southeastern PA on Wednesday, March 2, 2011

It's too cold to actually wear these sandals yet but they feel very comfortable and fit well. I also like the way they look.

Best Uses: Barbecues, Everyday, Going Out, Travel, Walking
Describe Yourself: Casual, Stylish
Pros: Comfortable, Cute, Stylish
Sizing: Feels true to size
Width: Feels true to width

Verified Buyer

Reviewed by Forever Mom from SoCal on Monday, February 21, 2011

These are lovely shoes. Unfortunately, the ones I received from STP were already used. The soles were scratched and the shoes did not come in the original packaging. Other than that, these shoes are stiffer than other Wolky. They need to be adjusted and worn around the house a while to break them in. They are attractive and lightweight. They should last a long time.

Best Uses: Everyday, Travel, Walking
Cons: Needs Break-in
Describe Yourself: Casual
Pros: Comfortable, Durable, Stylish
Sizing: Feels true to size
Width: Feels true to width

Verified Buyer

Reviewed by Shopper Sue from Fort Atkinson,WI on Monday, February 7, 2011

I love these shoes. I own 3 pairs of Wolkies and I will buy more. Sometimes my feet swell late in the day and I can adjust the fit of these shoes with the Velcro closures. That way the leather doesn't stretch out and my feet don't hurt nearly as much. I'm all for comfort and these Wolkies fit the bill.

Best Uses: Any time you walk, Everyday, Going Out, Travel
Cons: none
Describe Yourself: Casual, Conservative, Over 70 but not old, Stylish
Pros: Breathable, Cute, Ooooh so comfy, Stylish, Versatile
Sizing: Feels true to size
Width: Feels true to width

Verified Buyer

Reviewed by RC from San Franbcsci on Monday, October 25, 2010

I bought these for traveling. Will use them in Europe next year. They are extremely comfortable out of the box and because they are full adjustable, its perfect for all day wear. I wear them around the City and for short hikes.

Best Uses: Travel, Walking
Describe Yourself: Casual
Pros: Comfortable, Cute, Stylish
Sizing: Feels true to size
Width: Feels true to width

Verified Buyer

Reviewed by Sandal lover from WI on Friday, October 15, 2010

The straps hardly reached across the instep. I have two pairs of Wolky sandals, same size, that I love. I was disappointed in these and returned them.

Verified Buyer

Reviewed by Arturo from Western MA on Friday, October 1, 2010

these shoes are a great deal. good looking sandal that is comfortable to wear and walk in. my wife loves them.

Best Uses: Everyday, Going Out, Walking
Describe Yourself: Stylish
Pros: Breathable, Comfortable, Stylish
Sizing: Feels true to size
Width: Feels true to width

Verified Buyer

Reviewed by LuvTwoLaff from Gig Harbor, WA on Friday, September 17, 2010

These shoes are very practical and great for those who have problem feet. I love the soft material on the foot bed and the velcro straps are a must for those of us who have to make one shoe wider and the other one narrower....I'm sold on Wolkys! Those Dutch sure know how to design shoes.

Best Uses: Everyday, Travel, Walking
Describe Yourself: Casual
Pros: Breathable, Comfortable, Cute, Durable, Stylish
Sizing: Feels true to size
Width: Feels true to width

Verified Buyer

Reviewed by PA Kraut from Pennsylvania on Wednesday, September 1, 2010

This is my second pair of Wolky sandals. I am so glad you still offer them at a great price. My first pair had be heavily used for two years (and they still look good)and I just loved them. This is why I did not mind buying another pair at the end of the summer. I plan to buy more since they are a bargain compared tho other shoe sources.

Best Uses: Everyday
Describe Yourself: Casual, Stylish
Pros: Breathable, Comfortable, Cute
Sizing: Feels true to size
Width: Feels true to width

Verified Buyer

Reviewed by Mamma Bear from Halifax Canada on Sunday, August 22, 2010

This is my first pair of Wonkys but it won't be my last. These shoes are more confortable than runners. I haven't stop wearing them since I got them.

Best Uses: Barbecues, Beach, Everyday, Travel, Walking
Describe Yourself: Casual, Conservative
Pros: Breathable, Comfortable, Durable
Sizing: Feels true to size
Width: Feels true to width

Verified Buyer

Reviewed by Deb from Austin on Tuesday, August 17, 2010

Very comfortable; I have wide feet and these fit very well. I wear a 39 in Birkenstock, but a 40 in most other shoes. I ordered a 40 and it works, but is a tad big (but not big enough to return).

Best Uses: Everyday, Going Out, Work
Cons: Not very stylish
Describe Yourself: Casual
Pros: Breathable, Comfortable, Durable
Sizing: Feels true to size
Width: Feels true to width

Verified Buyer

Reviewed by oakwalker from Bay area on Sunday, August 15, 2010

Great for every day work

Best Uses: Everyday, Travel
Describe Yourself: Casual, Stylish
Pros: Breathable, Comfortable, Stylish
Sizing: Feels true to size
Width: Feels true to width

Verified Buyer

Reviewed by Ludora from Monroe, wi on Friday, August 13, 2010

none

Best Uses: Everyday, Travel, Walking
Cons: Needs Break-in
Describe Yourself: Casual
Pros: Comfortable, Durable, Stylish
Sizing: Feels true to size
Width: Feels true to width