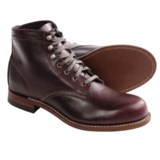 Factory 2nds. From an iconic American company, Wolverine's 1000 Mile Leather lace-ups are a worthy accompaniment to your better denims. Hailing from a long legacy of authenticity and quality, this sophisticated casual is made from premium leather with ample cushioning, Goodyear welt construction and a Vibram® heel cap.
Average Rating based on
80
reviews
4.362500
0
5
Verified Buyer

Reviewed by Shane from Pittsburgh on Wednesday, June 28, 2017

These are great boots at a great discount. A few minor blems to make them seconds, nothing some Huberd's shoe grease can't sort out well enough.

Verified Buyer

Reviewed by Le from Wisconsin on Monday, June 19, 2017

These boots are great. Built well, look good, comfy. The problem is the piece of [...] leather laces that they came with. It is not pictured, but these boots ship with LEATHER LACES not waxed cotton. I'm not even sure what they are supposed to come with. Also the leather soles suck. Get some vibram half soles and slap 'em on there for some traction. As far as factory seconds go, these things are flawless. The color must've been the problem with mine because I received a Tan/Rust hybrid. No big deal. The tongue wasn't even punched. I could sell these puppies for more than I paid if I wanted to.

Verified Buyer

Reviewed by matt from texas on Wednesday, April 26, 2017

Upper tier boots with a manageable price tag. Quality built with no significant irregularities. Excellent service. Fast shipping. Retail ecstasy.

Verified Buyer

Reviewed by Long Dark from Maryland on Wednesday, April 26, 2017

A wonderful dress boot that turns heads. The profile on the 1000 mile boot is very nice.

Verified Buyer

Reviewed by MarcoPolo from California on Tuesday, April 25, 2017

Great boots. No visible defects. Definitely buy a size smaller than your usual show size when looking at these.

Reviewed by pet from california on Monday, April 24, 2017

i believe in here everyone buys these boots as second but expecting defect not to be identified easily
however a pair of boots i bought is showing as defect from outside easily.
price was cheap but still its money and i would spend it on elsewhere
still not all 2nd shoes STP selling is in poor condition, i also bought a pair of red wing 875 boots and they are in awesome condition !

Reviewed by sunil from wb on Saturday, April 9, 2016

I was pretty excited to get this boots and as soon as I opened all the excitement went down the drain. One was much darker then other, leather seem to be different too one was much thicker then other so I checked serial number and as I thought they were shoes put together from different batches. Few weeks earlier I had bought new Bison centennial from them and instead of sending new they sent me seconds. I buy a lot from Sierra trading post but lately there seems to be having way more issues. Yes they do take care of the issues but spending time getting it fixed and resolved is not something I keep looking forward to.

Verified Buyer

Reviewed by Moses from Philadelphia on Wednesday, March 23, 2016

The hype is real and the reviews you read online everywhere is true(never seen a negative review). Even as factory 2nds, the quality of these boots are excellent. My pair only came with minor cosmetic defects or maybe I just got lucky.

Verified Buyer

Reviewed by TheTourist from Indiana on Tuesday, March 22, 2016

I've purchased this same pair of boots from STP last year, and of the 2 pairs I ordered, one shouldn't have even been sent by Wolverine, or sent by STP to me. The second pair was mostly fine, but didn't fit. Both got sent back, and I basically paid $14 to try them on, since you will get charged the return shipping.

On my second order, this year, I made sure to purchase what I think is my right size in this (having wide feet complicates sizing quite a bit with boots, especially these), and hoped for the best. The only problem I could see on this new pair was that one piece of leather was slightly drier and cracked-looking, but not in a visible area and doesn't seem to pose long-term problems. The right boot has a very slight wrinkling problem around the toe flex area (not at all present on the left boot), but that's something that you could get even if you paid full price for these, which I would not. In short, buying these boots at the STP sale price is a great deal if you happen to get lucky in the 2nds lottery. You could be disappointed, so be warned. Otherwise, the boots are comfortable and roomy, actually more comfortable from the get-go than their competitors. The leather sole has worn a bit after a few wears, but that is to be expected. Next time they restock, get a pair (make sure you do it quickly because they sell out fast) and maybe you'll get lucky, too.

Verified Buyer

Reviewed by Jericho Turnpike Bandit from Indiana on Tuesday, March 22, 2016

Not sure how these are factory seconds. They are better quality than my Chippewa firsts! Leather looks great, stitching is perfect. Very sleek for a work boot, even though these are "fashion" work boots. They might have had some superficial scuffs but some boot grease took care of those. Fit is about what you'd expect in a boot. I sized down a full size from what i wear in sneakers. They are snug but feel better than any boots I've worn. DO not hesitate to grab a pair of these. An absolute steal for the price.