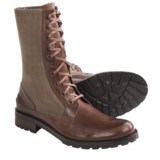 Factory 2nds. Wolverine's 1000 Mile Russel field boots are styled after a classic hunting boot, with a handsome full-grain leather and waxhide upper that features leather lining and Goodyear welt construction.
Average Rating based on
7
reviews
3.428571
0
5
Verified Buyer

Reviewed by Gentleman Farmer from Northern Virginia on Monday, May 12, 2014

I tried these boots twice. In both cases, the flaws were just a little too obvious. There were gaps between where the insole was glued and the upper was attached. Too bad. Stylistically, they are just my taste.

Reviewed by harmz from Vermont on Sunday, April 13, 2014

I would not buy this shoe again. I have 1000 mile standard or classic American made and hoped this would have some similarity, but other than the packaging and the imprints I would not associate these with my other boots. I bought these expecting the sole to be more comfortable than a leather bottom. This sole is uncomfortable. They hurt the bottom of my foot as if this sole is harder than my leather shoes.

THEY DO NOT WALK FLAT. THIS IS VERY ODD. They do not step as the heal and sole were made on the same plane.
I DOBULE CLICK with every step.
I look forward to wearing a shoe for the walk. I do not look forward to waling in these, they hurt the ball and the heal.

I normally wear a 10. I bought a 10. These are longer than any 10 I have. They are also wider and flatter across my toe area.
I usually by 1000 mile in 9.5 and can wear them in a 10. This is not built on the same last as my other 1000 mile.
I can't even say they look good. They are a bit big, clunky and like the style I had hoped for based on the pictures.
I suppose I could sink another $40-50 into them and resole. But I doubt that I'll waste the effort.

This is a wasted purchase, a disappointment, and a bad buying experience.

Oh, well.

Reviewed by Brit Bike Mike from Louisiana on Wednesday, April 2, 2014

Great fit and Great looking boot! To me, they have a style from decades ago that I find very appealing .

Very difficult to understand why the pair was a 2nd. So let's not worry and just enjoy!

Very cool with a pair of jeans and my old Triumph.

Another great deal.

Thank you STP!





Reviewed by Ryan from Afghanistan on Thursday, March 6, 2014

I really had high hopes for these boots, based on reviews on STP and other sites, and I REALLY wanted to love them & looked forward to several years of wear. All leather, able to be re-soled, and are probably the most comfortable boots I've ever had.

To begin with, the boots arrived in great shape and were magnificent to behold. Beautiful leather (wonderful smell), good balance between eyelets and lace hooks (easy to get on/off and lace right up, but not so many hooks as to be cumbersome), and they fit like a glove after a day of wear. The soles of the boots have a slight cushion of leather and the support was perfect. I literally had these on for 2 straight days/nights as I travelled overseas & never felt the need to remove them on the plane. I really liked these boots, so I was willing to overlook one manufacturing problem & get them fixed myself. On to the problems...

Issue #1: While relacing the boots one evening, the top lace hook snapped off. I didn't lace them overly tight or wrench on them, but the lace hook flew off across the floor. No big deal, it's an easy fix at a boot repair shop & it's not as though these are handmade - it's easy to overstress the thin metal when working a machine. So, I spent the $10 to get it fixed & had the rest checked for weaknesses.
Issue #2: I've been wearing these boots for about 3 weeks now, mostly on concrete, dirt and gravel. No overland stuff, no hiking, no hunting. It's been a bit rainy, so I treated them with Obenauf's LP wax. I looked down this morning after coming into work and found that the seam at the inside ball of my foot has completely disintegrated. From the arch of my foot to the knuckle on my big toe, the stitching has totally failed.

So, thanks to STP's stellar return policy, I'm returning these boots for a different pair. It takes such a long time to get mail out here that I'm not going to chance another of the 1000 Mile boots. I really wish they had worked out, because they're great boots & from the sounds of it, this is an anomaly.



Reviewed by Blacksmith Jack from North Carolina on Saturday, February 22, 2014

My high topped Wolverine 1000 Mile Russell Field Boots arrived the day before our area got a three-day snow storm that piled up some ten inches of snow. Perfect timing! The soles have enough depth of tread to give you that "I've got you, Buddy" feeling and the tops are high enough to keep all the snow out. Polish them up and you can wear them to church on Sunday. These boots are sold as factory seconds, but I couldn't spot any issues or oddities on my pair - and I looked carefully. These are really nice boots and a fine bargain at the price.


Reviewed by Euro Classic from Coral Gables< FL on Wednesday, January 29, 2014

I love these boots just amazing. Super comfortable and very sophisticated

Reviewed by Low flyer from Indiana on Monday, January 13, 2014

These boots are extremely comfortable, and seem to be well made. I wear a size 10 in boots and dress shoes, and 10.5 in athletic shoes. Ordered these in 10 and they fit perfectly with normal socks. If i wanted to wear a thicker wool or hiking sock they would be a little snug, but that will probably change after they are fully broken in.