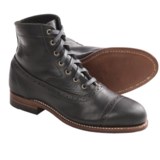 Factory 2nds. Made of buttery Horween Rockford leather, Wolverine's Evelyn 1000 Mile boots feel broken-in the second you put them on -- and only get better with each step from there. Made to last, durability-enhancing features include breathable Goodyear welt construction and a leather sole with Vibram® traction pads.
Average Rating based on
16
reviews
4.125000
0
5
Reviewed by Lisa from central IL USA on Saturday, February 14, 2015

I ordered these in a half-size down, and they *just* fit. A teensy bit tight in the toes, but I am sure they will stretch and conform to my feet, as all good premium leather does. The style is lovely- I feel like an early 20th century belle when I wear these. The colour is listed as "dove" and on my monitor looks like a really soft grey. In reality, they are the very lightest, delicate tan, which only adds to their Gibson Girl vibe. While they are listed as seconds, I could find no defects at all, and they shipped in the standard Wolverine burgundy box, complete with dust cloth. Love these boots!!

Reviewed by Reinerrider from Arizona on Wednesday, April 9, 2014

I reviewed these boots before, but wasn't able to keep them due to size, waited patiently and ST sent notice they had my size in (yay). These boots are US made of premium, quality leather. Open the box, and the luscious smell of leather (rather than chemicals) greet you as if in a saddle shop. The leather is not too thin as one reviewer wrote, instead pliable, soft. Quality like this will last. No, there is not a cushioned foot bed. The soles are leather as well as the inside of the boot, so these will mold to your foot, or if needed a thin insert. SIZING; I usually wear a 8 1/2 N in higher end woman's shoes. I originally ordered the 8 1/2 since there were none in 8 and they were huge in length, thus returned. Now I'm the proud wearer of 8's. SIZING SUMMARY: if you have narrow or tendency toward narrow, order a 1/2 size down as recommended. If your feet are medium, you might need to size up for the width. Wide feet might have a problem. Seconds???you could fool me, these are perfect. If these fit you feet and style, grab them, they'll only get better with age.

Reviewed by Kkanard from Vermont on Monday, March 3, 2014

The leather of the Evelyn boots is thick and rich, a deep brown color, and has none of the imperfections other reviewers have mentioned. I found the toe of the boots a little pointy for my taste, but would have kept them anyway if they weren't so narrow. Width marked as "B" (so, medium wide) but my very narrow feet were pinched and felt much too tight. Length was true to size; maybe if I'd gone up a size they would have fit better width wise.

Beautiful, top quality boots at an amazing discount. Too bad I had to return these.

Reviewed by Liz from Brooklyn, NY on Thursday, February 20, 2014

The leather is butter-soft, and they are good looking and immediately comfortable. I bought my usual size, would say no need to size down at all. There was a small, perfectly round hole in the leather on one boot, but it was on the tongue so not a problem for me. I live in the city and walk 3-5 miles a day, and these were comfortable from the first wear.

Reviewed by nm from phila on Monday, February 10, 2014

these are my wifes favorite boots. they have style and will likely last another 10 years. just note, the traction pads in the description are just on the heel, not the ball or toes. the smooth forefoot made for an amusing game of sliding her downhill in Edinburgh after it had rained and the slate sidewalks were slick.

Reviewed by Reinerrider from Phoenix on Thursday, February 6, 2014

I have 2 other pair of Wolverine 1000 Miles. I wear a 8 1/2N, and with a thin insert have been able to order my true size. These, however, were hugein length in the 8 1/2. There were no 8's available, so I couldn't try a smaller size. They are beautifully made, and yes there was 1 small hole at the top of the tongue that looked as if when the leather was being punched for the lace holes, maybe the machine missed. The hole is so small and cannot be seen when the boot is laced up. If you want a beautiful boot, well made with quality leather at a good price, don't be mislead by the reviews that make it sound like scrap leather with noticable holes, buy them and wear them...I would have if ST had my size.

Reviewed by scmomof4 from South Carolina on Monday, December 23, 2013

My daughter wanted short boots with laces. We ordered two styles from Wolverine. While this style fit her foot more comfortably, she found it to flat and thought the wide shoelaces dorky.


Reviewed by Boot Freak from Kansas City on Friday, December 20, 2013

I am very picky about leather, and this leather was beautiful and buttery. The boots run a bit narrow, and I had to return them, as my healed broken toe was bothered by the width. Great boot though.

Reviewed by Shoegirl from Sf Bay Area on Friday, November 22, 2013

These shoes are very well made. They are quite stiff on arrival and run a little narrow. But after having them stretched (my feet are somewhat wide so this is not unusual) they were perfect! Extremely high quality and great looking!

Reviewed by lkm from Indiana on Sunday, November 10, 2013

I purchased these with an additional discount from Sierra Trading Post and got them for a little over $120, which I am thrilled about. The only blemish on my boots is a deep scratch on the toe cap of each boot, but it doesn't cut through the leather and it's not visible except when looking up close. The leather is so soft and I can tell the boots are breaking in nicely after only two days of wear, although still a little uncomfortable in the heel after prolonged use. The shoe seems to run narrow, but otherwise true-to-size. My feet are on the narrow end of average, and these are just barely wide enough for me. If you have slightly wide feet or want to wear thick socks with these, you may want to go a half-size up. The boot is thin and sleek, and looks great with dark skinny jeans and skirts. I was worried the boots would be too western-looking for me, but I don't find that to be the case at all. The boots shipped quickly and arrived in good condition.