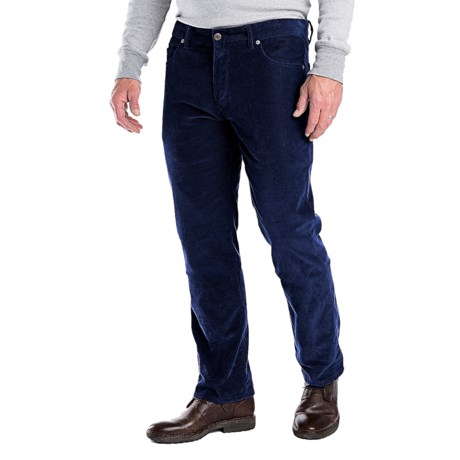 This was my review: "I usually like Woolrich products and these were advertised as regular fit - they are definitely slim fit - too slim fit - almost naughty-boy slim fit, so back they went."

Take from it what you will

For me your review was a plus. I'm a fairly slender guy and usually have the opposite problem. Waist 2" bigger than advertised. Almost need suspenders.
I'm trying to goad STP to list measurements like some of the best ebay sellers, where they give actual measurements along with the tag size. Would have helped you as well.
Here's an example of a great ebay seller:
Jeans are tagged 38 x32

All jeans measure differently.
Do NOT trust the tag size. Instead, compare the actual measurements
to your best fitting pair of jeans.
See below for the way these jeans were measured.

Waist: 39"
Measure the inside of the back waistband from one side to the other. Double the number.

Hips: 49"
Measure across the base of the zipper from side seam to side seam. Double the number.

Inseam: 31"
Measure from the crotch seam to the bottom of the ankle.

Front Rise: 12"
Measure from the crotch seam to the top of the front waistband.

Leg Opening: 9"
Measure across the hem from side to side.


Waist and length measurements shown above are actual measurements of the band and length of the pants.
Sometimes due to the rise of the item they do not necessarily represent the actual waist and length size.
If an item is mid, low or ultra low rise it will sit on the hip instead of the waist therefore, the measurements will be different than the size.


Yeah, they are tight around crotch area and don't fit well with boots. I would skip!

They wear a little higher on waist If you are a 32 order 32

The rise was essentially the same as standard slacks or jeans and the waist and inseam measurements were spot on with other pants purdchased from a variety of sources. I've never seen the rise of a pair of pants specified in inches anywhere, have you? As to whether the pants will fit over your boots that depends on what kind of boots you wear. Galoshes, no but they fit over Tony Lama boots nicely.

And returns are free sio if you don't like the rise or the boot fit slap the included return label on the package and send it back for a surprisingly prompt refund.