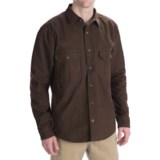 Closeouts. The chamois shirt has been a trusted outdoor favorite for generations, and Woolrich carries on the tradition with this beefy, 9 oz. expedition chamois cloth -- warm, rugged and durable. Ideal for working in the field or lounging around the campfire.
Average Rating based on
26
reviews
4.807692
0
5
Verified Buyer

Reviewed by bdp47 from PA on Wednesday, May 28, 2014

Great shirt. Woolrich quality, great fit. Price was good and delivery as advertised. The only reason I did not rate this at 5 stars is because I preferred the heaviest weight (12oz?) that isn't made anymore. Message to Woolrich - bring back the heavy weights and you will clean up.

Reviewed by Harvey6F from Langley, WA on Wednesday, February 26, 2014

The shirt went thru its first wash very well.
It wears warmly and comfortably.
I have always enjoyed my variety of Woolrich clothes.

Reviewed by RJ from AZ on Monday, January 27, 2014

I have been wearing Woolrich chamois shirts for over 35 years now, and although they are not exactly the same over the years, they are still a great product. Occasionally I buy another brand and after wearing a while I go back and get another Woolrich. Love this shirt.

Reviewed by kaytea from Central NJ on Thursday, January 9, 2014

I bought this chamois shirt for my husband. It is true to size and the sleeves are long enough for his long arms. The color is VERY red, but not with an orange tint, so it isn't too attention-grabbing. The fabric is soft and reminds me of the chamois shirts of the olden days.

Reviewed by OCULUS from Rensselaer, NY on Sunday, January 5, 2014

I guess it's a matter of silly fashion, but manufacturers are cutting their shirt tails shorter (hey, that's a lot of cloth to be saved) in reaction to this phase of running around with your shirt tail out. Well, with this shirt, you really don't have a choice; I'm a 46Long and really do well in full cut Large Long shirts, but other wise buy Extra Larges to cover my long arms. This short is cut very full across the chest, but the sleeves are just right for me at 35+ inches, but the tail is short, as seen in the pic.

Your milage may vary after laundering, but in the meantime, it is warm and hefty and likes to live OUTSIDE of your waistband.

Reviewed by Pete W from Arizona on Monday, December 30, 2013

This is the chamois cloth shirt that others should be judged by. It is thick, soft, and warm. Generously cut and made with superb quality. If our winters lasted longer I would purchase more. A great cold weather garment.

Reviewed by Trekker from Georgia on Thursday, December 26, 2013

True to size, heavy weight cotton, comfortable and warm. This is my all-time favorite shirt. I have one for myself and another for my elderly father. He loves it as much as I do!

Reviewed by flyfish from Vernal, UT on Monday, December 23, 2013

This a quality shirt and I like it more than my Bean & Cabelas Chamois shirts. It is not baggy. I am 6ft, 42.5" chest and 32 waist and the Medium is just fine. I got the red and it is a bright red.

Reviewed by gamestalker from soo ontario canada on Thursday, December 19, 2013

A great shirt for the outdoors.I bought one 15 years ago for hunting and fishing and now a new one.I weigh 185 pounds -6ft tall and the large is a perfect fit.It is great for moose and deer hunting and cooler weather fishing.GREAT QUALITY!!!

Reviewed by Pete W from Arizona on Tuesday, December 17, 2013

I wave worn this type of shirt for over 60 years. I have owned Eddie Bauer, LL Bean, and countless others. Over the years the quality has slipped on many and some have started using lighter fabric.

This is the real deal. Solidly built of quality material and cut generously.