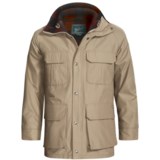 Closeouts. A longtime contender in Woolrich's weather-busting product line, Woolrich's Mountain parka is updated with modern style and foul-weather performance. The outer shell has been improved with rugged Ramar cloth shell, treated with water-shedding Dupont Teflon® finish.
Average Rating based on
73
reviews
4.150684
0
5
Verified Buyer

Reviewed by Brian from South Dakota on Thursday, February 5, 2015

Great fit, easy to move in this parka. In subzero, need to wear a vest under it as it is a lightweight parka.

Verified Buyer

Reviewed by Ollie from Kentucky on Wednesday, January 28, 2015

perfect coat for cold weather. not too bulky and very warm. plenty of pockets.

Reviewed by ChuckBee182 from New Jersey on Saturday, January 17, 2015

As everyone else has said, this is a very lightweight coat. I like it because of the pockets and the water repellent feature. It does keep me warm if I wear a good quality sweater under it. For the price it was a good buy for me.

Verified Buyer

Reviewed by Chick from Delaware on Monday, December 29, 2014

I would have preferred that the Woolrich Mountain Parka didn't have a hood, but it does. From the illustration shown and the description provided there is no indication that there is one. I will, however, still use it.

Verified Buyer

Reviewed by bigmike from Michigan on Friday, December 26, 2014

The Parka was very nice, I actually thought the coat would be heavier for warmth, compared to a Cabella coat I had bought about 7 years ago and have used many times during our severe winter weather. This coat is acceptable, will probably have to wear a hoodie underneath for extra warm when
outside during extreme weather.

Verified Buyer

Reviewed by pamom from PA on Thursday, December 18, 2014

Great parka! Ordered 3, for hubby and 2 sons. NOTE that it is wool-lined but it is relatively LIGHTWEIGHT.

Verified Buyer

Reviewed by kdcsmith from CA on Tuesday, December 16, 2014

great coat and fast delivery

Verified Buyer

Reviewed by Mike P. from Connecticut on Monday, December 8, 2014

I have always loved these coats and I have owned four over the years(different sizes).
They are comfortable without being restrictive.

Verified Buyer

Reviewed by Cappnormal from Minnesota USA on Friday, November 14, 2014

As always with Woolrich a well made product!
I was looking for a heavier winter coat for the Minnesota winters. One that would keep you warm for extended outdoor periods. This was just a little too light weight.
A coat good for out to the car/shopping or in and out of the cold.
Sent it back and still looking.

Verified Buyer

Reviewed by Artem from Russia on Wednesday, November 12, 2014

My first impression was: oh, it`s so thin...
I don`t know why (especially now, after reading the decsription again before writing this review) but I was expecting more heavy and warm parka. Yes, it`s not said in the description, but overal impression of text and photo makes you expect more.
In reality, it is light jacket, which has little lower lining for good look, but not for extra warm.
It is water-resistant (not waterproof, but OK for a urbanite). Has a lot of pockets, fits well.
It is nice to wear over the formal suit, if you don`t like coats. Will be great for autumn, especially if you drive more than walk.
But it`s not a parka))
I think, Sierra should rename it, so it could fit the expectations.

Mine had a defect. Inside the left sleeve lining fabric is twisted relative to the outer fabric, and quite strong. As a result, it is not noticeable from the outside, but it`s almost impossible to pass your hand through the sleeve. As I`m from other country, the return is hard and expensive, but support solved the deal excellent, which I appreciate. I need to try to fix the issue at the nearest tailor, hope it will not be hard...

So, even though it`s not the thing I expected to get, it`s nice jacket in the end. Quality made an I will definitely wear it.