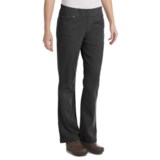 Closeouts. Thanks to stretchy cotton twill construction and an elastic waist, Woolrich's Pine Island pants offer the casual, versatile style of colored denim with the comfort and convenience of pull-on stretch pants.
Average Rating based on
43
reviews
4.395348
0
5
Verified Buyer

Reviewed by paxamica from Arizona on Thursday, January 29, 2015

I ordered the charcoal so they're very versatile. I ordered a 10, which is what I usually wear, and they fit fine even the length (I'm 5'6). Love the flexible waist! My only disappointment was no pockets in the back.

Verified Buyer

Reviewed by ottomac from KY on Tuesday, January 27, 2015

My wife loves them. The way they stretch a little is nice and the quality is evident throughout.

Verified Buyer

Reviewed by peg from texas on Friday, January 9, 2015

Other than having to take the hem out (because I am six foot tall) I love these pants!!!


Reviewed by Indy Mom from Indianapolis on Tuesday, December 30, 2014

These are a nice mix between casual pants and sweats. Pull-on style and fairly substantial fabric. I ordered a size down and they fit fairly well, with the exception of the hips, where they fit a little sloppy. The fabric seemed like it would stretch more as the day went on. Back they went!

Verified Buyer

Reviewed by Down by the River from Bandera, TX on Tuesday, December 30, 2014

These pants are comfortable - sized accurately and a comfortable fabric.
I am not a brown person but this was the only color left and I reall wanted
to try a pair of the pull-on jeans style pants so I ordered them. I am not disappointed.


Verified Buyer

Reviewed by OR shopper from Baltimore on Sunday, December 28, 2014

Nice heavy twill warm enough from winter. Not obviously an elastic waist and very comfortable. Run true to size. This is my second pair.

Verified Buyer

Reviewed by Disappointed from Massachusetts on Wednesday, November 19, 2014

I was quickly reminded of the late 60's and 70's polyester period. They also seemed to run about a half size larger. The "denim color" had shades of brown thread in it giving them a rusty hue which in my mind made them look dirty. I was disappointed. I have some Woolrich clothing that is 35 years old and still looking great and still stylish. I bought in part because of the reputation. I had to return them.

Verified Buyer

Reviewed by Georgia from Colorado on Tuesday, November 11, 2014

I didn't think much about these pants until I put them on. They fit nicely and the fabric is very soft and comfortable. I tried to order a second pair, but alas they were not available in my size any longer.

Verified Buyer

Reviewed by Liz, the urban homesteader from Reno, NV on Thursday, October 30, 2014

I bought a pair earlier in the year and liked them so much I just bought another. I carry my weight on my waist and the wide waistband is very comfortable, doesn't roll, etc. (These might make good 2nd trimester pregnancy pants.) These pants are great for lounging around the house or even wearing as pajamas while camping. The minimalist pockets are almost useless, limiting these pants' use for outside activities.

Verified Buyer

Reviewed by HJS from New England on Monday, October 27, 2014

I got these pants after my twins were born and needed something with a more flexible fit. These were comfortable, versatile, washed up well, and generally just what I was looking for. The shorter length was perfect for me at 5'2".

Verified Buyer

Reviewed by Doctor Erika from Pennsylvania on Monday, October 13, 2014

Most comfortable pants ever! Ordered both the black and the tan colors. Fabric looks like colored denim, so these are really for casual wear only, but they are great fitting and soooo comfortable. Quite a thick material, definately for fall/winter wear. I normally wear a 12 or 14, and I ordered the large, but it is a very generous fit, almost too big. I washed them and put them in the dryer, and really didn't notice any shrinkage at all. Length in the regular is very nice, full 32". Happy to find that the waist fit below the navel, more of a modern rise than I expected. Don't hesitate, these are great!

Verified Buyer

Reviewed by 3dvizwiz from Boulder, CO on Thursday, October 9, 2014

*sigh* The inseam is 32", not 33" as listed in the description, so they were too short for this tall girl and were returned.

Verified Buyer

Reviewed by Joni from Montana on Monday, October 6, 2014

These are very comfy and casual. Can also be dressed up to where I can wear them to work. They lose their form throughout the day though and start to bag a little. Very durable.

Verified Buyer

Reviewed by Cameragirl from Texas on Tuesday, August 26, 2014

I found these to fit true to size, and have just enough stretch to add to the comfort of wearing them all day.

Verified Buyer

Reviewed by debw from Indiana on Thursday, August 14, 2014

Great fit, nice color, very soft but sturdy fabric

Verified Buyer

Reviewed by peg from Gulf Coast on Friday, August 8, 2014

Love these pants... Wanted something comfortable and warm, but not as heavy as jeans for my upcoming trip to Denali Alaska.. Bottom line I wasn't going to find it in the stores in hometown on the Gulf Coast, .As a 6'0 - tall woman I rarely find pants in the stores long enough, so ordering on the Internet is really chancy.... But I really lucked out when I found Sierra Trading Post.... Great clothes, good prices, and you get what they advertise!!!

Verified Buyer

Reviewed by Illinois hiker from Illinois on Monday, June 23, 2014

I didn't like the fabric, and the fit wasn't good, so I returned these. I'm probably too old and lumpy for most stretch pants, these days.

Reviewed by Victoriya from portland,or on Sunday, March 30, 2014

I love these pants. I want to own 10 pairs. They stretch but still look good. I wear them at work and at home. I found a pair at my local sports/outdoor store and they were on 80% off sale, so I gave them a try and never been happier still wish that I bought more.

Reviewed by Joanne from Arizona on Thursday, January 16, 2014

These pants are so comfortable, you will not want to take them off. they run true to size. They wash beautifully. I just bought another pair.

Reviewed by Jo from Sparta on Friday, December 13, 2013

The quality and comfort are just as I expected--top notch. Withe these pants, I wear about 2 sizes smaller than usual!

Reviewed by comfort driven from Ohionaner on Monday, November 25, 2013

a little long, will have to hem, not one of my favorite things to do. The're nice tho, especially for the price. I found them on the woolrich site tempting to get the other colors.

Reviewed by Sierra Fan from Michigan on Wednesday, November 6, 2013

Nice length for 5'8", comfortable waist for casual wear and rise is good. I usually wear 10/12 and Meduim fit well.

Reviewed by BellaBike from Greensboro, NC on Thursday, October 24, 2013

Stretch pants that are cut like jeans, and the fabric is heavy enough to mimic old-style denim. They hang nicely and fit like a dream!

Reviewed by MIDot from Clarkston, MI on Monday, September 23, 2013

comfortable, nicely fitting pants. While a tad long, these will be my go to pants in brown this winter. Love the fit.

Reviewed by LalaMt from Montana on Wednesday, August 28, 2013

I like the material and design of these pants. Even though they are pull on with elastic, they have good form and style. The material is good quality and thick. Unfortunately for me, and my flat butt, the petite fit perfect, but were too short. The small is a little loose, but the right length.

Reviewed by Wittle Weaver from Massachusetts on Monday, August 26, 2013

Pants are as described. Comfortable and wear well.

Reviewed by BevJeanM from Idaho on Wednesday, August 7, 2013

Made by a reliable company, with quality materials. Fairly true to size; if in doubt, order one size down, as the fit can be generous.

Reviewed by Liz from Albany, NY on Tuesday, July 9, 2013

Fits well. I picked a nice muted orange. Good buy.


Reviewed by Liz from Albany, NY on Tuesday, July 9, 2013

Stretchable twill. What a great idea. Feels great. Fits perfectly. I hope that it holds the color and does not fade.

Reviewed by ignatz from jamaica plain MA on Monday, June 17, 2013

These pants pull on & have an elastic waist, which, mercifully, lies flat. The fabric looks like twill but stretches. They are comfortable and fit well - but if you're between sizes, I'd order a size down. I bought them in "black," but they're really dark gray, so be forewarned. They're not the most attractive pants, but for the price (I got them on sale) and comfort level, they're adequate for hanging out, making errands, and the like. They're not the kind of pants that you can dress up with a nice top and shoes. No, these function best with run-around shoes and a t-shirt or polo.