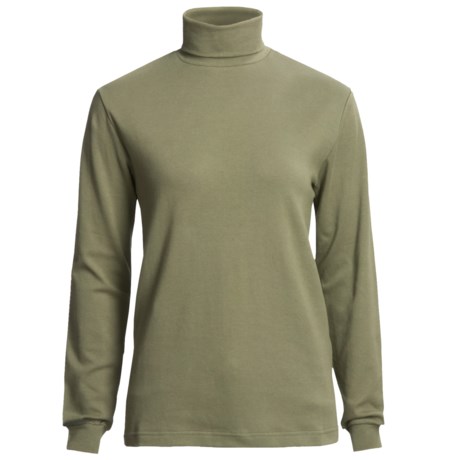 The shirt I have is a Large, the neck measures 71/2".

Hope this helps!

The neck measures 6 5/8" across. I've found the neck to be quite snug. I like them snug, too.

The measurement I got was 7.5 inches on a turtleneck that had been previously washed and dried. I did the measurement by lining up the top edge of the turtleneck and measuring from side to side being careful not to stretch the fabric. The size shirt I own is a large. For what it is worth, I don't find the neck on these too loose or too tight.

Glad to help. The neck is 7 ½ inches at the base and 7 ? inches at the top. I have washed and dried it a couple of times. I am 5' 8", 130 lbs. and wear an 8 or 10 depending on the brand and style. I ordered a medium. I, too, like the neck to be snug, so when I read that others were complaining the neck was too tight, I was thrilled. Unfortunately, I would not say the neck is snug, but it does not gap; one finger will fit between me and the turtleneck. In a perfect world, I would like the neck and body to fit a bit tighter and the body longer so it stays tucked in better. For the price and quality, I am happy with it. Hope that helps.

6 and 3/4 inches...I don't think it runs big at all. It does have a nice neck...I like mine snug fitting and I think it is great.