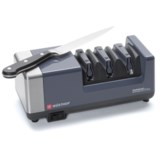 Closeouts. Sharpen, hone and polish your beloved Wustof knives using Wusthof by Chef's Choice PEtec professional electric sharpener, designed exclusively for use with Precision Edge Technology (PEtec) knife blades.
Average Rating based on
9
reviews
4.888888
0
5
Verified Buyer

Reviewed by rudivonm from Michigan on Tuesday, November 15, 2016

Great device, but it re-shapes the architecture/contours of the blade. Not always pretty, but very sharp results

Verified Buyer

Reviewed by BranMar from Right Coast on Wednesday, April 8, 2015

Wusthof knives are some of the very best knives in the world, and are found in many of the very best kitchens in the world. They are also found in kitchens like mine and yours. But even the best knives need periodic maintenance to stay razor sharp. The Wusthof PEtec Professional Electric Sharpener by Chef's Choice is the easiest, quickest and most consistent system I've found for restoring the factory edge on your knives.

Most other traditional european style knives are ground at around a 20 degree angle on each side of the blade, resulting in a total edge angle of about 40 degrees. All of Wusthof's new PEtec knives are ground at a 14 degree angle on each side of the blade, resulting in a total edge angle of 28 degrees. It is this more acute, flat-ground edge that helps distinguish Wusthof's blades. Out of all the other electric sharpeners on the market, this is the only one that is designed specifically to grind each side of the blade at 14 degrees to restore the original 28 degrees edge geometry every time.

This three-stage sharpener provides a rough grinding stage for major re-grinding, a medium stage for touch-ups, and and a fine polishing stage to put that razor sharp edge on your knife.

I would like to see Wusthof and Chef's Choice collaborate again to create an electric sharpener specifically for Wusthof's PEtec asian style knives (such as their Chao Dai, Santoku, Nakiri and Chinese Chef Knife), which use an even more acute grind of 11 degrees per side, resulting in a total edge angle of just 22 degrees. As far as I know there is currently no comparable electric sharpener that will recreate the factory edges of these Wusthof PEtec asian style blades.

Verified Buyer

Reviewed by sjh111 from Texas on Monday, October 27, 2014

I am so glad that I bought this. It works very well. My knives were not dull since I used a hand sharpener with every use, but this is so much better. I have wanted this for a long time and it works well on all of my knives..

Verified Buyer

Reviewed by AnnieO from El Paso on Monday, October 20, 2014

This is truly a professional sharpener. I've had a previous electric knife sharpeners (around $100.00) and no matter how careful, it gouged each blade near the handle and the sharpness was marginal. After putting my knives through the Wusthof Sharpener, they come out better than before. Works great on cheaper knives, too, and they cut through a tomato like butter!

Reviewed by Shun Lover from NM on Thursday, February 13, 2014

This is an excellent sharpener for most knives but is different from other Chefs Choice models. Unless you have PEtec knives, the sharpener put a completely new edge you can see because it extends up the side of the blade by about 1/16th or more. Not much but it is reshaping the blade. this is great for all European and American knives because the blades are thick enough. You may have to go through both sides of stage 1 up to 20 times but 10 times or so worked for most of mine. The resulting blade is a 14 degree class sharpness as opposed to the 20 degrees they start with. The only exception are Asian knives like Shun, Global or any of the expensive Asian knives. Their blades are already at 15 degrees and the problem with reshaping them is the blades are thin and very hard stainless steel. Euro and American quality knives are carbon steel which is not as hard so sharpens easier. It use to be stainless steel blades were inexpensive because they were cheap to make but very hard to sharpen. The newer Asian knives are made of multiple layers of expensive stainless steel composites which are definitely not cheap but are very sharp and hold an edge a long time. I called Wusthof and asked if they can be sharpened. They cautioned they may be too thin for the reshaping in stage one (and I think you don't really need to reshape them since they already have an optimal edge for their 15 degree edge). None of mine are dull enough to try but if I did I would skip stage one and start with stage two. You may not be able to raise the burr that the instructions call for because of the hardness of the blade but it should not hurt them and may sharpen them. No one knows. You can always buy Chefs Choice 325s for Asian blades. It has good reviews. If you don't have expensive Asian knives there is nothing to worry about. The new edge it will put on the carbon steel Wusthof and Henckels classic and grad prix knives is remarkable. Note that both offer less expensive models made of regular stainless steel, not the multi layered Japanese steel like V-10 and others. Don't know how it will work on plain old stainless steel like cheaper knives are made of but probably can't hurt.

Reviewed by jlance72 from CO on Wednesday, January 15, 2014

. used it on non-wusthof knives and takes some time on the first stage to get the new edge but worked awesome on both quality and non quality knives and made them razor sharp. love it! always great price from STP.

Reviewed by Dull No More from Boston on Thursday, June 27, 2013

I immediately went through all my dull knives, about a dozen, paring knives, cooks knives and even a large chinese cleaver. All were sharpened and honed to a razor sharp edge. Some I had to do 2 or 3 times through the first stage until I got the hang of detecting the burr, but overall, for the price, this machine is excellent.

Reviewed by Pizza Expert Now from North Carolina on Friday, March 22, 2013

Sharpens and polishes the blade.

Reviewed by HouseofChandler from Richmond, Virginia on Monday, March 4, 2013

The Wusthof knife sharpener is wonderful, and the instructions for use are clear and concise. However, the sharpener instructions state that serrated knives can be sharpened, but the serrated points will be ground down. I sharpened all of my Wusthof and Henckel professional knives with very good results. I'm very satisfied with my purchase.